Sailing around the Maltese archipelago is an experience not to be missed by any visitor. Whether you rent a boat in Malta, take a sea excursion to Malta's neighboring islands or use the convenient ferries that link the islands, each option offers a unique perspective on visiting this Mediterranean gem.
This guide is for those looking for reliable, up-to-date information on boat hire in Malta, the best sea excursions, boat parties and ferry timetables and fares.
Boat rental in Malta
Yacht charter in Malta is a popular activity for tourists and locals alike. Whether you want to cruise around the islands and bays, go diving or snorkeling, or simply enjoy a day at sea, boat hire is an excellent option. Here's how it usually goes:
Boat rental with skipper
Hiring a skippered boat in Malta is the best way to enjoy the sea without having to worry about navigation or where you're going. I highly recommend hiring a skipper for your boat charter. Why? Because you'll have the choice of what you want, while being guided by a local expert. What's more, you won't have to pay a €2,000 deposit, the guide will take you to the best places and you'll avoid any unpleasant surprises (fuel and other accessories are included).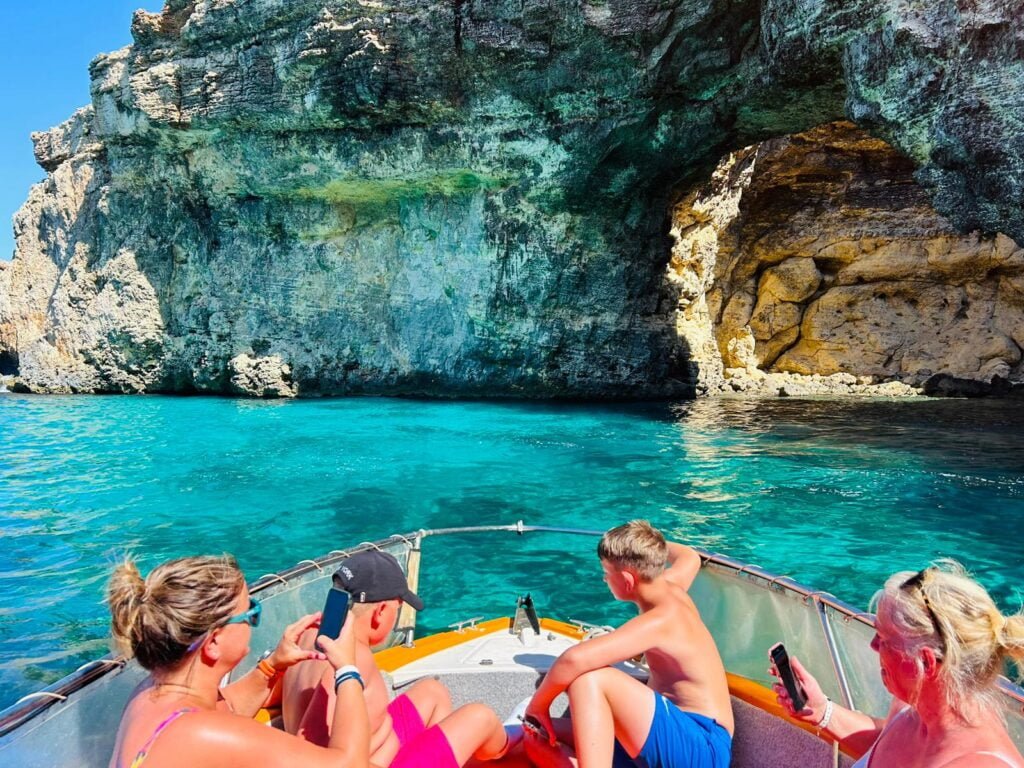 You'll discover Maltese waters, including the Blue Lagoon, and the many coves, caves and historic sites accessible only by sea.
I recommend you use Gozo's main rental company. Price and service will be better.
Boat rental rates in Malta
Boat rental includes :
Captain/Skipper (An English-speaking captain is also available on request)
Fuel ⛽⛽⛽
Bottle of water per person
Cooler (you can bring your own drinks!)
Bluetooth audio 🎶
Snorkelling equipment
Cushioned seats and plenty of shade
The price for chartering the boat with skipper is on a sliding scale:
286€ for 2h
375€ for 3h
479€ for 4h
690€ for 6h
Lunch on board is optional. For €11 per person, you can have :
Local delicatessen
Maltese rolls with tuna, ham and cheese or vegetarian,
Fresh fruit
Water bottle
Things to know about skippered yacht charters :
Please note that these prices apply to a maximum of 6 people. An additional adult costs €10 and a child aged 3 to 9 €5.
Charters are private for your reservation (there will be no other people with you).
Charters are subject to weather conditions. If the weather does not allow a sea outing, for safety reasons, customers will be contacted to see if they can be rescheduled for another day, or in the event of cancellation, a full refund will be given.
How do I book my skippered yacht charter :
You can easily contact the rental company directly by clicking here. Write your request in English.
When to book your yacht charter
It's best to book as far in advance as possible, especially during the high tourist season, to make sure there's availability. Allow several weeks or even months to ensure availability.
Rent a boat without a skipper
Boating licence in Malta
If you wish to pilot your boat alone, depending on the type of boat you wish to rent, a boating license may be required. If you don't have a boating license, many companies offer skippered boats.
You can hire a boat in Malta without a license. Click here to find out more about boat hire (up to 8 people)
If you want to rent a boat with a license, you can here to book your rental directly at the best price.
However, I would recommend hiring a skippered boat in Malta for the reasons given above.
Types of boats for rent
There is a wide variety of boats available for charter, from small motorboats or sailboats to luxury yachts.
Unfortunately, traditional Maltese boats known as"luzzus" are not usually available for hire.
Boat rental rates
Boat rental prices in Malta can vary depending on the type of boat, length of charter, season and other factors. Rates are generally per day, but hourly, half-day or weekly rates may be available.
Allow €300 for a half-day's boat hire.
👉 To rent a boat without a license in Malta (Up to 8 people), click here to find out more.
👉 To rent a boat with a boating license, you can here to find out more.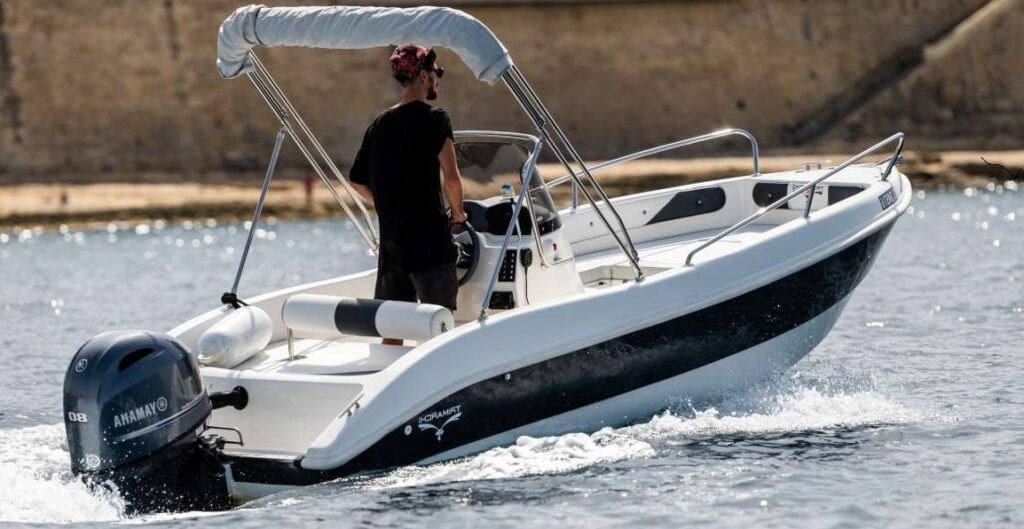 Boat trips in Malta
The best way to make the most of your vacation time in Malta at a price everyone can afford is to book a boat trip. Boat trips from Malta often take you to the small island paradise of Comino. Here you'll find the famous Blue Lagoon.
Excursions to Comino are many and varied. Make your choice according to your desires and your budget to be sure to choose the right excursion and make the most of its magnificent lagoons and caves.
Benefit from 15 to 20% discount on these excursions with the Le Petit Maltais discount card.
To help you, we have put together a comparison of the best boat trips:
Means of transport
Benefits
Reservation
Day trip with Sea adventure to Comino (Departure Bugibba)
The cheapest: 30€ for a day on a boat or 35€ for a catamaran
(Best value for money)
Click here to book
One-day catamaran cruise with Spirit of Malta (Departure Sliema)
Best atmosphere with music, unlimited food and drinks. Count 80€ all included.
Click here to book
Sunset excursion with Sea adventure and swimming in the Blue Lagoon (departure from Bugibba)
Avoid crowds later in the day. Expect to pay €25.
Click here to book
Catamaran cruise to Comino. (Bugibba departure during the day or evening)
OUR RECOMMENDATION. Away from the crowds. Optional barbecue. Expect to pay €40-50.
Click here to book
Gozo and Comino during the day with Yippee. Boat and tuk-tuk. (From your hotel)
Visit Gozo and Comino in one extraordinary day. Count 89€ all inclusive.
Click here to book
Coupon code: LPM5
Getting to Malta by boat
Getting to Malta by boat from France or Spain.
There is no direct ferry link between France or Spain and Malta. Ferry connections from these countries are generally directed to Corsica, Sardinia, Algeria, Tunisia or the Spanish islands.
Getting to Malta by boat via Italy
One option would be to take a ferry from Marseille to Sicily, Italy, then another ferry from Sicily to Malta. Grimaldi Lines is one of the companies offering ferries between Marseille and Sicily. Secondly, ferries to Malta are available from several Sicilian ports, such as Pozzallo and Palermo, with companies like Virtu Ferries. Many international flights get to France so let's see how you can get from France to Malta by boat.
Stage 1: Reaching Italy from France
From the south of France (Nice, Marseille or Toulon), take a ferry to Corsica or Sardinia with companies such as Corsica Ferries or La Méridionale.
Stage 2: Crossing Italy
After reaching Italy, cross over by road or rail to Sicily.
Stage 3: Ferry to Malta
From Sicily, take a ferry to Malta from Pozzallo, Catania or Palermo with companies such as Grimaldi Lines, Virtu Ferries or Tirrenia.
Getting around Malta by boat
In Malta, you can travel by ferry between certain tourist destinations.
The main ferry routes are as follows:
Boats to Gozo
Ferries run regularly between Malta and Gozo.
From Cirkewwa, in the north of Malta, three ferries leave every 45 minutes, 24 hours a day, for a crossing of around 30 minutes. The fare is €4.65 for an adult and €1.15 for a child (round trip). Transshipping a car costs €15.70 (with driver), plus the cost of each additional passenger. Payment is due on return. For timetables, see gozochannel.
A fast ferry from Valletta to Mgarr in Gozo takes less than 45 minutes. More information is available below.
Boats to/from Valletta
Valletta, Malta's capital, has excellent bus and boat connections. In addition to the fast ferry to Gozo, there are the following ferries:
Sliema – Valletta ferry :
This 10-minute shuttle service between Sliema and Valletta offers breathtaking views of Manoel Island and Marsamxett Harbour. It's a better option than the bus.
Schedules:
Winter (Nov. 1-May 31): Sliema (6:45 a.m.-7:15 p.m. weekdays, 8:45 a.m.-6:15 p.m./Sun), Valletta (7:00 a.m.-7:30 p.m. weekdays, 9:00 a.m.-6:30 p.m./Sun)
Summer (June 1-Oct 31): Sliema (6.45am-11.45pm week/sun/fri), Valletta (7am-midnight week/sun/fri)
Ferry Les 3 cités – Valletta :
A 20-minute stroll from Bormla to Valletta offers views of Valletta, the 3 cities, and the yachts and cruise ships at the Waterfront.
Schedules:
Winter (Nov. 1-May 31): Bormla (6:30am-7pm weekdays, 9am-6pm Sundays/seasons), Valletta (6:45am-7:15pm weekdays, 9:15am-6:15pm Sundays/seasons)
Summer (June 1-Oct. 31): Bormla (6.30am-11.30pm week/sun/fri), Valletta (6.45am-midnight week/sun/fri)
Boat party: Party on a boat
For an unforgettable evening, we strongly advise you to book a ticket for the boat party. Enjoy an open bar, a DJ and the presence of many young people on a pirate ship bound for the island of Comino until nightfall. To find out more about boat parties, click here.