Malta is a Mediterranean island located south of Sicily, Italy. The island is known for its white sandy beaches, crystal clear waters and numerous diving sites.
Malta is a very popular archipelago for tourists, but also for divers from all over the world. This is easily explained as its islands are full of treasures both on land and in the depths of the sea. Malta is an excellent place to learn to dive, as the waters are calm and shallow.
Malta was recently recognized as the best diving destination in the Mediterranean.
You can do your first dive, pass your levels or enjoy "fun dives" for the more experienced.
You will find in this article :
Scuba diving programs in Malta
The best diving sites in Malta
The best diving centers in Malta
Precautions to take when diving
FAQ
Scuba diving programs in Malta
With over 300 dive sites and numerous dive centers, there is something for every level of diver. Before you commit to a club, understand what you are getting into so you can get the most out of it.
Scuba diving in Malta
Are you tempted to try diving during your trip to Malta? This is a very good idea.
For beginners, no fear, the crystal clear and calm waters of the Mediterranean are a paradise for scuba diving enthusiasts.
The visibility underwater is excellent in Malta, sometimes over 30 meters!
Currents and other marine hazards are extremely rare.
All this makes Malta the ideal place to make your first dive.
Moreover, you will find dive centers speaking various languages to explain and accompany you for this first dive in Malta.
Most diving clubs in Malta can offer you the opportunity to try diving during a "First dive" which takes you from 7 to 9 meters deep directly without any real training. With this type of diving experience, you will not see much of the ocean floor since you will only stay on board and your immersion time will be limited to 20-30 minutes. Baptisms are possible for children from 10 years old.
That's why, even if you've never dived before, we recommend a"discovery dive" instead.
The price of a first dive in Malta is usually around 50€.
Discovery diving in Malta
For not much more money, you will be able to enjoy it much more while going more gradually. Indeed, the Discover Scuba diving program is a half-day program. It includes a short period of explanation and adaptation to the equipment, sometimes in a pool, sometimes directly in the sea water.
Next, you'll make a gradual immersion to a maximum depth of 12 meters.
The advantage of the open water dive is that you will stay underwater longer (usually 40 to 60 minutes) and you will see more fauna and flora.
Also, you can easily continue to learn and do classic dives at other dive sites if you feel like it.
The price of the discovery dive in Malta is often 70€.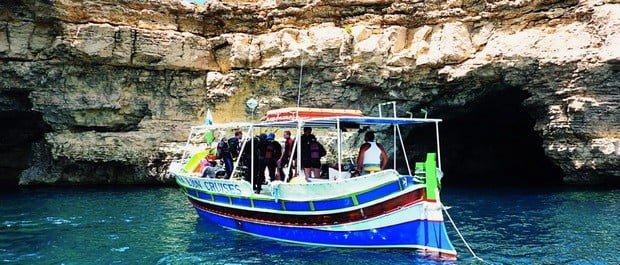 Pass your diving levels in Malta
Have you already made a first dive? You want to continue to progress now by passing a level 1.
First of all, you should know that there are several diving training organizations that can certify your levels. Each dive center can validate the certifications by following the specifications of the training organization they work with. The most famous are PADI and SSI. The FFESSM levels are known to be more complete and difficult to obtain than others.
Passing the Open water in Malta
Open Water is known as PADI Level 1 or SSI. It will allow you to visit dive spots all over the world under the supervision of an instructor and descend to a depth of 18 meters.
This certification lasts 2 to 3 days.
The price for a level 1 open water course in Malta is often between 400 and 450€.
Pass your advanced level in Malta
The advanced level (PADI or SSI level 2) allows you to go to the maximum depth of 30 meters. You will then realize on this occasion specialities (night dive, deep dive,…)
This certification also lasts 2 to 3 days.
The cost of taking the level 2 advanced in Malta is often around 350€.
Pass your Dive Master level in Malta
In Malta, you will also have the possibility to climb the ladder by doing your "Rescue" level and then "Dive master" until you become a "Dive instructor"!
Where to dive in Malta?
Malta is a very popular diving destination, as it offers a wide range of dive sites for all levels. The warm and crystal clear waters of the Mediterranean are ideal for diving, and there are spots for all tastes.
It is possible to discover the seabed on the Malta side, but also in Gozo and Comino. Indeed, the three islands have magnificent diving spots. Wrecks, caves, reefs and caverns… you're spoilt for choice!
Malta is particularly known for its wrecks, but there are also many natural dive sites to explore. The advantage of the dive sites on the archipelago is that most of them are accessible from the shore, if not in a few minutes by boat.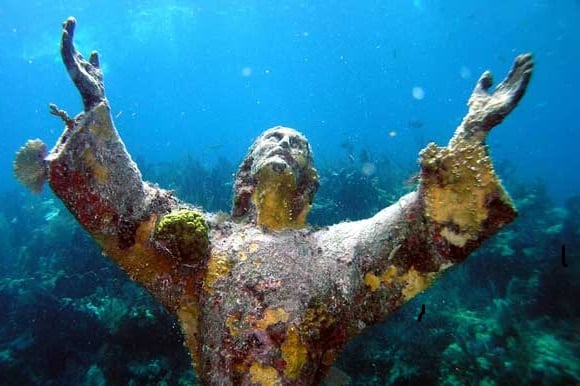 Best diving spots in Malta
HMS Maori: In Valletta, under Fort St. Elmo, lies the wreck of the HMS Maori, a 115-meter long destroyer that sank in 1942.
Maximum depth 16 m only.
Arhax Point: At the edge of Mellieha, at Arhax Point, you will find several caves with a rich marine life. It is also possible to do snorkeling (diving with mask and tuba).
Wied iz Zurrieq: Diving next to the blue cave in Wied iz Zurrieq will be a real treat for you with its fauna and flora.
The Madonna Statue: It is in Cirkewwa that you will find another famous dive site: "The Madonna Statue". It is the statue of the Virgin that was placed at the bottom of the sea more than 25 years ago.
Qawra Point: Also at Qawra Point (St Paul's Bay) we will find a Christ immersed several decades ago just next to the wreck The Imperial Eagle (max. depth 42m) sister ship of Captain Cousteau's Calypso.
MV Rozi: Still in Cirkewwa, discover the wreck of the MV Rozi, a tugboat sunk in 1992 (maximum depth 36m)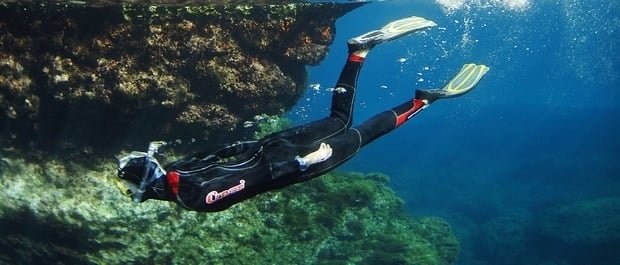 Best diving spots in Gozo
Blue Hole : On the Gozo side, go diving at Dwejra in its Blue Hole, just a few meters from the missing "Azure Window" which will become a popular spot since its disappearance in early March 2017.
Cathedral Cave: Another unmissable spot in Gozo is the Cathedral Cave with its air pocket, accessible only after a 10-12 minute underwater walk along Wied il Ghasri. Really great!
Best diving spot in Comino
Santa Maria Caves: In Comino, visit the "Santa Maria Caves", numerous caves each with its own beauty.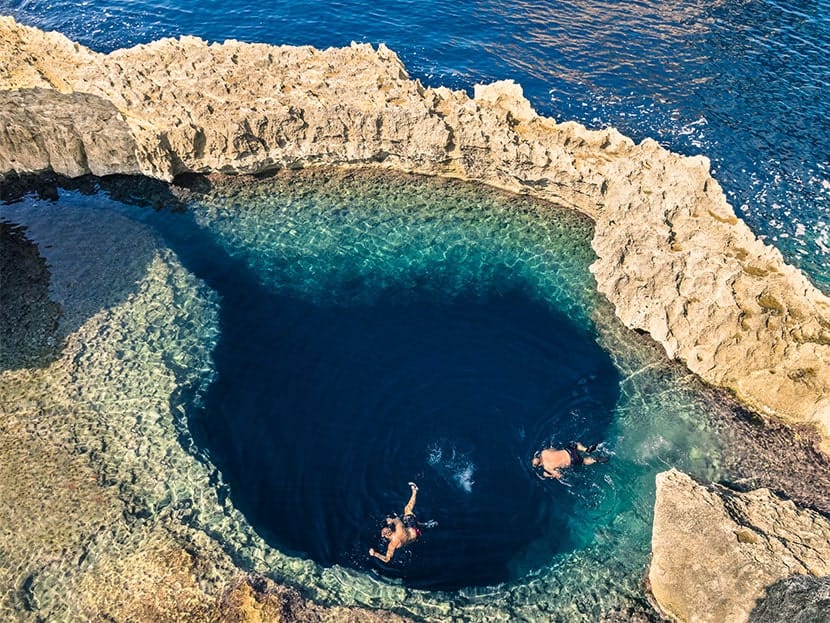 Best wreck dives in Malta
There are many wreck dives in Malta. Here are some of the best wrecks of the archipelago classified in order of depth.
P29 at Cirkewwa (12m, Maltese Army Patrol boat)
HMS Maori in Valletta (16m, 115 meters long destroyer which sank in 1942)
Rozi in Cirkewwa (30m, former tugboat in Valletta)
Um el Faroud in Zurriek (31m, 10 000 tons tanker)
Karwela in Gozo (33m, old tourist ferry 58m long)
Blenheim bomber (42m, British bomber)
HMS Stubborn (57m, British Submarine)
Le Polynésien (63m, French ship)
Schnellboot S-31 (73m, German ship)
HMS Southwold (74m, British ship)
HMS Russell (115m, British ship)
Testimony: Romain, experienced level 4 FFESSM diver with 15 years of diving behind him confirms: "Diving on a wreck in Malta? I had never experienced these sensations before! I'll come back in 6 months to do 3 or 4 others because it was so cool!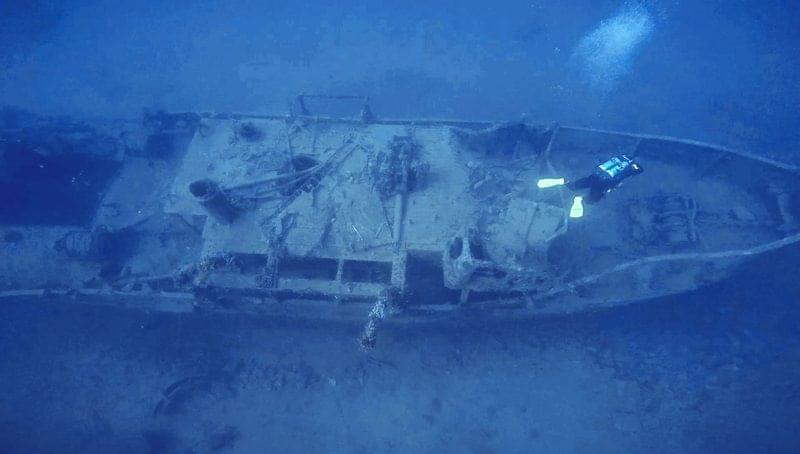 The best diving centers in Malta
There are many providers offering diving in Malta. Some of them are adapted to experienced divers since they simply offer to drop you off at the dive sites. Unless you are very experienced, you will have to go through one of the diving centers in Malta.
Most of them offer equipment rental, but also dives and courses of all kinds. Most of them also offer "diving stays" including hotel and even meals.
Dive centers often offer similar prices and services, but I present here a selection of safe clubs with good facilities and long history:
Dive Wise
Dive Wise is based in St Julians and is also highly rated on Google and Facebook. They offer all types of diving and PADI training with a dozen instructors.
Dive Wise Rate
Baptism of diving 50 € all included.
Discovery dive 70 € all included.
Other prices to be found here.
👉With My Little Malta card you'll get 15% discount at DiveWise on leisure dives and complete training packs. Excluding boat trips and training manuals.
Dive Wise Malta contact details:
Address: Westin Dragonara Complex STJ 3143 St Julians Malta
Telephone: +35621356441
E-mail address: info@divewise.com.mt
Website : https://divewise.com.mt/
Seashell dive center
Seashell dive center is one of the largest scuba diving centers in Malta. They are based in Mellieha Bay and also operate throughout the archipelago. They offer first dives, discovery dives, simple dives and PADI training.
Seashell Dive Center Rate
Baptism of diving 40 € all included.
Discovery dive 85 € all included.
2 single dives all included 90 €.
Other prices to be found here.
👉Chez Seashell dive center, with My Little Malta cardcard, save 50% on diving baptisms for a minimum of 4 people. 20% discount on the discovery dive. 10% discount on other scuba diving.
Contact information for Seashell dive center:
Address: Blu' Beach Complex, Marfa road, Mellieha Bay, Malta
Telephone: +356 99442809
E-mail address: info@seashellscuba.com
Website : https://www.seashelldivingmalta.com/
Plongée Malte
It is the French speaking diving center of reference. One chance is that it is also one of the best diving centers in Malta, which makes it a must in Malta with good atmosphere and quality equipment. All PADI and SSI qualified instructors are native French speakers . Plongée Malte offers first dives, discovery dives, single dives and specialties according to your wishes. For beginners, they take the time to explain this fantastic world of "scuba diving". They will take you to Malta, Gozo or Comino on a Luzzu (traditional Maltese colorful boat) equipped for diving. They also offer specialty dives including Tec, Nitrox and Heliox. Plongée Malte has been around for a very long time in Malta and has very good reviews and ratings on Google and Facebook.
Dive Rate Malta
👉They charge low average rates in Malta and offer a 20% discount on discovery dives for My Little Malta cardholders.
Enough to make the card worth your while right from your first vacation purchase ! Get your card here.
Baptism of diving 50 € all included.
Discovery dive 70 € all included.
2 single dives : 75 € (Cylinders, weights, transportation from the dive center to the dive sites in Malta are included, but not the rest of the equipment).
Other prices to be found here.
Contact details for Plongée Malte:
To reach them, it's easy, the best is to contact them by phone, moreover, they have a French number. If you have it, mention your My Little Malta card when booking.
Precautions to take when diving in Malta and Gozo
Before diving anywhere, including Malta, you should learn a few precautions:
Drink plenty of water before and after diving and avoid alcohol as it dehydrates you.
Most common mistake: You can't fly right after diving. You will have to wait 12 to 24 hours to avoid any risk of accident.
You will need to be able to swim well.
You must not have had any recent heart, respiratory or ear problems.
FAQ
When to dive in Malta?
The best time to go diving in Malta is between May and October, as the conditions are then ideal.
When can I go diving in Malta?
There is diving all year round in Malta, however the best conditions are between May and October. The water temperature is then pleasant.
Where can I find information about diving sites in Malta?
You can find information about diving sites in Malta on the internet like this one, in tourist guides or by asking a qualified instructor at a local dive center.
Are there sharks in Malta?
There is no risk of shark attack on the Maltese archipelago.
What are the prices for diving in Malta?
The price for a first dive is 50€, for a discovery dive, 70€, to pass your open water levels, from 300 to 450€.