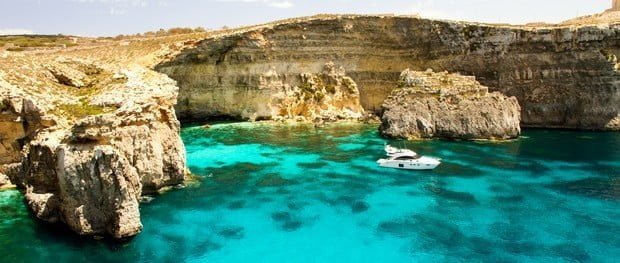 Its turquoise waters have nothing to envy to the Maldives or the Seychelles! Comino: the paradise of Malta! Its magnificent blue lagoon and its wild landscapes enchant divers, hikers and photographers.
No cars on this natural reserve of about 3Km2, a single hotel open from March to November. The island with the scent of cumin also has beautiful stories in store for you, populated by pirates and knights…
The must-do of your trip to Malta is to take a boat trip to Comino to discover its blue lagoon, crystal lagoon and other natural gems.
Find our comparison of the best excursions in Comino at the end of this article:
The beaches of Comino
Blue Lagoon
With its Polynesian look, Blue Lagoon is THE spot in Comino. The azure blue lagoon extends to the tiny islet of Cominotto. A sheltered cove with sparkling and translucent water, its bottom is so clear that you can observe the white sand and the fish from the surface!
In summer, it is difficult to play Robinson Crusoe, but you will find all the amenities and dive into 28° water!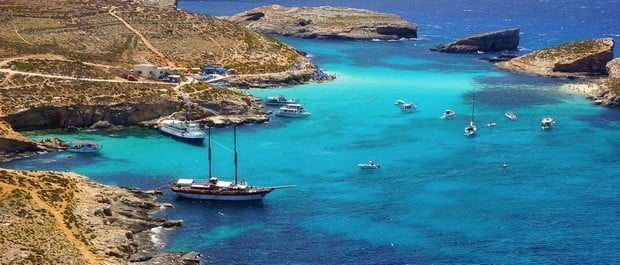 Santa Marija Bay and San Niklaw Bay
Perhaps less enchanting but just as beautiful as Blue Lagoon, Santa Marija Bay and San Niklaw Bay, two other fine sandy beaches to be discovered north of Comino. Located 20 minutes walk from the lagoon, they offer equally clear water with a more peaceful atmosphere. The few maritime pines of Santa Marija Bay will offer you some shade.
The underwater world of Comino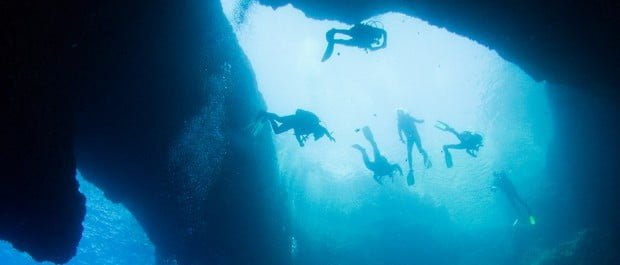 Its caves, its labyrinth of passages, its transparent water at 28° in summer! How can you resist! Comino is world famous for its scuba diving sites. Its underwater relief shelters big groupers, digging anemones, soft corals, red sponges…
Find here our article on diving in Malta.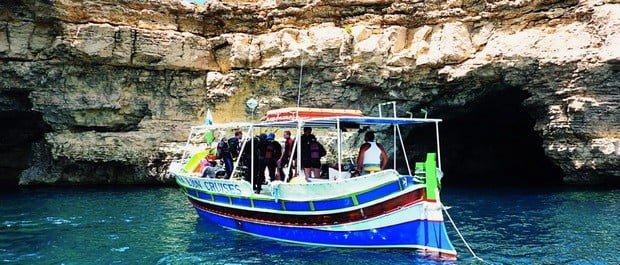 A favorite place for underwater photography and night diving, Comino leaves an indelible impression on everyone, from beginners to experienced divers.
There is only one school that offers first dives and packages. Many professional clubs in Malta and Gozo organize "dive days" on the island: you get equipped and dive from the boats.
Shallow, the Blue Lagoon is particularly suitable for beginners. And snorkeling can be done from the beach as well as from the rocks. A mask and a snorkel are enough to explore the fauna and flora of Comino.
Hiking in Comino
The circular tour of Comino takes about 4 hours. Make sure you have a good pair of shoes, because the ground is uneven: there are no roads, only dirt paths. Once up from the Blue Lagoon pier, you'll discover countless hiking trails and a breathtaking view of the jagged cliffs.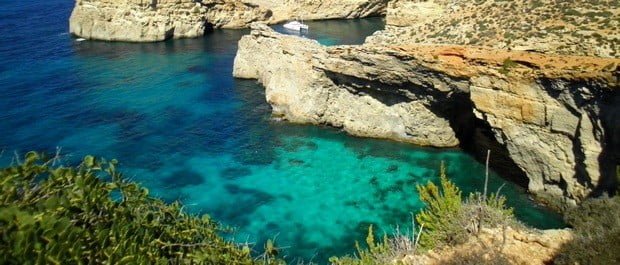 Spring is the ideal time for hiking on Comino. Arid and deserted in summer as well as in autumn, the island transforms itself: bushes of wild thyme, cumin, fennel perfume your walk. There are approximately 300 species of plants and flowers: Notice to botany and photo lovers!
The history of Comino
Inhabited since the Roman period, Comino has a history as eventful as Malta and Gozo. In the Middle Ages, its coastline of cliffs with deep caves was a real pirate's den. Its caves and coves are used as a hiding place to better scuttle the ships cruising between Malta and Gozo and hide the booty. In the seventeenth century, the Order of St. John of Jerusalem used Comino as a private hunting ground for wild boar and hares. Later, in 1800, when the British army regained control of Malta, Comino became a place of deportation for hundreds of French prisoners serving under Napoleon Bonaparte.
St. Louis Mary's Tower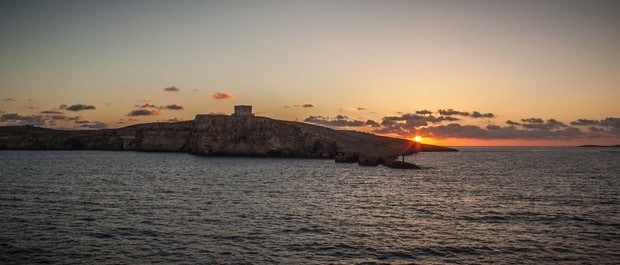 In 1618, the Knights of the Order of Malta erected St. Peter's in the city. Mary's Tower on the plans of the architect Vittorio Cassar. It serves as a surveillance post in case of foreign invasion, but must always dissuade pirates and smugglers from using Comino as a hideout. In the 20th century, the tower was again active during the wars of 14-18 and 39-45. Owned by the Armed Forces of Malta for 33 years, it is now a surveillance post against smuggling and poaching of migratory birds. In 2002, St Mary's Tower was used as a backdrop for the film "The Revenge of Monte Cristo": the scenes of the prison of the Château d'If were shot there.
How to get to Comino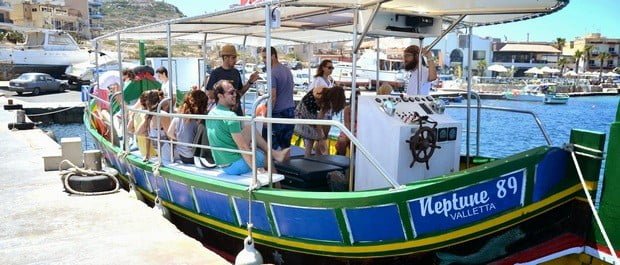 Excursions in Comino
There are many vendors and street stalls selling these tours, but to be sure of booking the best basic tour at the best price (~€30), you can book by clicking on the button below.
This excursion, although quite crowded in summer, is often very popular. It is the Sea adventure boat that will take you to the Crystal lagoon and the Blue lagoon passing by some impressive natural monuments. A part of the bottom of the boat being transparent allows to see the sea bed while sailing, it is quite surprising and magical:
Tip: Book as soon as possible, you can cancel if necessary. Don't wait until the last minute or the tours will be full.
Free cancellation up to 24 hours before
Book now, pay later
Best price guaranteed
Because you have other choices, here are the other day or evening excursions that take you to the paradise island of Comino. We made a comparison by budget and desires.
Excursions in Comino
Benefits
Reservation
Day trip with Sea adventure to Comino (Departure Bugibba)
The cheapest: 30€ for a day on a boat or 35€ for a catamaran
(Best value for money)
Click here to book
One-day catamaran cruise with Spirit of Malta (Departure Sliema)
Better atmosphere with music, unlimited food and drinks. Count 80€ all included.
Click here to book
Sunset excursion with Sea adventure and swimming in the Blue Lagoon (departure from Bugibba)
Avoid crowds later in the day. Expect to pay 25€.
Click here to book
Catamaran cruise to Comino. (Bugibba departure)
Daytime or evening departures. Optional barbecue. Away from the crowds. Expect to pay 40-50€.
Click here to book
Gozo and Comino during the day with Yippee. Boat and tuk-tuk. (From your hotel)
Visit Gozo and Comino in one extraordinary day. Count 89€ all inclusive.
Click here to book
Promotion code: LPM5
Getting to Comino by cab boat
How to get to Comino from Malta
There are "shuttle boats" and "cab boats" to Comino, departing from the Ċirkewwa ferry terminal or from the Marfa bay pier. Both landings are served by bus lines (routes 41, 42, 221, 222, X1, 101, 102) and parking facilities for motorists.
From Sliema or Bugibba, you can go directly to Comino by boat as part of a day trip .
How to get to Comino from Gozo
A similar service allows you to reach Comino from the port of Mgarr and from Hondoq Bay.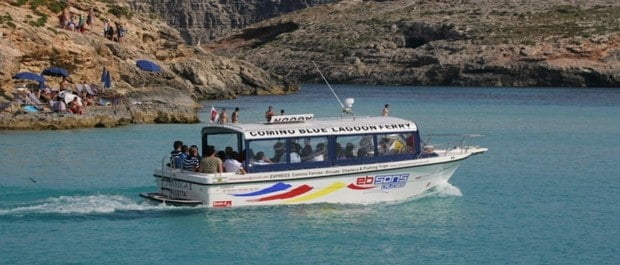 Fares and crossing times:
The prices are variable: Count about 10 euros for a return trip to Blue Lagoon. For an additional fee, you can make a detour to the caves.
As for the frequency of the shuttles, it varies according to the seasons and of course the weather. A real sea freeway in summer, the connection with Comino is available every day of the year.