Want to visit Malta? it's obvious! Once you know how to get to Malta, how do you get around? Transportation in Malta is quite varied and sometimes a little complicated to understand. So My Little Malta gives you its tips and tricks for smart, inexpensive travel to Malta and Gozo. A small classification of the means of transport? Let's go!
Do you already know how to get to your accommodation when you arrive? Book your private transfer or read the different means of transportation from the airport.
N°1 : Walking
It's simple, sporty, ecological and crushes all competition in terms of price! Malta is not very big, remember: 27 km in length and 14 km in width. In 30 minutes of walking (Gzira – St Julian's) that is to say less than 2km of walking, equivalent to 120 calories burned! Count a total of 2h30 of walking for a Valletta – Marsaxlokk trip or 4h for a San Julian's – Mellieha trip, that can be a lot… However, in the city during rush hour you will probably save time compared to the bus or car. Moreover, walking in Mdina, Rabat, Victoria, Valletta and the 3 cities is really pleasant.
If you like walking, read our article on hiking in Malta and Gozo.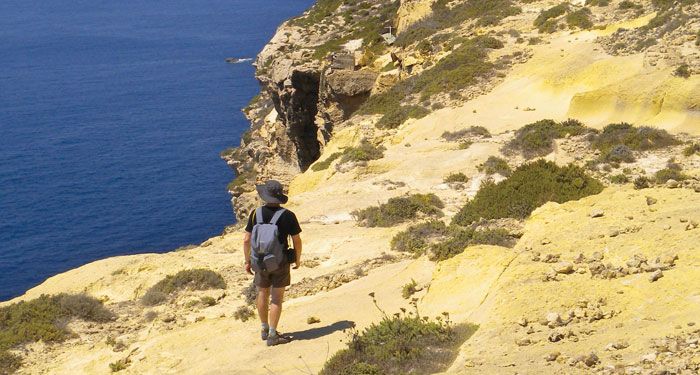 N°2 : The choice of the VTC application : Ecabs, Bolt, Uber, …
Sometimes it's really convenient to order a cab from anywhere from your mobile app! Beware, there is no UBER in Malta but rest assured, equivalents are there.
We advise you to download the app ecabs. The app brings together VTC drivers and cabs. Some even provide free wifi.
The fare from St Julian's to Malta International Airport is €14 , and from St Julian's to Sliema €5. So it's really a good plan because with 4 per car, the price of the race will become super competitive.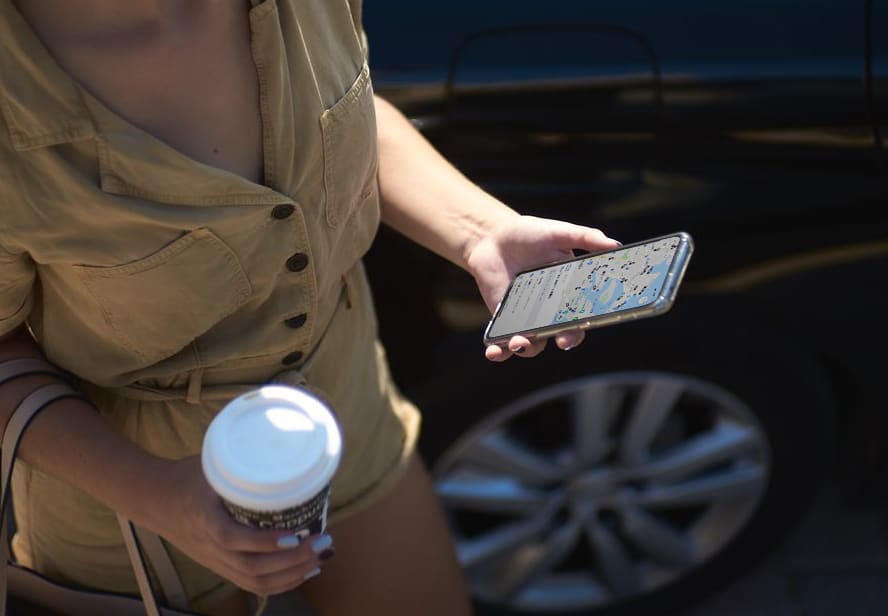 N°3 : Car, scooter, bike and quad rentals
Rent a car
Choose local companies, rather than international rental companies such as Hertz or Europcar, which are quite expensive. These rental cars are new but in some cases the prices really make a difference.
For one day, you can expect to pay 35 euros or more. Goldcar rental cars should be avoided. They ask for a very high deposit and rent the cars often "empty tank", the price of the latter being thus to be added to the rent of the car from the beginning.
I invite you to compare car rentals on a comparator. Alternatively, for an unbeatable deal, you can take advantage of a 20% discount on your car rental in Malta at Aquarius car rental with the My Little Malta discount card.
Age to rent a car in Malta:
To rent a car in Malta, you must be at least 21 years old and have had your license for at least 2 years. Also, if you are under 23 years old (or even 25 years old for some rental companies), beware of the prices displayed on the rental companies' signs or websites. For the "youngest" age, the price is sometimes increased. Also beware, it is generally forbidden to rent a car in Malta for people over 70 years old.
How to get around the 3 cities
If you want to visit the famous 3 cities (Senglea, Cospicua and Vittoriosa), a fun and popular way to do it is with the little cars of Rolling Geeks. These all-terrain golf carts can accommodate up to 4 people, and provide historical explanations along the way. Perfect for families who want to visit without being behind glass (because yes, there is no glass to spoil the view).
Rent a quad bike
Without a doubt, quad bikes are made for certain routes in Malta and especially perfect for discovering the island of Gozo . Quad bikes are a great way to go further off the beaten track.
Yes ! Malta's sister island, with its rolling hills and country roads with little traffic, offers an excellent playground for aspiring drivers or motorsports fans. There are several quad bike rental companies in Gozo that we recommend: Gozo Quad Hire and Hammerheads project offer rentals from €45 per half day, and you can get up to 20% discount with the My Little Malta Card .
Click here to read our article on quad biking in Malta.
They offer guided tours, so they will pick you up at the Gozo ferry landing and take you on a 4-wheel drive for 4 hours through incredible trails. Sensations guaranteed! You can also rent quads for a day or half day to be autonomous (even if taking a guide avoids you to pay the deposit of the quad).
Get a direct 5% discount on your quad bike or TukTuk trip to Gozo with Yippee Malta by using the promo code LPM5
Rent a bike
Even if the bicycle is a means of transportation that can sometimes be dangerous in Malta, ("blinker? But who still uses it here?") it remains very appreciable in the big cities such as Valletta, Sliema or St Julian's. Count on average 15 € per day for an all-inclusive rental. The longer the rental period, the lower the price per day!
Arrived a few years ago, the Nextbike self-service bicycles (same principle as the Vélib' in Paris and the Villos! in Brussels) have spread to the main places of the conurbation: Gzira, Sliema and St Julian's. Rental prices are between 1.50 € and 3 € per hour. Perfect for maintaining your legs, even on vacation!
Also our partner The Cyclist Malta based next to Sliema rents mountain bikes, electric bikes and road bikes. It offers a 15% discount to My Little Malta cardholders.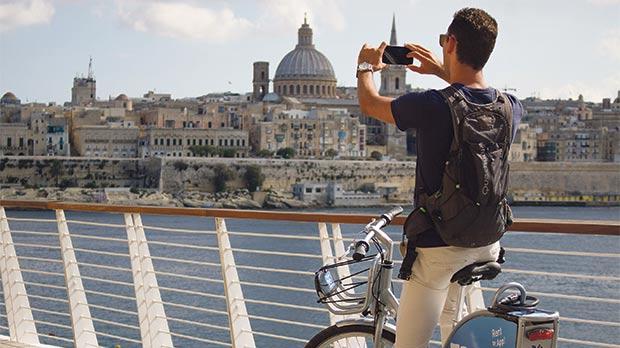 Rent a scooter
Scooter rental is also very affordable with prices around 70 euros per week! The same goes for the rental of quad bikes, which are very appreciated in Gozo with a rate of around 70 € for 7 hours (number of participants: 2 people for 1 quad bike).
You can rent a scooter from Sliema at LA rentals. They're rated 5/5 and you'll get 10% off with the My Little Malta discount card.
N°4 : Public buses
The best deal if you want to travel by bus is the "Explore Card": unlimited bus for 21 € during 7 days. If not, you can always take by the way which will cost you 2 € the day and 3 € for the night journeys.
You can also buy a "Flex card": You buy it with credit on it (minimum 6€) and you can recharge it from the Tallinja app. You can then use it for the public buses but also the ferry and others.
If you stay more than ten days then you can make a personalized tallinja card (15€ + delivery) to enjoy the free unlimited bus all year long, day and night.
To buy tickets, it's on the bus, in cash or contactless payment! Day passes or multipass are available on the internet or at the sales points listed here.
The daytime buses run from 05:00 to 23:00, then there are night buses. Each ticket is valid for 2 hours.
For more info, read this detailed article on buses in Malta .
N°5 : The gondolas (in Maltese "Dghajsa") or traditional Maltese boat ("Luzzu").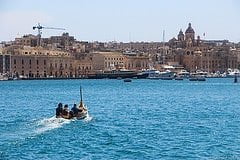 "Leave the gondolas in Venice, the spring on the Thames, we do not open the suitcases, we are so well (…)".
Besides the nostalgic moment and the total change of scenery that this means of transport offers, it is perfect for trips such as Valletta Waterfront – Three Cities (Vittoriosa, Senglea and Cospicua) or for a panoramic view of Marsaxlokk or St Julian's. It is an excellent alternative to the Ferry. Don't forget that the Maltese are very friendly people and will definitely like to have you on board one of their ships. So if you meet a fisherman, don't hesitate and ask!
N°6 : Boats and ferries
The ferries
For trips such as Malta – Gozo – Comino or Sliema – Valletta, the ferry is an excellent river shuttle. It is possible to travel by ferry not only on foot, but also by car if you have chosen to rent one during your stay in Malta.
Boats
Boat rental
You can rent a boat to go anywhere you want around Malta, Gozo or Comino. No need to have a boat license, some rental companies offer boats that do not require a license. If you are 8 people, the rental of a RIB boat will cost less than 70€ per person for half a day. The price of gasoline is to be added: Count 60€ round trip from St Julian's to Comino. You can also add a skipper for 100€ more if you are not confident. Find all the rates on the website of the rental company.
If you want to enjoy yourself, you can also rent a large sailboat with skipper.
Boat excursions
Share the cost by taking a boat trip around Malta or to Gozo, Comino, Blue Lagoon or even Sicily. You can find the list of boat excursions on the booking platform. The fare is the same as direct, and if you have the My Little Malta card you'll get a 15% discount.
The most popular excursions are the following:
N°7 : The panoramic buses
Perfect for short stays, as the tours offered allow you to visit Malta in a few days. It is the perfect way to combine tourism and transportation. All the sightseeing bus companies on the island (Maltasightseeing, CitySightseeing and others) serve the majority of Malta's tourist attractions, from museums to historical sites and beaches. Count 20 € for the day for an adult and 13 € for a child with the possibility of getting off and on whenever you want (a bus every 30 minutes). What's more, if you have our My Little Malta discount card, we'll give you 15% off your order (unlimited number of travelers with promo code). Buses of this type are also available in Gozo.
Click here to read our article on tourist buses.
N°8 : Travelling in horse-drawn carriages (to be avoided)
Yes, it's typically Maltese, yes it's romantic! What is sadder is the life that this poor horse has to endure. So we're not going to stop you, but our hearts cannot deny that these poor animals deserve much better.
If you choose this option anyway:
NEGOTIATE! A tour of Valletta in a horse-drawn carriage can be negotiated for up to 5 euros per person (based on three participants). Carriages can be found at the entrance of Valletta as well as in most tourist places (Fort St Elmo or near the Portomaso Building in Saint Julian's).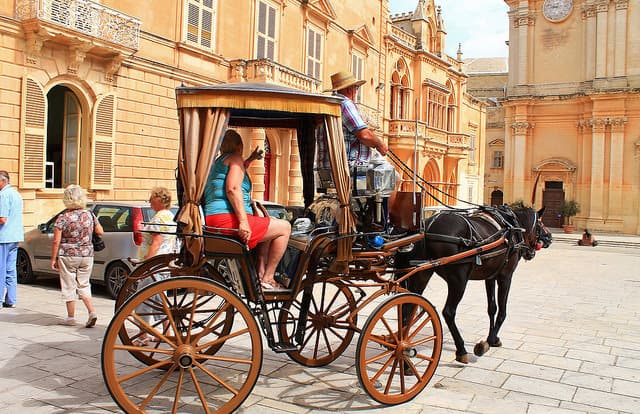 Other means of transportation in Malta and Gozo
Discover Gozo by TukTuk with driver, it's the best. Your certified guide will explain Gozo's history and show you its most beautiful landscapes.
A shuttle bus will pick you up at your hotel and take you to Gozo to spend one of the best days of your vacation.
Plus, enjoy a 5% discount on your guided tour of Gozo on the Yippee Malta website using the promo code LPM5.
👉 Have you ever visited Malta on a Segway? It's great to visit faster than by foot and it's fun. You can rent one or take a tour with a guide. There is also Segway in Gozo.
👉 Going on a jeep safari in Gozo is a good alternative to quad biking to visit Gozo. Also, you can visit the remote corners of Malta by jeep.
👉 Take the height and fly over Malta and Gozo to take in the sights.
Again, with the My Little Malta card, you can pay less on all these bookings and rentals.
FAQ
How easy is it to get around Malta?
Yes, it is very easy to get around in Malta thanks to all its means of transportation. Buses and walking are generally favored in cities. To get to specific places, it may be advisable to take an organized tour. Alternatively, you can rent a car if you wish, but be aware that there can be a lot of traffic and parking is not always easy.
How to get around in Malta?
Study the different means of transportation that exist in Malta. In general, buses and walking are preferred for their practicality, ecology and economy.
How to get around Gozo?
Unlike in Malta, public buses are not the preferred means of transport in Gozo. It is recommended to take the tourist bus, an organized tour or to rent a quad, a scooter or a bicycle.
Do I need a car to get around Malta?
No, you can get around Malta without a car thanks to the island's buses.
What means of transportation in Malta?
The preferred means of transportation for tourists in Malta is by bus. It is practical, ecological and economical. To get to specific places, favor organized tours and excursions.
Is the bus free in Malta?
The bus is free in Malta if you have a personalized Tallinja card.
Read on:
👉 Now that you know how to get around, find out where to go with this list of the best excursions in and around Malta!