When you are on vacation to discover a city, one of the best ways to get to know it is to take the tourist buses. This is the case in Malta and Gozo. with these panoramic buses that take you around the island.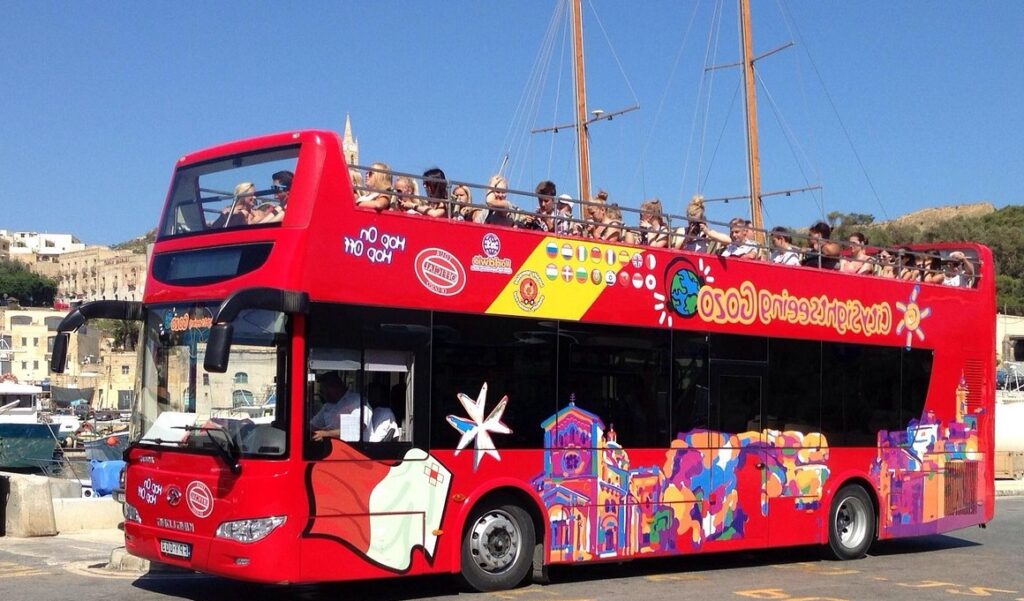 The operation of the tourist bus
These panoramic buses, known by their English name Hop-on Hop-off, are double-decker buses with open roof. The sightseeing bus allows you to hop on and off at your leisure at various attractions and points of interest to enjoy carefully planned tours. Relax and enjoy the views from the comfort of the buses.
There is also an audio guide with explanations in several languages on board, explaining anecdotes and other essential information about the sites crossed.
Tip: Remember to bring sunglasses, a hat and don't forget sunscreen in summer. There's also plenty of room inside if you prefer.
Several possible routes
Tours in Malta
In Malta, you will have the choice between 2 different routes on the Maltese archipelago.
1. South Malta Road (Red Road)
Departure from Sliema Ferries, in front of Burger King.
Valletta
Church of Zejtun
Fishing village Marsaxlokk
Cave and museum of Ghar Dalam
Blue cave
Hagar Qim and Mnajdra Temples
The limestone heritage
2. North Route of Malta (Blue Route).
Departure from Sliema Ferries, in front of McDonald's.
Valletta
Gardens of San Anton
The Craft Village
Aviation Museum
Church of Mosta
Mdina
Rabat
Church of Mgarr
Golden Bay
Bugibba Square
Splash and Fun Water Park
Mediterraneo Marine Park
Saint George's Bay
Spinola Bay
You can buy your ticket on the website by clicking on the button below and then you can board the bus at one of the points of the circuit below.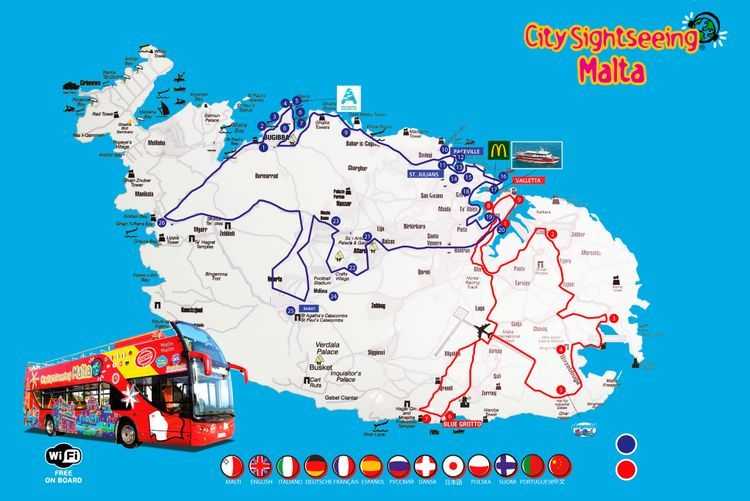 The tourist bus in Gozo
Our favorite tourist bus is the route on the island of Gozo, which allows us to discover Malta's little sister in its entirety, or almost. The journeys become a real open-air museum, from which no one leaves insensitive.
You can start/end the tour at any stop on the tour:
Stop 1 – Mgarr
Stop 2 – Xewkija
Stop 3 – Savina Creativity
Stop 4 – Victoria to Dwejra
Stop 5 – Ta' Dbiegi
Stop 6 – Dwejra
Stop 7 – Ta' Pinu
Stop 8 – Fontana
Stop 9 – Xlendi
Stop 10 – Victoria to Marsalfom
Stop 11 – Marsalfom
Stop 12 – Ggantija
Stop 13 – Ramla
Stop 14 – Nadur
Stop 15 – Mgarr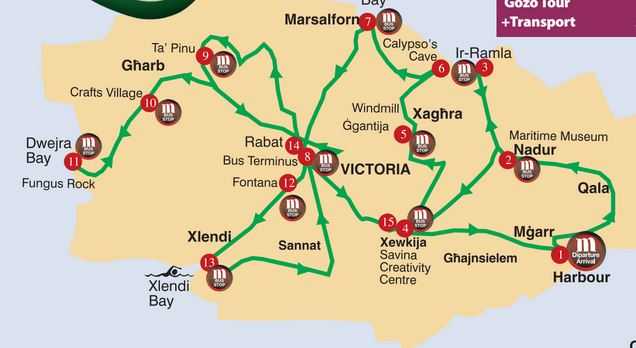 The price of tourist buses in Malta
The tourist bus in Malta costs 22€ for an adult and 14€ for a child per day. This will allow you to discover, in one day, many sublime places.
This can be a good program for a morning before spending the afternoon strolling on the beach, or a marathon day to take in the sights by stopping, visiting a place and getting back on the next bus.
Also, we recommend the tourist bus for people of all ages, from students on an internship to families on vacation on the island.
Who offers this service?
Two companies offer this kind of service in Malta, Hello Malta with Malta Sightseeing & Gozo Sightseeing and Sightseeing Malta. Both companies offer similar tours at the same prices.
Their websites are not translated, so I strongly advise you to book (at the same price) on another platform. The links below allow you to book securely. In addition, unlike buying it at a counter, you will have the possibility of essential guarantees:
Book now and pay later
Free cancellation up to 24 hours before
Audio-guide in all common languages