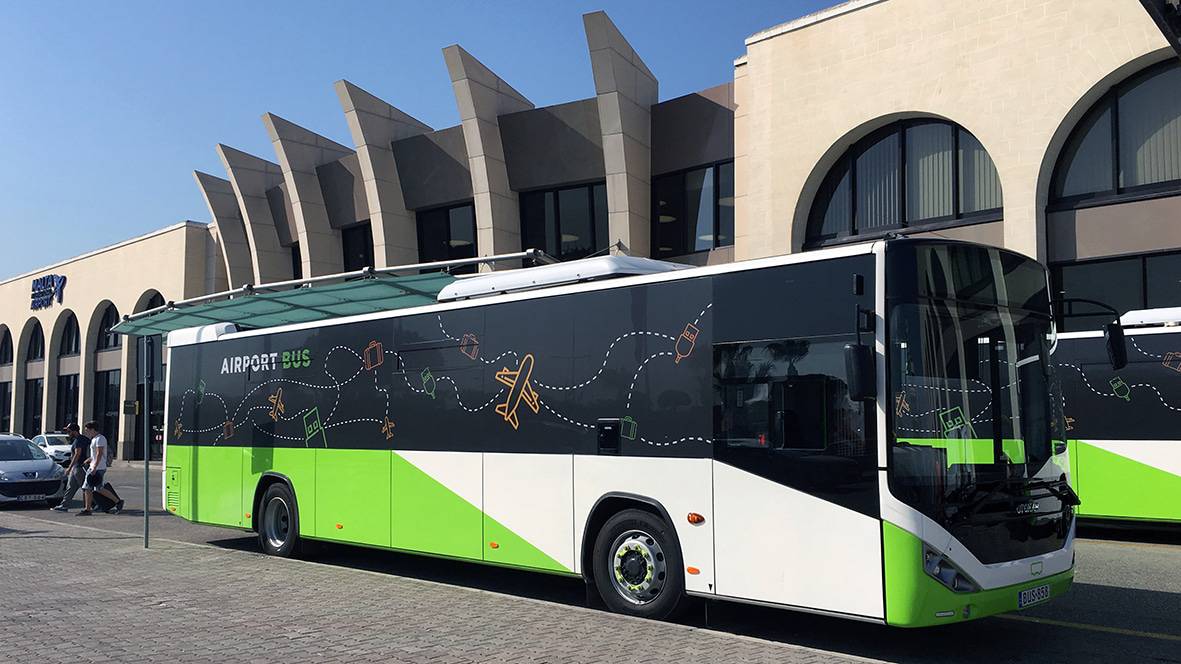 The majority of people on vacation in Malta discover the Maltese archipelago by bus. This saves you the stress of driving on the left side of the road, gives you time to enjoy the scenery and is a very economical way to get around Malta. Visiting Malta by bus is convenient, but there are things you need to know before you start, so we give you some tips on how to make the best use of Maltese public transport.
1. Bus routes in Malta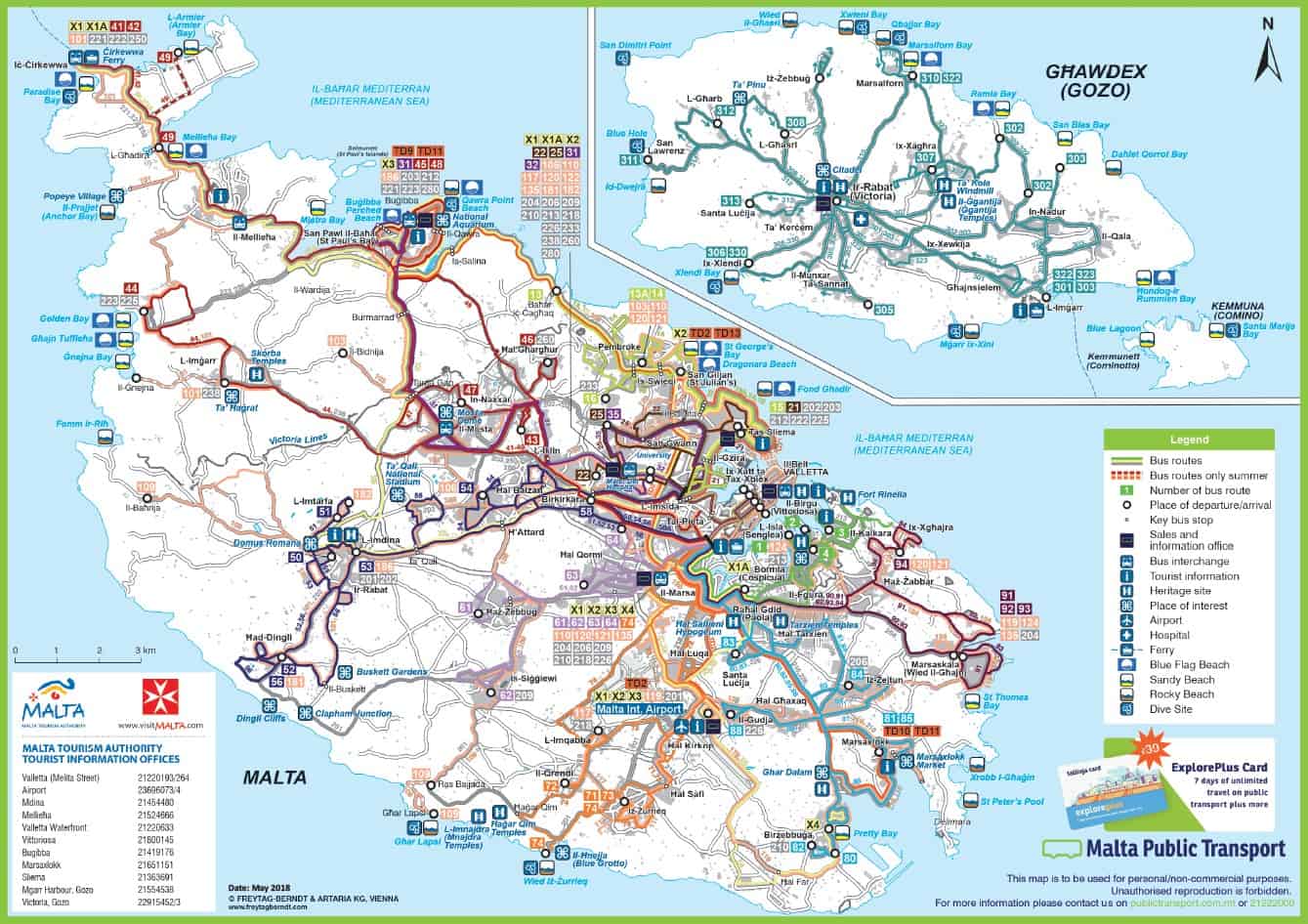 More than 80 bus lines serve Malta: you can go almost everywhere from 1,50€ or 2€ depending on the season between 5H30 and 23H. In order to prepare your stay, Visiter Malta advises you to download the routes of the different bus lines with their frequencies, timetables and connections between them: study them beforehand and you will save a lot of time when you are on vacation in the Maltese archipelago.
Understanding the bus routes in Malta
Link to find the schedules according to the routes.
Link to calculate a route: plan your route.
– Lines numbered with 1 or 2 digits (e.g. line 1- 12 -91) run from Valletta, the capital of Malta, to the main cities.
– The 3-digit lines (e.g. 120 – 203-225) are very interesting, because they are transverse and save on travel time. Thus Paola, where the Tarxian Temples are located, is only 40 minutes away from San Julian's with the 120 bus and more than twice that if you go through Valletta!
– The X and TD Lines serve Malta's international airport, but pass through most of Malta's cities: these buses stop less often because people are not familiar with their routes, yet it is more comfortable to sit in a Bus X2 than to stand in a Bus 12 between San Julian's and Gzira
Tip: several visits in the same geographical area of Malta allow you to make stops and split a long trip.
The bus application in Malta: Tallinja
Essential if you plan to take the bus, download theTALLINJA application to know the real timetable.
By positioning your stop on the map, click on "My Next Bus" to see in real time how long it will take for the buses to arrive at your stop! Top, because geolocated in real time and efficient. All the locals have it and only use it!
Link APPLE STORE (iOS) and GOOGLE PLAY link (Android)
2. Before taking the bus in Malta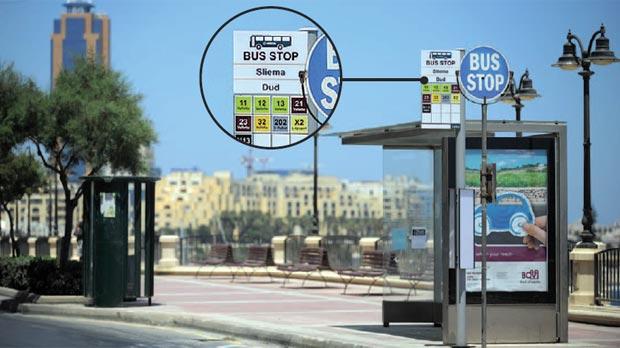 Bus stations
Each bus station is easily recognizable: a sign with the numbers of the lines of the stop, the direction and the schedule. In some stations, an illuminated display shows you the waiting time for the upcoming buses.
– The bus is in sight: wave to the driver and check that the number and the city name indicated (front and side lights) correspond to your destination before getting on.
When waiting for the bus
– The bus does not stop despite your sign: this means that the bus is already at its maximum passenger capacity, so you will have to wait for the next one.
– The bus is behind schedule: this is unfortunately often the case! Either because there are works or a collision: the traffic in Malta can be slowed down very quickly and suddenly you see 4 buses arriving at a few seconds intervals!
Tip: plan on a longer timing than indicated on the signs.
3. On board the Maltese buses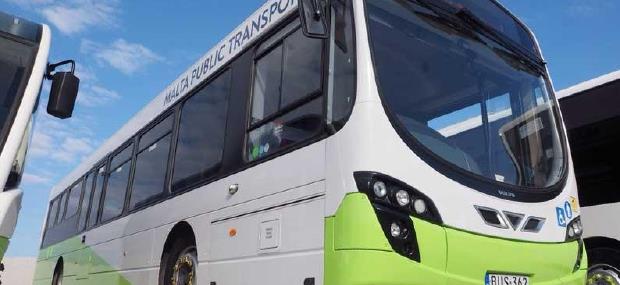 – If you already have your ticket, show it to the driver by saying "Hello or Good morning" (he will appreciate it!); If you have to buy it on board, always bring some change because a 10€ bill will often be refused and you will stay at the bus stop!
– Try to sit at the back of the bus: elevated seats offer a better view and you're more likely to get the whole ride in comfort. In Malta, it is customary to systematically give way to older people. Reserved seats are indicated for people with reduced mobility and parents with small children (strollers also travel).
– The announcement of the upcoming bus station is audible and displayed on screen: just press the "stop" button to get off at the next stop.
Tip: The air conditioning of the buses is sometimes strong in summer, beware of the cold!
Good to know to visit Malta by bus:
The driving of Maltese bus drivers is rather sporty: they have to deal with motorists who turn without blinking and sometimes park a bit haphazardly …. So if you have to travel standing up, always anticipate a possible sudden braking!
The vast majority of drivers are courteous and helpful, but at certain times of the day there can be some irritation ….
The bus fleet and the network are continuously being modernized. Most buses will have air conditioning, very comfortable seats, surveillance cameras and rear exit.
Bus prices in Malta
If you wish to travel by bus in Malta, there are several possibilities:
An individual bus ticket will cost you 2 € per day and 3 € per night. Tickets can be purchased from the bus driver on all buses. You will be able to pay with cash or contactless payment on most buses.
A fine of 50 euros will be imposed on passengers caught without a transport card or cash ticket.
The tickets allow travel to any destination within two hours, including bus changes.
Free bus in Malta
Since 2022, all holders of a valid personalized Tallinja card can travel free of charge on all Maltese public transport buses operating day, night and special services excluding TD lines and ferries. Passengers will have to validate their personalized Tallinja card on the ticket machine located next to the bus driver every time they board the bus.
A personalized Tallinja card costs 15€ + 8€ international delivery to your home. It will usually be sent to you within about 10 days. Do the math to see if it's worth it to you. It should be said that this card is interesting for a stay in Malta of at least 10 to 15 days. To apply for your personalized Tallinja map, click here. Otherwise, it is better to buy another more specific map listed below.
Bus passes in Malta
The "Explore Card": unlimited bus for 21 euros for 7 days.
This card is valid for travel on day, night and special services; it is not valid on Tallinja Direct (routes beginning with TD). Very good if you stay a week.
The "flex card": You buy it with credit on it (minimum 6 €) and you can recharge it from the Tallinja application.
The card allows you to have discounted rates on different means of transportation, public bus transportation, Valletta ferry services, and many others. You can buy the card for 6 €, which will be your credit to use immediately. When you purchase this card, you can immediately use your Flex Card credit for travel. This way, you won't need to use cash on the bus.
The "12 Single Day Journeys " card. This card is perfect for those who take the bus from time to time. This card can be shared with several people so if you are a family that wants to go to the beach for a day, it will do the trick!
The reduced rate card: It is dedicated to all seniors over 60 years old and to people with reduced mobility who hold a European disability card. 2 hours of transportation cost 0,25 €. Free of charge from 0,50 € spent during the day or from 2 € during the week. (excluding TD and night buses)
People over 75 years old with a Tallinja card do not pay for public transport.
Where to buy bus passes and tickets:
For single or return tickets: nothing could be simpler, because it happens in the bus with the driver.
Weekly and monthly cards can be purchased from authorized dealers. These are newspaper sellers usually displaying the TALLINJA logo. Find the list of sales points here.
Alternatively, if you're really thinking ahead, you can buy EXPLORE cards online and have them delivered to your hotel upon arrival. Click on the link here to learn more.
Are there any special bus fares for senior travelers?
No, there are no special rates for foreign seniors. They will have to take an adult ticket.
Are there special bus rates for children?
There are no child-friendly bus fares, but there may be discounts on Explore cards for children under 10.