Planning a long weekend in Malta, but don't know how to organize it? We've done the work for you! What to do in Malta in 3 days? Don't ask yourself the question anymore, to visit Malta in 3 days, here are the must-see places and our advice!
Day 1: Mdina and the northern beaches
Morning: Mdina, ancient capital.
Your 3 days in Malta start with a visit to the beautiful Mdina, the ancient capital of Malta.
This walled city was the ancient capital, nicknamed The Silent city. Mdina is indeed quite quiet and cars (except those of the inhabitants) are not allowed to circulate there. Rebuilt in the baroque style in 1693 after an earthquake, it is definitely worth a visit. If you like old stones, you will be delighted!
To start your day with a bang, visit the St. Peter's Cathedral Paul. Continue by walking through the small medieval streets. Don't miss the panoramic view from the fortifications to the east of the city. Then stop by the Fontanella Tea Garden to enjoy one of their delicious cakes or even have lunch. You will be able to contemplate the view while enjoying the food.
Did you know that? The gate of Mdina was used as a set for the filming of the famous series Game of Thrones. Who knows, maybe you'll meet Daenerys Targaryen or Jamie Lannister?
Here you can find moreinformation about Mdina.
A little extra: If you have enough time, finish your visit in Rabat, which is right next to Mdina. Its typical alleys and its Saint Paul basilica are worth a visit.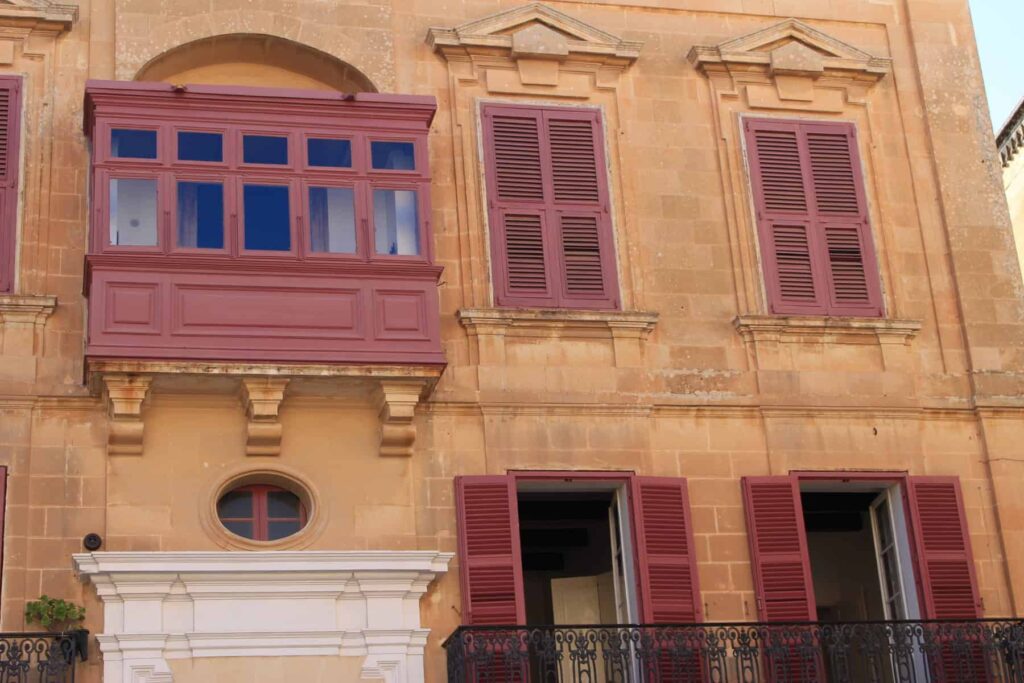 Afternoon: Golden Bay and Ghajn Tuffieha Beaches
Looking for the beach in Malta? Or a sublime place to hike with magnificent views? Head for the beaches of northwestern Malta: a change of scenery guaranteed!
After visiting the secular and sometimes crowded Mdina, it is the perfect place to rest and enjoy a beautiful sunset.
As on most of the beaches, various activities are proposed: Stand-up Paddle, jet ski, pedal boat… even horseback riding on the Majistral plateau.
Do you like hiking? Then, go to the nearby beaches by the ridges and hiking trails!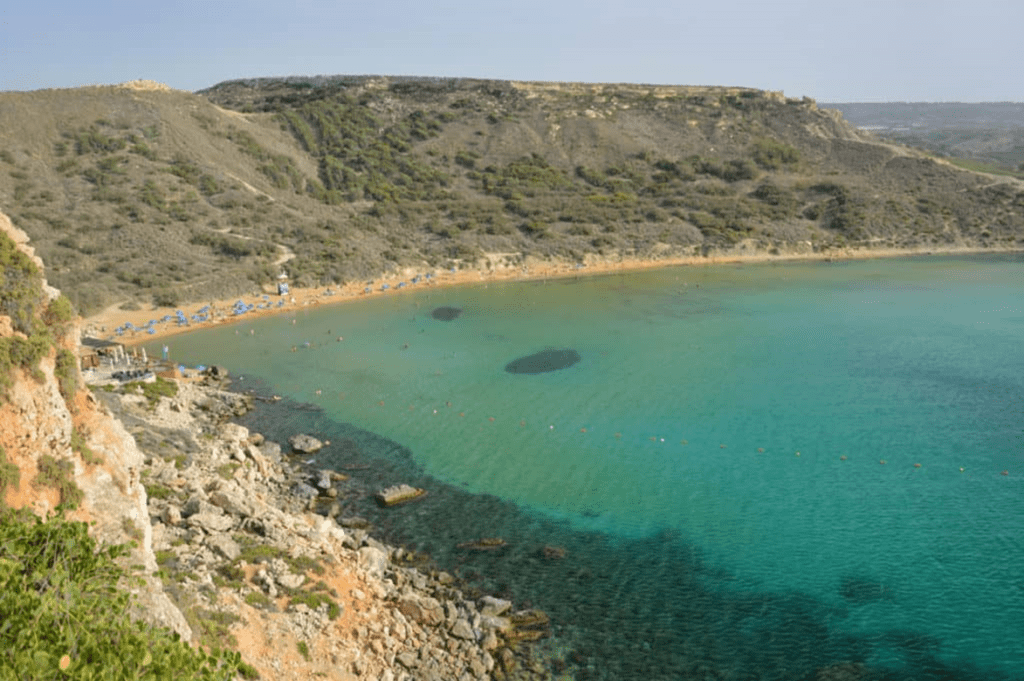 Head south from Golden Bay beach (by road or cliff, both are easy to do – allow 30-40 minutes without forcing) to reach Ghajn Tuffieha, a wilder beach. Then leave the water's edge and take a step up in the Maltese scrubland. Continue to the isthmus of Ta' Lippija, absolutely sumptuous and all in clay. And there, surprise: a 3rd beach, more secret and thus authentically "Maltese" awaits you in the distance: Il-Gnejna. Your mission: to go back up to the plateau to play the masters of the world at the foot of the Ta' Lippija watchtower, before going back down (a little steep but doable) to the parking lot of the Gnejna Bay beach.
Tip: In high season, My Little Malta advises you to come early to Golden Bay and Ghajn Tuffieha for a chance to lay down your towel. In this case, reverse the morning and afternoon of our program.
👉View accommodations in the north of Malta
Read our dedicated article, to know the best beaches in Malta.
Day 2: Visit of Gozo
Continue your 3-day stay in Malta by visiting Gozo.
Gozo is the second island of Malta, located northeast of the main island. To visit Gozo, one day will not be too much for you! Don't be fooled by its size, this island offers many landscapes to discover.
Going to Gozo alone
The island of Gozo is accessible by boat. To go by yourself you have the choice between :
Take the ferry to Ċirkewwa, on the north side of the island and enjoy the view from the upper deck.
Or take the fast ferry from Valletta. This second one takes you to Gozo in 45 minutes. However, it is not possible to stand on the upper deck.
In both cases, you arrive at the port of Mgarr.
Organized excursions in Gozo
We think the best option is to book a tour with a local guide. It's often affordable after all and it ensures that you get the most out of your time.
The best tours of Gozo are offered by the local operator Yippee Malta. They are rated 4.9/5, their vehicles are recent and the guides are competent. In addition, they will place you, if you wish, with a guide.
Attention: We recommend you to book your excursions in advance to avoid disappointment. In high season, they are always full several days before.
A driver will pick you up at your hotel and take you to Gozo by private boat (to avoid waiting at the ferry). On the way, you will discover Comino and its magnificent blue lagoon.
Several means of transportation are available:
1 – Excursion to Gozo by quad with guide
If the weather is good, we recommend this quad tour that you drive yourself with a guide during which you will visit the best spots of the island, you will have a local lunch and the explanations of the interesting points. It is the guarantee to spend a nice day with up to 2 people per quad.
Take advantage ofa 5% discount when booking on the Yippee Malta website with the promo code: LPM5
Rated 4.9/5
Direct booking with the operator
Free cancellation
2 – Excursion to Gozo by tuk-tuk with guide
Si vous êtes plusieurs ou que vous préférez vous faire conduire, nous vous recommandons le tour de Gozo en Tuk-tuk. It's a big 3-wheeled motorcycle with a dedicated English-speaking driver-guide for you. You can be 6 people on the excursion and you will be sure to get a good view and good sound.
Take advantage of a discount by booking directly on the Yippee Malta website with the promo code: LPM5
Rated 4.9/5
Direct booking with the operator
Free cancellation
3 – Excursion to Gozo by jeep with guide
In colder weather, you may prefer the comfort of a jeep with driver to visit Gozo. In the same way, everything is included in this day, transportation, boat, lunch, English speaking guide, and the visit of Gozo by Jeep.
Click below to book your full day:
Free cancellation up to 24 hours before
Pick-up service included
Book now, pay later
One day trip to Gozo and Comino
You want to visit Gozo and enjoy the beaches of Comino at the same time during the day? It is possible. You will then take a half-day boat trip to Comino to enjoy the blue lagoon and other jewels of this small island and then a half-day trip to Gozo by Tuktuk. Top of the top:
How to get around Gozo on your own?
The most economical option is to take the public transportation system. However, this is not optimal and will make you lose precious time. We advise you to take the tourist bus with multiple stops . This bus allows you to get on and off at any time and anywhere you want. Ideal to discover a maximum of places in one day! In addition, the audio commentary is available in various languages.
If you want to explore Gozo on your own, it's best to rent a car. Many choose to rent a quad bikefor exploring the island's out-of-the-way places!
What to visit in Gozo?
Dwejra
The first place not to be missed in Gozo is the site of Dwejra, located in the northwest of the island. While the Azure Window sadly disappeared on March 8, 2017, the Dwejra site still remains a natural place to visit. The view is breathtaking with its cliffs, its inland sea called Inland Sea, the Blue Hole or its watchtower. The latter even has a Facebook page: Dwejra Tower.
Rabat/Victoria
Then head to Victoria, the capital of Gozo (also called Rabat on the traffic signs). Stroll through its typical streets, go to the Basilica of St. George and then climb up to the Citadel. With a recently fully restored entrance, the citadel is the place to be in Victoria. There is no doubt that this magnificent walled city has a false air of Mdina, only quieter and more intimate. Explore its cathedral, medieval streets, and walk along the ramparts while enjoying the panoramic view of the whole of Gozo.
The capital of Gozo offers a number of restaurants where you can have lunch after this morning of sightseeing. If you prefer to have lunch by the water, go to Xlendi, a very cute little port. You will have a good meal of grilled fish (Lampuki, red tuna, sea bream and other Sea Bream… in sauce), typical of Malta.
The temples of Ggantija
Then, go back 6000 years to visit the temples of Ggantija. Legend has it that giants built these temples, hence their name.
Ramla Bay
Finally, head to Ramla Bay beach, located to the northeast. You will be amazed by its copper-colored sand, unique in the world. If you have time, walk to Tal-Mixta Cave, a cliffside cave accessible by a small path at the end of the beach. Its panoramic view is really worth a visit.
Tip: You can modify this program and choose to go to Dwejra at the end of the day. You will then be treated to a magnificent sunset over the sea.
If you go on a tour, your guide will tell you the impressive history of these different points of interest.
Day 3: Valletta and the Three Cities
Morning: visit of Valletta
For this3rd day, the visit of Valletta, the capital of Malta, is on the program! Although small in size, it is large in history and beauty.
Access to Malta's capital is easy: almost all buses converge there. If you rent a car, you can park in one of the parking lots located in Floriana, before the entrance to the capital.
In Valletta, you can get around on foot, and that's also what makes it so charming. No cars driving in all directions, pedestrians are king in the Maltese capital! Start your visit at the entrance of the capital, where stands Triton Fountain, an impressive fountain. Then cross the bridge: on your right you'll find the modern Parliament built by architect Renzo Piano, and the open-air theater(Teatru Rjal). Take time to wander around Valletta. Its charming and colorful streets, its sand-colored stone buildings, its impressive co-cathedral Saint-Jean invite you to look up and stroll around.
My Little Malta recommends a visit to the interior of Saint John's Co-Cathedral. Its rather sober exterior hides an absolutely sublime baroque interior! You can also admire famous paintings by Caravaggio.
The Armory Museum and the Palace of the Grand Masters are also must-sees. Their visit will allow you to appreciate the history of the capital at the time of the Knights of the Order of St. John. Discover their lives and all that they brought to the Maltese archipelago: ease, security and architectural splendor.
If you want to feel like a nobleman and get an idea of Maltese culture, head to Casa Rocca Piccola.
Then have lunch at Is-Suq Tal-Belt, the famous covered market that will amaze your taste buds in a really nice and original atmosphere. Don't forget that Valletta was until the end of the 20th century a poor working class city! So you'll notice typical 70s-80s low-rent buildings as you continue your exploration toward Fort St. Elmo.
Finally, as 4:00 pm approaches, we'll meet in theUpper Barrakka Gardens park. You will then witness the traditional cannon shot, which will sound throughout the Grand Harbour from Valletta to the Three Cities.
As you leave the garden, you will discover the Auberge de Castille standing proudly on a small square. This building originally housed the Knights of the Tongue of Castile, one of the most important languages of the Order of the Hospitallers of Saint John of Jerusalem. The Auberge de Castille now houses the offices of the Prime Minister of Malta.
We tell you more about Valletta here.
Tip: With the My Little Malta discount card, you can enjoy a 30% discount on admission to historic sites and museums, including Fort Saint Elmo.
GUIDED TOUR OF VALLETTA :
To discover all the history of Valletta, I recommend if possible to take a guided tour with a guide. Group tours take place 3 times a week for half a day.
The tour often includes:
The guide and Valletta expert.
The entrance ticket for the unmissable co-cathedral of St. John
The show Malta experience.
If needed, a shuttle from your accommodation.
The visit will cost you 34 € per person. Otherwise, the price for a private tour with a private English-speaking guide is 200€.
Below are the links to book at the best price:
Also, if you have the My Little Malta discount card, you'll get 15% off tours and excursions. Find out more about the card by clicking here.
👉View accommodations in Valletta
Afternoon: The Three Cities
Complete your 3rd day of visit with the Three Cities. Senglea, Vittoriosa and Cospicua are authentic and full of charm.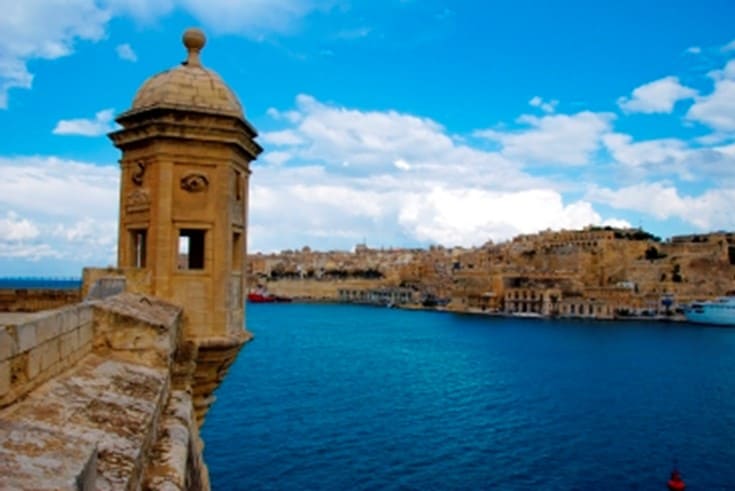 Hop, we go down from Upper Barrakka Gardens by the vertiginous elevator! The ferry dock is opposite. For a unique experience, take a water cab (2€ per person). These traditional Maltese boats may remind you of the gondolas in Venice.
With their respective names Vittoriosa (Birgu), Cospicua (Bormla) and Senglea (Isla), the Three Cities are walled cities, known for their colorful streets, churches and palaces and their colorful religious festivals. It is particularly pleasant to walk in the typical streets of the Three Cities, quieter than those of Valletta.
In Vittoriosa, you can visit the Inns of France and England. These inns housed the Knights of the Order of St. John of Jerusalem from the languages of France and England. Then go for a walk along the quays and the ramparts. You can admire a wide variety of boats, including luxury yachts!
If you have enough time, we recommend you to visit Fort St. Angelo. This fort played a major role during the Great Siege of Malta in 1565. You will also enjoy the beautiful panoramic view of the Three Cities and Valletta.
👉 Tip: You can enjoy (among other things) 30% off entrance to Heritage Malta historic sites with the My Little Malta card.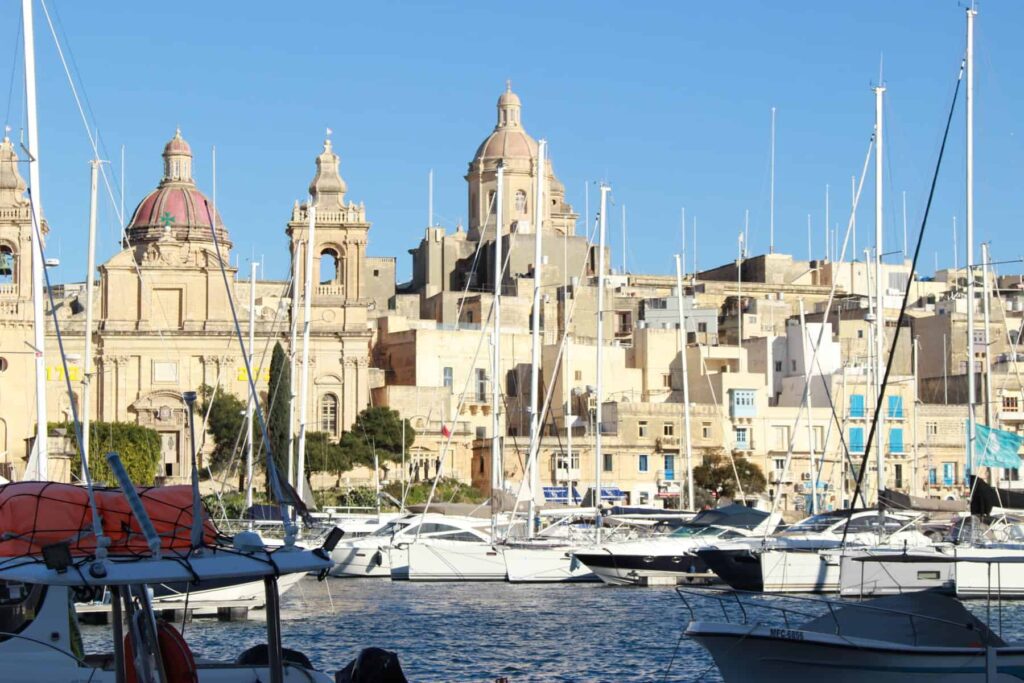 Finally, a short break is necessary at Vittoriosa Square. You will find charming restaurants where you can get your strength back before your departure. A great way to end your 3-day stay in Malta!
To learn more, check out our article on the Three Cities.
Tip: Since the Three Cities are not far from the Maltese airport, we advise you to visit them on the last day (about 15€ by cab to Luqa and the international airport).
Recommended full-day excursion every Wednesday and Saturday: Discover the three walled cities of Cospicua, Birgu and Senglea on a guided day trip. Admire the historic churches and squares before embarking on a cruise around Valletta's Grand Harbor.
👉 Book yourguided tour of the three towns followed by a wine tasting.
Free cancellation up to 24 hours before
Book now, pay later
Pick up at your hotel included
👉See the accommodations in Senglea (The 3 cities)
Alternative day: Boat trip to Comino
If the weather is good and you like clear water, it is worth spending at least part of the day in Comino, the third island of the Maltese archipelago.
In Comino, you will find especially the Blue lagoon and the Crystal lagoon. Beautiful places, but they can quickly become crowded with bathers in the middle of summer. You will also be able to see sea caves and the sea bed is spectacular.
There are many ways to get to Comino, but for 3 days in Malta, we recommend a boat trip.
The Sea adventure boat will take you to the Crystal lagoon and the Blue lagoon passing by some impressive natural monuments. A part of the bottom of the boat, being transparent, allows to see the sea bed while sailing, it is quite surprising and magical:
Tip: Book as soon as possible, you can cancel if necessary. Don't wait until the last minute.
Because you have the choice, here are the other day or evening excursions that bring you to the paradise island Comino:
👉 COMINO AT SUNSET: To limit the crowd and enjoy the sunset on the boat, then book this excursion that lasts all afternoon until evening by clicking here You will find less people than in the morning. This tour will only cost you about 20€ per person.
If you have a larger budget and prefer an intimate atmosphere, then treat yourself to a more luxurious catamaran trip to Comino at :
👉 CATAMARAN DAY TRIP PASSING THROUGH COMINO: One day catamaran cruise to Comino and pass by some of the most beautiful beaches and bays of the archipelago. (About 50€)
👉 CATAMARAN SOIRÉE IN COMINO: Make an evening of it cruise to Comino in catamaran. Click here to discover. (About 40€)
Boat rental
You prefer to manage the route yourself? So, rent your own boat here with or without skipper .
For groups who want to enjoy themselves, find here the possibility here the possibility of renting a large modern sailboat for the day with skipper for 10 people.
We have negotiated 15-20% discounts for holders of the My Little Malta card on these excursions.
Other things to do for your 3 days in Malta
Celebrating
If you like to party or are going to Malta for a bachelor or bachelorette party, Malta is your destination of choice.
Paceville is close to St. Julian's and is a great place to go out. You can choose from different bars, different atmospheres. Admission is free (except on special nights) and drinks are often very affordable. Between bars and discos, you will feel like in Ibiza.
The atmosphere in Paceville is rather young. If you are looking for an evening with older people, head to Valletta.
Looking for an original evening? In addition to the bar parties, boat parties are organized on Friday and Saturday nights! It's a beautiful sailboat full of party people of all nationalities with a DJ and a bar, enough to have fun.
Art and culture
You are interested in the history of Malta, its culture and architecture. We have what you need.
Heritage Malta is the organization that manages all the national historic sites and museums. With our My Little Malta card you can take advantage of 30% off entrance tickets and many other discounts, click here to find out more.
You can go and discover Malta's extraordinary history yourself or have a guide accompany you. You can have your own guide or join a small group for a tour that you should enjoy:
👉 The unmissable guided tour of Valletta, the capital of Malta. In English.
👉F ull day to discover the history of Malta, from Mdina, the ancient capital of the Maltese islands.
👉F ull day visiting the historic Hagar Qim temple, Ghar Dalam, Limestone Heritage and Marsaxlokk market.
👉 Half day visiting Hagar Qim, the prehistoric temple of Malta, Ghar Dalam and the temple of Mnajdra.
Boat trips around Malta
👉 Visit the quiet, authentic and so beautiful south of the island, take a a boat trip to Blue Grotto and Marsaxlokk .
Full day sailing around Malta, Gozo and Comino.
Full day motorboat trip around Malta passing through Gozo and Comino
1h30 cruise to discover the ports of Valletta
😍 You can enjoy 15% discounts on all tours, rentals and excursions with the My Little Malta card.
All guided tours
Other ideas for things to do in Malta and Gozo during your 3 days
Scuba diving in Malta
Malta is a perfect place to start diving if you have never done it before. Discover here our article on diving in Malta, Gozo and Comino.
If you're tempted but don't think you're ready to take the plunge, you can always go snorkeling: Snorkeling in the most beautiful in the most beautiful waters of Malta.
Where to stay during your 3 days in Malta?
To be central and close to the airport, we recommend you to stay in Valletta or Sliema for your weekend.
For the party, we recommend sleeping at St Julian's.
View hotels in St Julian's
You can also go and stay at the 3 cities or Mdina for their history if what you have just read in the article has made you want to.
Staying in Bugibba or Mellieha would be a bit far from the airport, but Malta is small enough to cross in less than an hour (excluding traffic) and is a good destination for family vacations.