Organizing a hen party or a stag party in Malta is a great idea! It's a dream destination with many activities and attractions on offer for groups.
However, organizing an stag or hen do can quickly become stressful, especially as you can'tgo wrong with the bride or groom/bride's last bachelor vacation
It's time to make your mark so here are a few tips to help you get organized and make the most of your stay.
Is Malta a good destination for a stag or hen do ?
Malta seems a good compromise among destinations, because from France or other European countries, you'll find tickets with flights and hotels for an affordable price.
Also, Malta is quite small, perfect for a weekend or 3-4 days, so there's no need to rent a car, and the climate is good from April onwards. What's more, there's everything you could want for this type of occasion: beaches, visits, parties.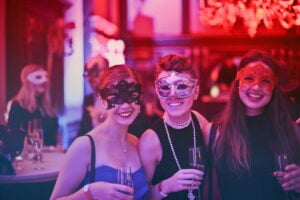 Create your hen or stag do with a local expert!
As is the case in other countries, a small, top-notch local agency specializes in stag and hen parties in Malta.
Get advice from a local stag and hen do specialist. He can help you tailor your stay to your desires and budget. Victor or one of his colleagues can then accompany you on site during your stay.
Compose your stay by selecting from the 41 activities and services on offer. See details and prices of activities here. (Shooting, Private boat, Quad, Limousine,…)
Activities and services you won't find anywhere else in Malta!
Would you prefer to organize your stay yourself?
In that case, we'll give you a few pointers here. However, you should be aware that tour booking platforms are often not suitable for groups of more than 5 people. In this case, we advise you to use Victor's agency, as it saves time and often costs no more.
Organising your hen do / in Malta: the best activities
Malta is a destination of choice for groups of friends looking for adventure and discovery. With its many beaches and diverse landscapes, Malta offers a wide range of activities for all tastes. Here are some tips and information to help you organise an unforgettable hen do / Stag in Malta.
The activities we recommend most for groups during your stay are as follows
Excursions in Gozo
Gozo is the island next to Malta. It's a smaller, wilder island than Malta. An extraordinary day consists of spending the whole day in Gozo and exploring the island by quad bike or tuk-tuk.
Everything is included shuttle and boat from Malta, a local lunch and explanations in English of points of interest by a guide. There will be one or two of you per quad. This is the activity I recommend the most.
👉 Click here to see the details of the day and find a promo code.
The tour is rated 4.9/5 on Google and can be booked on the rental company's website.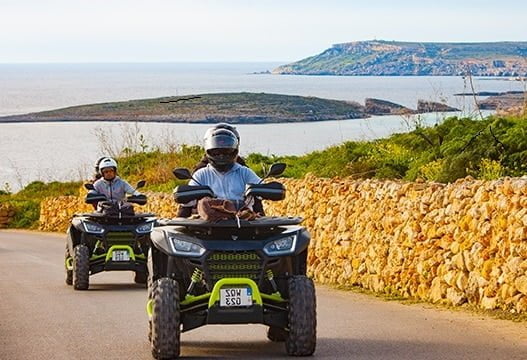 Visit Gozo by tuk-tuk with driver
The 2nd option is quieter. Take up to 6 people per tuk-tuk and explore Gozo led by your driver (English-speaking guide). Shuttle, meals and boat included.
For tuk-tuk too, we've found you a promo code in our article dedicated to this activity: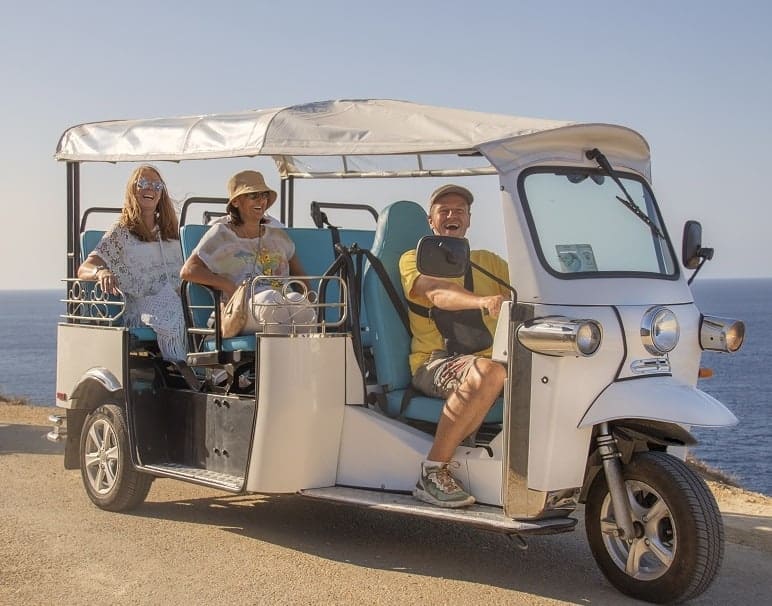 An excursion to the Blue Lagoon (Comino) and Gozo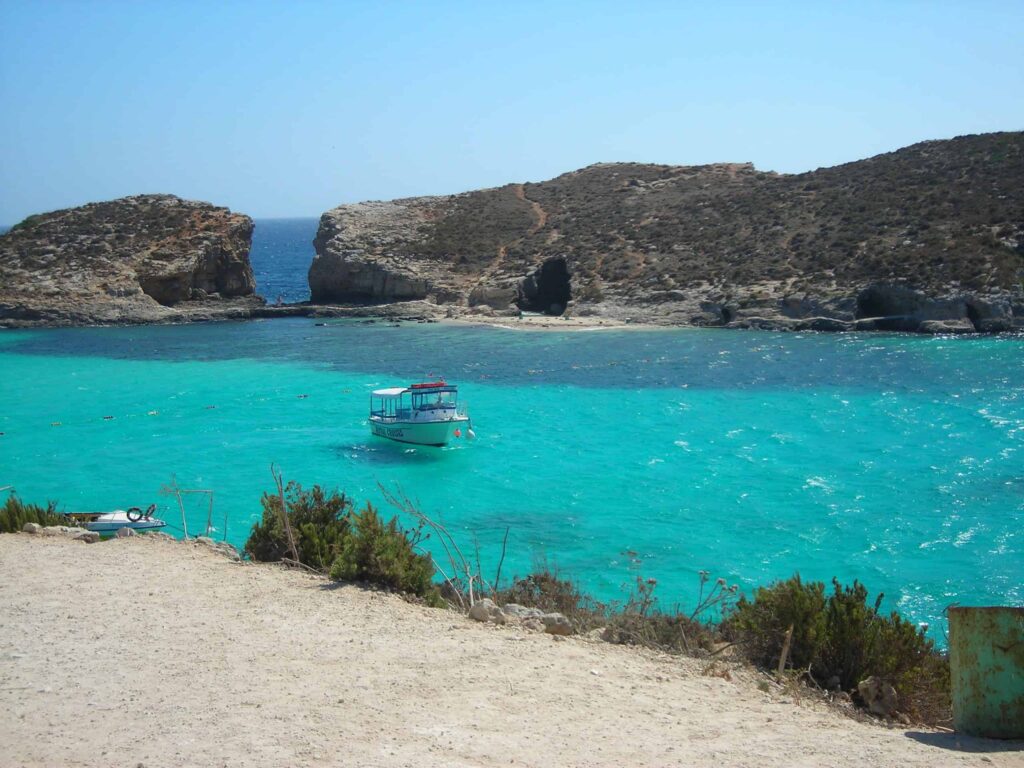 If the weather's fine, it's definitely worth the trip! A half-day boat trip to the beautiful little island of Comino and the Blue Lagoon + a half-day tour of the best of Gozo by tuk-tuk in groups of 6 maximum.
Plus geta 5% discount by booking here on the Yippee Malta website with promo code: LPM5
Visit Valletta
To make the most of your stay, start by discover the capital. Valletta is home to many historical and cultural sites, such as the Palace of the Grand Masters, the Museum of Fine Arts and Fort Saint Elmo. Architecture lovers will also enjoy a visit to the famous Hal Saflieni temple, dating back to 3000 BC. After a day spent exploring the capital, relax in one of the numerous white sandy beaches on the island's north coast.
You canbook a guided tour here or you can also book a private tour for your group.
Take a boat trip
A must in the Maltese archipelago is to visit the crystal clear waters of the neighboring islands. We advise you to book a boat trip to the Blue Lagoon in Comino.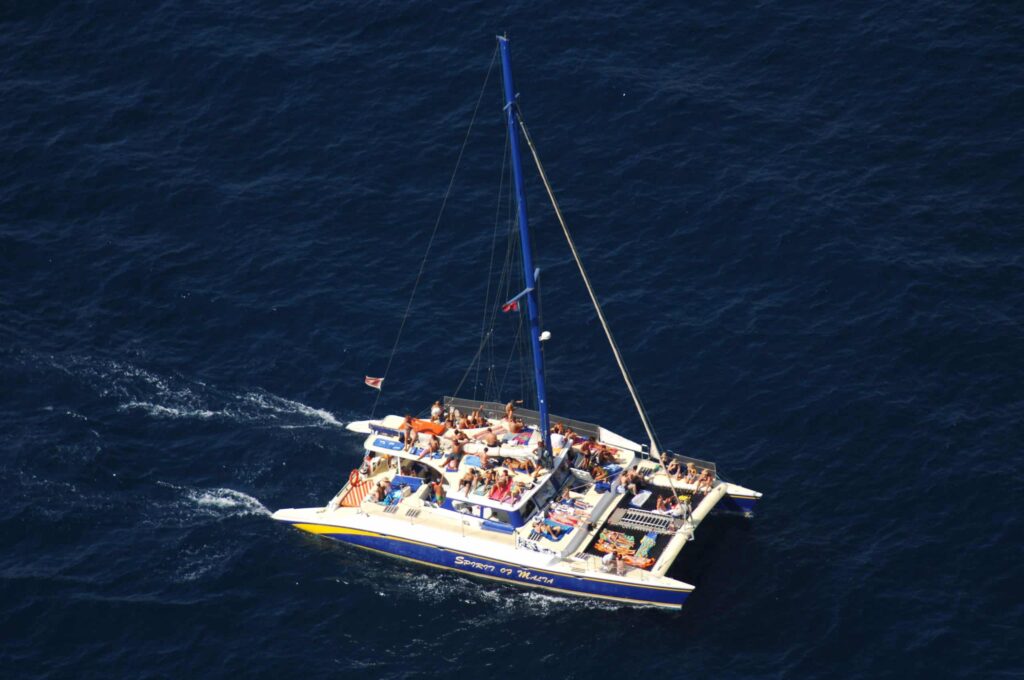 If you have the budget, you can book a private boat tour:
👉 Rent your own boat without needing a license to go where you want when you want! (Up to 8 people)
👉 Luxurious all-inclusive day aboard a large sailboat with skipper. (Up to 10 people)
To book a private boat, you can also use the form below.
Alternatively, you can individually book a non-private excursion on a larger boat.
Comparison of the best boat trips from Malta :
Means of transport
Benefits
Booking
Day trip with Sea adventure to Comino (Departure Bugibba)
Lowest price: €30 for a day on a boat or €35 for a catamaran
(Best value for money)
Click here to book
One-day catamaran cruise with Spirit of Malta (Departure Sliema)
Better atmosphere with music, unlimited food and drinks. Count 80€ all included.
Click here to book
Sunset excursion with Sea adventure and swimming in the Blue Lagoon (departure from Bugibba)
Avoid crowds later in the day. Expect to pay 25€.
Click here to book
Catamaran cruise to Comino. (Bugibba departure)
Daytime or evening departures. Optional barbecue. Away from the crowds. Expect to pay 40-50€.
Click here to book
Gozo and Comino during the day with Yippee. Boat and tuk-tuk. (From your hotel)
Visit Gozo and Comino in one extraordinary day. Count 89€ all inclusive.
Click here to book
Promo code : LPM5
Practice an original sport activity
For more adventurous groups, enjoy the beautiful view of the Maltese coastline while kayaking or trying one of the many other water activities:
👉 Book a paddle trip
👉 For maximum fun, Book a parasailing tour for the groom or bride
If you prefer to stay on land,rent a bike and explore the typical villages.
Going out at night in Malta
After a busy day, there's nothing like a good meal with a glass of local Maltese wine. In the typical restaurants you can taste local specialities such as rabbit with white meat, Maltese fish and chips and ftira, a traditional flatbread served with various accompaniments. For dessert, don't miss the famous pastizzi, small cakes filled with cheese or eggs.
To round off your day of hen do / EVG in Malta in style, treat yourself to an unforgettable start to the evening by watching the sun set over the famous Saint John's Square in Valletta. You can also enjoy live music in one of Valletta's many bars.
If you're in the mood for a big night out then you'll have to go to Paceville in St Julians. It's the place to party. Read our article on this subject here and find our ranking of the best bars in Malta here.
A great way to have fun before the wedding is to have a boat party. It's a big party on a pirate ship, with unlimited booze and a DJ. They're very famous in Malta, and guarantee some great memories!
You'll need to book well in advance to be sure of your place!
👉 Go here to learn more and book your boat party.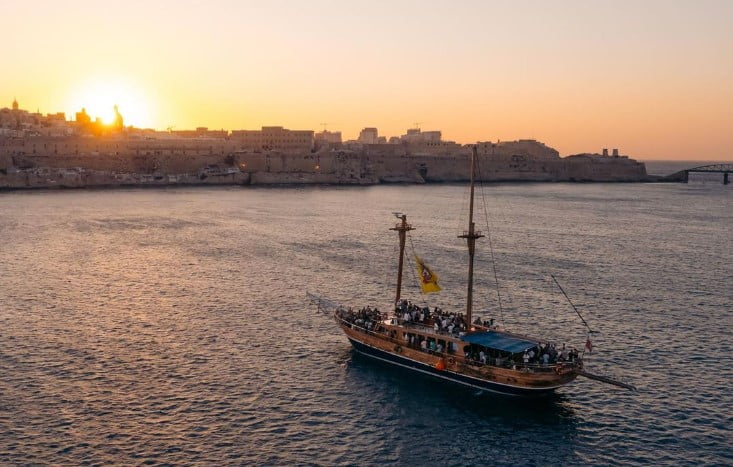 Tips for a successful hen do / stag in Malta
Malta is a beautiful island with many activities and attractions to offer. It's the perfect place for an unforgettable hen do or stag. Here are some tips to help you plan your trip and make sure everything goes smoothly.
If you'd like to be accompanied by a local expert in organising your EVG or hen do, then you should take a look here at the activities offered by the agency specialising in EVGs and hen does in Malta.
1. Plan ahead
It's important to plan your trip in advance, so you can make the most of your short stay.
Book your accommodation in Malta
and your plane tickets well in advance, and make sure you know the booking deadlines. It is also important to choose an organization that suits everyone, so that everyone can enjoy the trip.
2. Plan your route
Once you've booked your accommodations and airline tickets, it's time to plan your itinerary. Decide what you want to do and see, and book the activities and attractions you want to do. Don't forget to book in advance or you'll be disappointed. There's little room for improvisation when you're a band. Get advice if you need it.
3. Enjoy your stay
Once you've planned everything, it's time to enjoy your stay! Explore the island and take part in extraordinary activities. Be sure to enjoy your time together with the bride or groom, and create lasting memories before the wedding.
The most beautiful places to visit during your hen do / Stag in Malta
Malta is a small island off the south coast of Italy with lots to see and do, and is an ideal place for parties and receptions. Here are some of the best places to visit during your hen do / stag in Malta.
Malta's capital, Valletta.
It is a beautiful and historic place to visit. Valletta has many museums and art galleries, as well as historical monuments such as the Palace of the Grand Masters. The city is also known for its many restaurants and bars, making it a great place to spend an evening with a group.
👉 View accommodations in Valletta
Mdina
If you are looking for something even more authentic, Mdina is an option. This small town is surrounded by walls dating back to the 11th century, which makes it the ideal place for a group walk. There are also many stores and cafes in the narrow streets of Mdina.
Sliema
If you want to enjoy the sun and the beach during your hen do / stag in Malta, Sliema is the place to be. Sliema is a popular seaside resort, with many beautiful beaches along its coastal promenade. There are also many bars and clubs along the promenade, making it a great place to stroll before going out at night in St Julian's.
👉 View accommodations in Sliema
Marsaxlokk
Marsaxlokk is another popular place to visit during your hen do / stag in Malta. It is a small fishing village located on the southeast coast of the island. The village is known for its many colorful boats anchored in the harbor, and its Sunday market, which makes it a great place to take a group walk or just stroll along the quay before heading out on Sunday!
There are many other wonderful places to visit during your hen do / stag in Malta, but these four are certainly the most popular.
Where to stay for your hen do / stag in Malta?
For your hen do or stag do in Malta, it is important to choose your accommodation and its location carefully. Indeed, depending on the type of activities you want to do and the budget you have, some areas will be more appropriate than others.
The capital Valletta is a good choice, because you are in the center of the visits and the city is very well served. In addition, there are many bars and restaurants. The price of accommodation is however higher than other cities as well to sleep. However, it's not the place that moves the most.
👉 View accommodations in Valletta
If you want to party until the end of the night, then St Julian's will be perfect for you. Indeed, the city is full of bars and clubs that will make you spend an unforgettable evening. In addition, you will also find many restaurants and cafes to enjoy the sun and local food.
👉View hotels in St Julian's
For lovers of the seaside with a cosmopolitan ambience yet close to the party, the coastal town of
Sliema
is ideal. Indeed, it offers many beaches where you can enjoy the sun all day. Moreover, this city is very lively in the evening, which will allow you to make the most of your stay.
👉 View accommodations in Sliema
Finally, if you'd like to enjoy the peace and quiet of the island or rent a villa, then Gozo or the north of Malta are the best places to go for more choice and more affordable prices.
Good planning! And find the best excursions to book here.
Would you prefer to take care of the organization and call on a local specialist for group bookings? Good idea. Compare the catalogs with the prices and then contact Victor's agency.