Want to visit Malta in a weekend? This destination in the heart of the Mediterranean is ideal to get away from it all and recharge your batteries during a short stay.
What to do in Malta in a weekend? I advise you on the essential places to see during a 2 or 3 days stay. With our step-by-step program, you will organize your short stay in the best possible way and will not miss the wonders of Malta. Of course, this program can be modified according to your desires!
Your accommodation in Malta for a weekend:
For the time of a weekend, I advise you to sleep near Sliema, Valletta or St Julians. Read our dedicated article to see the best areas and hotels to stay in Malta.
Your means of transportation in Malta for a weekend:
To get from the airport to the capital of Malta, take the X4 bus. Otherwise, to save time and be safe, book a cab from the airport here, it will wait for you no matter what and you will know the price in advance to your hotel or elsewhere.
You may also want to rent a car from the airport.
Find here our article on the different means of transportation available to visit Malta.
Recommended itinerary for a Weekend in Malta
Here is a two-day program (plus a bonus day) dedicated to the visit of Malta. You will discover the rich heritage of the archipelago and enjoy its dynamism. Don't forget your sneakers!
Saturday: visit of Valletta and the Three Cities
Saturday morning : La Valette
The capital of the island is to be seen and seen again. Strong of its different battles, it has kept its historical charm between peaceful streets and large fortresses. Today, this golden city is home to some of Malta's most beautiful monuments.
Being relatively small, Valletta is easily visited on foot. Walk past Triton Fountain, the impressive fountain that stands at the entrance to the capital. Cross the bridge and you will find on your right the Parliament built by architect Renzo Piano and the open-air theater(Teatru Rjal).
Turn right and head towards the Auberge de Castille, which houses the offices of the Prime Minister of Malta. Continue to Upper Barrakka Gardens . It overlooks the Grand Harbour and looks out over the Three Cities. Try to be there at 12:00 or 4:00 pm to see the cannon fire on the Grand Harbour.
If you have to visit only one monument, choose the co-cathedral of Saint John. Don't let its sober exterior fool you: the interior is magnificent. You will be impressed by its baroque decoration and the paintings of Caravaggio that it houses. My Little Malta advises you to go early (the cathedral attracts a lot of people and closes early in the afternoon).
If you have a little more time and it is open, you can also visit the Palace of the Grand Masters, which is currently the official residence of the President of Malta.
Continue your visit to Fort Saint Elmo, at the far end of the capital (admission €10 per adult). Finish your visit of Valletta with a lunch on the terrace.
To find out about other places to visit in Valletta read this article!
Tip: With the My Little Malta discount card, you can enjoy a 30% discount on admission to historic sites and museums, including Fort Saint Elmo.
GUIDED TOUR OF VALLETTA :
To discover all the history of Valletta, we recommend if possible to take a guided tour with an English speaking guide. Group visits take place 3 times a week for half a day.
The tour includes:
GUIDED TOUR OF VALLETTA :
The entrance ticket for the unmissable co-cathedral of St. John
The Malta experience show
If needed, a shuttle from your accommodation.
The visit will cost you 34 € per person. Otherwise, the price for a private tour with a private English-speaking guide is 200€.
Below are the links to book at the best price:
Also, if you have the My Little Malta discount card, you'll get 15% off tours and excursions. Find out more about the card by clicking here.
👉View accommodations in Valletta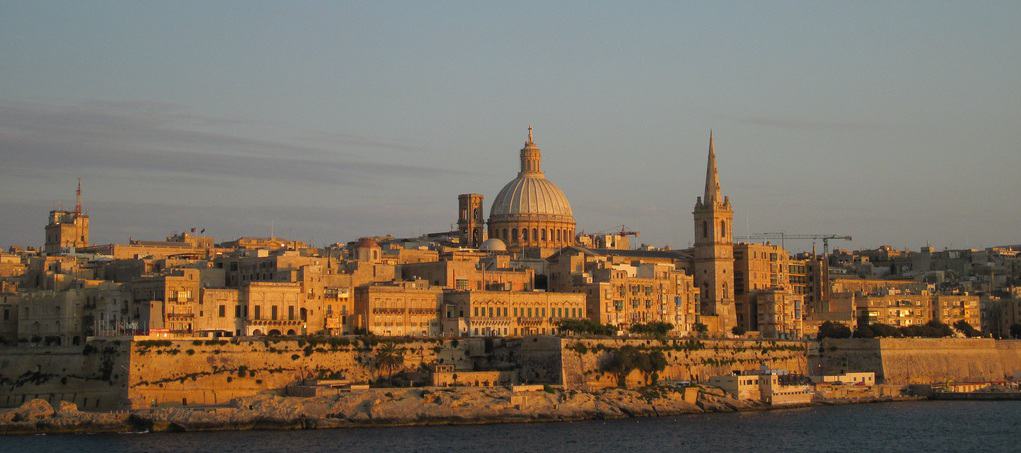 Saturday afternoon: The Three Cities
In the afternoon, it's time to visit the Three Cities you saw from Upper Barrakka Gardens. Senglea, Vittoriosa and Cospicua are full of charming little streets where life is good!
To go to the Three Cities, the best way is to cross the Grand Harbour by boat. Take the large elevator at the end of the garden and go down. At the bottom, cross the street: you will arrive at a pier. There are two possibilities: the ferry Valletta – Three Cities or the water cab. The second is a traditional Maltese boat that may remind you of the gondolas in Venice. You will disembark in Vittosiosa (Birgu).
Stroll through the small Maltese streets, quieter than those of the capital, and enjoy the views of Valletta. If you have time, My Little Malta recommends a visit to Fort St Angelo, which played a major role during the Great Siege of Malta in 1565. (The entrance will cost you 10€ per adult)
👉 Tip: You can enjoy (among other things) 30% off entrance to Heritage Malta historic sites with the My Little Malta card.
To learn more, check out our article on the Three Cities.
Recommended full-day excursion every Wednesday and Saturday: Discover the three walled cities of Cospicua, Birgu and Senglea on a guided day trip. Admire the historic churches and squares before embarking on a cruise around Valletta's Grand Harbor.
👉 Book yourguided tour of the three towns followed by a wine tasting.
Free cancellation up to 24 hours before
Book now, pay later
Pick up at your hotel included
👉Seeaccommodations in Senglea (The 3 Cities)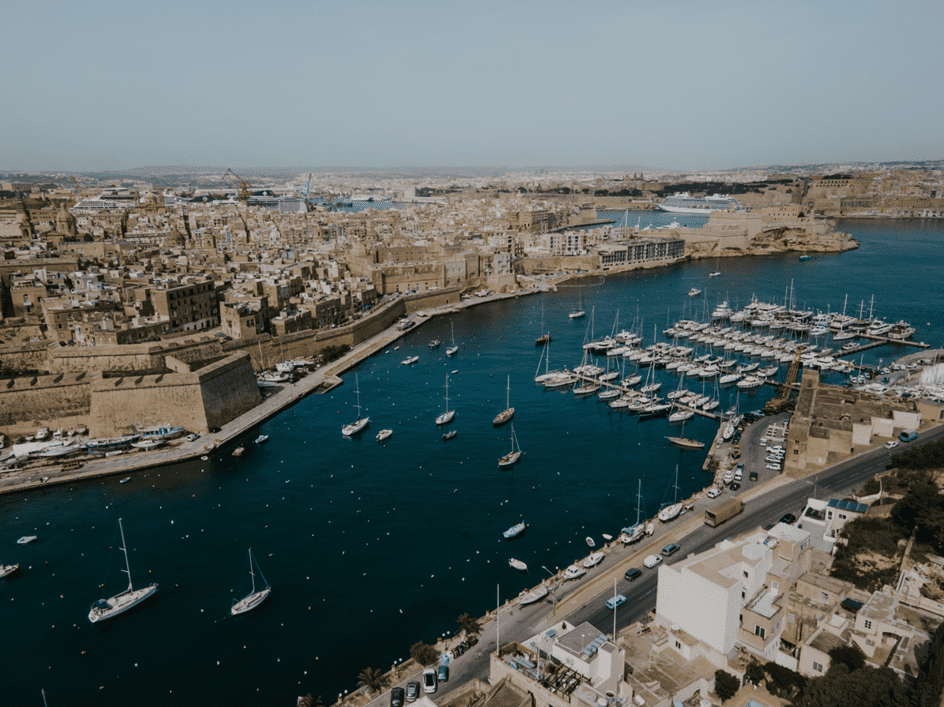 Sunday: visit of Sliema, St Julian's and Mdina
Sunday morning: Sliema and St Julian's
Sliema and St Julian's are two very dynamic cities in Malta, located in the east of the island. This is where the population density is the highest.
With its many rocky beaches, it is very pleasant to settle down to enjoy the calm of the sea and the natural pools. In summer, you will see many family barbecues.
You can walk from Sliema Ferry up the coast to St Julian's. Stop at Tigné Point on the footbridge and enjoy the view of Valletta on one side and the many boats on the other.
As you stroll from bay to bay, take a few seconds to sit by the water and admire the multitude of colors that are available to you. For snorkelers, the rocks offer some very nice surprises.
In Balluta Bay, you can contemplate the Church of Our Lady of Mount Carmel. Then head to Spinola Bay to watch fishermen prepare their boats and lovers take a picture in front of the LOVE Monument.
A little bonus: the bay of Spinola is also very pretty in the evening when the lights of the restaurants are reflected on the water.
Many restaurants for all tastes and prices are present between Sliema and St Julian's. Here are all the ones we tested for you: the Surfside Bar Grill where we love to meet in Malta, the café bistro Il-Gabanna and its breathtaking view of the sea, the Badass Burger to eat a gourmet hamburger, the Bar Resto Balluta Bar for an authentic atmosphere, the boat restaurant Guadalupe, Ta' Kris restaurant and its Maltese specialties, Shiva's restaurant for a getaway to India, Fresco's and its sea view, Zest and its view of Spinola Bay.
👉 View accommodations in Sliema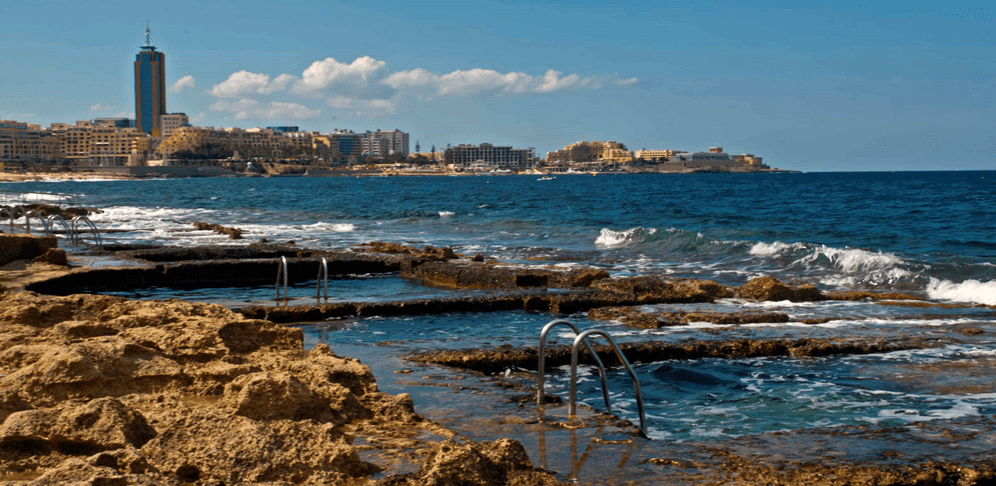 Sunday afternoon: Mdina
Less than an hour from Valletta, Mdina opens the doors of a superb medieval fortified city. Baroque cathedral, small streets and majestic walls: that's all Mdina has to offer. To get there from Sliema or St Julian's, you can take the bus (a connection will be necessary in most cases) or a rental car (two parking lots are located at the entrance of the city).
To enter Mdina, cross the gate, famous thanks to the series Game of Thrones. Former capital of Malta, Mdina is nicknamed The Silent City. You will quickly understand why as you stroll through its small medieval streets: the silence that reigns there contrasts with the rest of the island.
My Little Malta recommends a visit to Saint Paul's Cathedral. Its baroque interior is worth a visit. However, it is closed on Sundays, but so is the co-cathedral of St. John in Valletta, so the choice is yours.
At the end of Mdina, you can enjoy a panoramic view of Malta from the fortifications. Then take a break at the Fontanella Tea Garden to enjoy some good pastries while admiring the view.
A little extra: to visit in the late afternoon to fully enjoy it!
If you have some time left, take a trip to Rabat, the village next to Mdina.
More ideas for visiting Mdina here.
👉 View accommodations in Mdina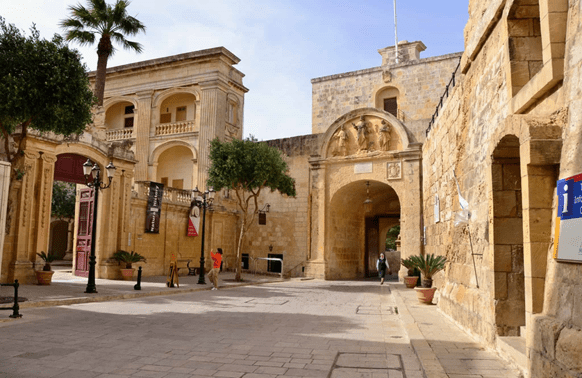 Bonus for an extended weekend: Gozo and Comino
If you are lucky enough to be in Malta for a three-day weekend, take the opportunity to discover the two other inhabited islands of the Maltese archipelago: Gozo and Comino.
There are two options for visiting them:
Option 1: Focus on Gozo or Comino
You like to take your time to visit? It is best to choose one of the two islands. If you are looking for historical places and old stones, choose Gozo. If you prefer to enjoy the sea and the sun, opt for Comino (see our recommendations in the following article).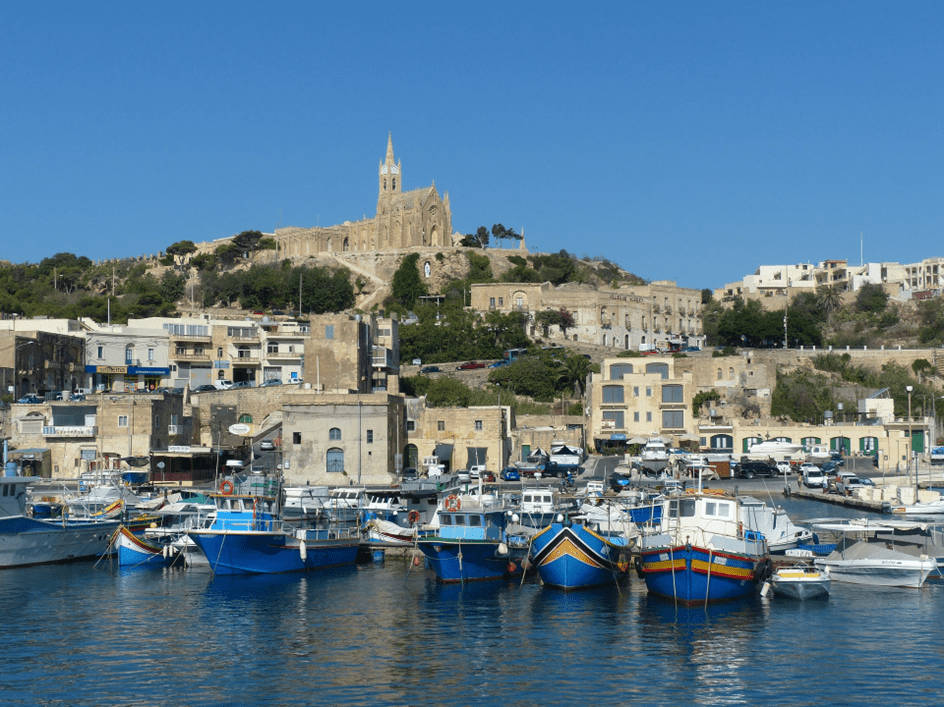 Gozo
To get to Gozo on your own, you can take the ferry to Ċirkewwa and enjoy the view from the top deck. There is also the fast ferry from Valletta. This second one takes you to Gozo in 45 minutes.
From the port of Mgarr, take a bus to Victoria (also called Rabat), the capital of Gozo. Stroll through its typical streets and visit the Citadel. Many restaurants are available for lunch. Another must-see place in Gozo is Dwejra, where the old Azure Window was located.
As Gozo's public transport network is not optimal, a good idea might be to take the Malta Sightseeing tourist bus . You can get on and off at any time and anywhere you want. Very good to discover different places in one day while keeping your freedom. Audio commentaries are available in english
To get the most out of it in one day, we still advise you to take a tour or day trip with a local operator like Yippee Malta. They are generally affordable and there is something for everyone, whether you like to be carried along or to mix freedom and practicality.
We recommend that you book your excursions, visits and rentals in advance to avoid disappointment.
A driver will pick you up at your hotel and take you to Gozo by private boat (to avoid waiting at the ferry). On the way, you will discover Comino and its magnificent blue lagoon.
Several means of transportation are available:
1 – Excursion to Gozo by quad with guide
If the weather is fine, we recommend this self-piloted quad tour with a guide, during which you'll visit the island's best spots, have a local lunch and hear explanations in English of the points of interest. It's a guarantee to have a great day. You can be 2 per quad.
Take advantage ofa 5% discount when booking on the Yippee Malta website with the promo code: LPM5
Rated 4.9/5
Direct booking with the operator
Free cancellation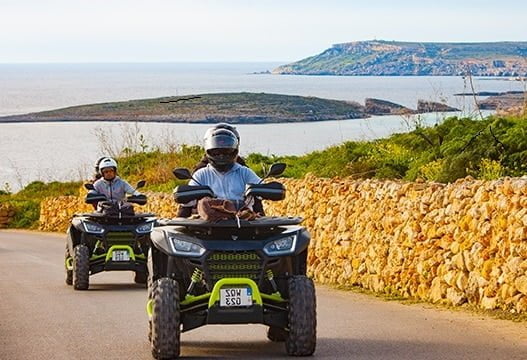 2 – Excursion to Gozo by tuk-tuk with guide
Si vous êtes plusieurs ou que vous préférez vous faire conduire, nous vous recommandons le tour de Gozo en Tuk-tuk. It's a big 3-wheeled motorcycle with a dedicated English-speaking driver-guide for you. You can be 6 people on the excursion and you will be sure to get a good view and good sound.
Take advantage of a discount by booking directly on the Yippee Malta website with the promo code: LPM5
Rated 4.9/5
Direct booking with the operator
Free cancellation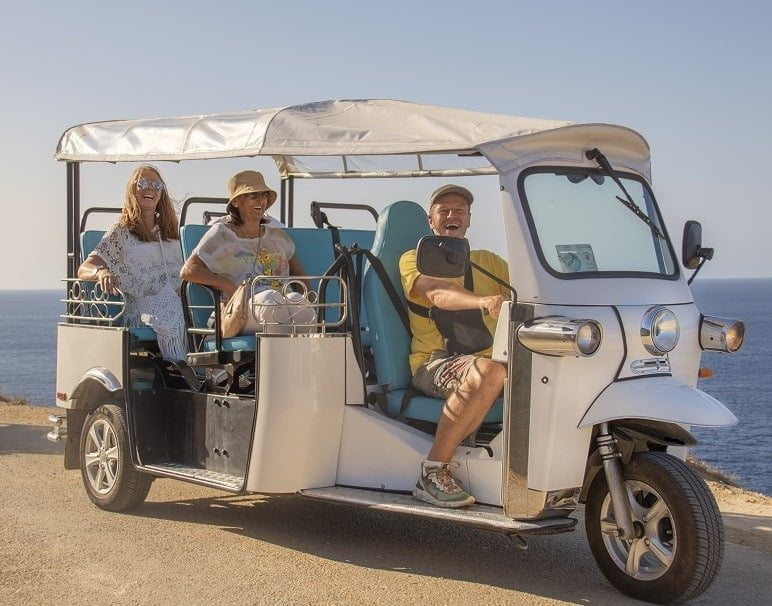 3 – Excursion to Gozo by jeep with guide
In colder weather, you may prefer the comfort of a jeep with driver to visit Gozo. In the same way, everything is included in this day, transportation, boat, lunch, English speaking guide, and the visit of Gozo by Jeep.
Click below to book your full day:
Free cancellation up to 24 hours before
Pick-up service included
Book now, pay later
Option 2: Discover Gozo and Comino in one day with a boat trip
👉 You don't know what to choose between Gozo and Comino? Visit both! This is possible thanks to organized day trips by boat.
The one we recommend is to take a half-day boat trip to Comino to see the blue lagoon and other jewels of this small island and then a half-day trip to Gozo by Tuktuk. Top of the top: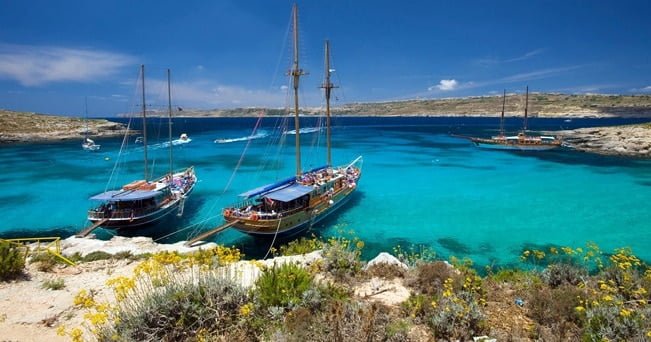 Enjoy the sun for a weekend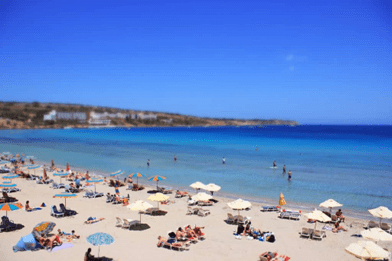 With over 300 days of sunshine per year, Malta is an ideal destination to enjoy the sun. On the agenda: swimming in the Mediterranean Sea, relaxing on the beach, snorkeling and why not water activities such as Stand-up Paddle.
The beaches of Malta
Find the list of the best beaches in Malta in this article.
The sandy beaches of Malta are about 1 hour by bus from Sliema, so don't hesitate to plan a half-day trip to enjoy them. Our favorite is Għajn Tuffieħa : it offers a natural setting and a beautiful view.
Malta also has many small beaches and rocky coves. All along Sliema, the rock is arranged for swimming and sunbathing.
St Peters Pool and Marsaxlokk
Do you like diving, jumping etc? See you at Peters Pool! It's a great place to jump off the cliffs. Beautiful memories await you! This is also the time to visit the fishermen's village called Marsaxlokk (about 30 min walk), which offers every Sunday morning a big market where you can eat freshly caught fish.
More information in this article on Peters pools!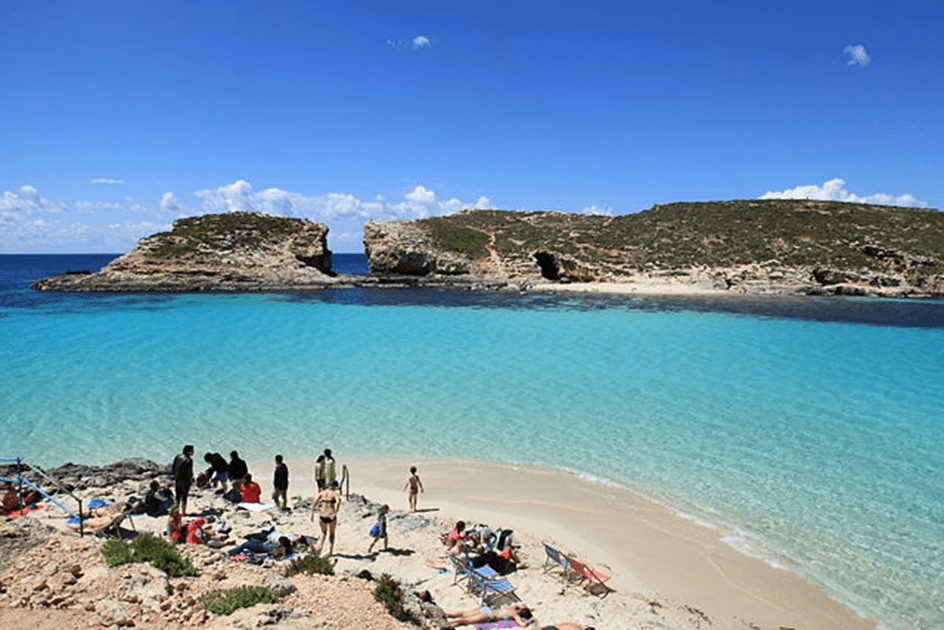 Party on a weekend in Malta
Malta is the destination of choice if you like to party for fun, or for an stag or hen do.
Located near St. Julian's, Paceville is the place to be. You will have the choice between different bars, different atmospheres. Admission is free (except on special nights) and drinks are generally very affordable. Between the bars and the nightclubs, you will think you are in Ibiza!
The atmosphere is quite young in Paceville. If you're looking for a night out more your age, check out Valletta.
Want to party on the water? Many boat parties are also organized on Friday and Saturday nights, in addition to the parties organized by the bars.
👉 Book your place for the best boat party in Malta with DJ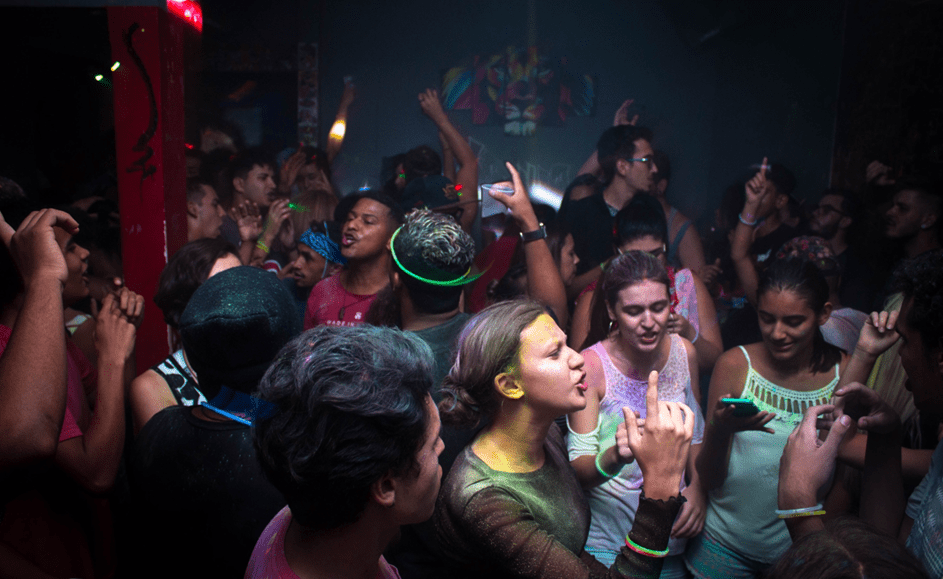 Other possible activities during a weekend in Malta
Art and culture
You are interested in the history of Malta, its culture and architecture. We know what you need.
Malta has encountered many different cultures creating a unique and very interesting past to discover. Heritage Malta is the organization that manages all the national historic sites and museums. With our My Little Malta card you can take advantage of 30% off entrance tickets and many other discounts, click here to order.
If you prefer to have an English-speaking guide for the different places, here are some tours that will please you:
Boat trips around the island
Visit the calm, authentic and beautiful south of the island . a boat trip to Blue Grotto and Marsaxlokk .
For the romantics, take a cruise to Comino to Comino until sunset, or if you're in the mood for or if you are more in the mood for luxury, opt for the evening on a catamaran.
😍 You can enjoy 15% discounts on all tours, rentals and excursions with the My Little Malta card.
Boat rental
You prefer to manage the route yourself? So rent your own boat with or without skipper .
For groups who want to enjoy themselves, find here the possibility here the possibility of renting a large modern sailboat for the day with skipper for 10 people.
Guided tours in English.
Other ideas for things to do in Malta and Gozo
Where to stay in Malta during your weekend?
To be central and close to the airport, we recommend you to stay in Valletta or Sliema for your weekend.
For the party, we recommend St Julian's.
View hotels in St Julian's
You can also go to sleep on the side of the 3 cities or Mdina for their history if what you have just read in the article gave you desire.
Staying in Bugibba or Mellieha would be a bit far from the airport but Malta is small enough to cross in less than an hour (without traffic) and is a good destination for family vacations.