Have you seen pictures, heard about St. Peters Pool or do you spend all your weekends there?
Indeed, it is one of the most enjoyable places in Malta to enjoy a sunny day and discover what Maltese nature has created over the years.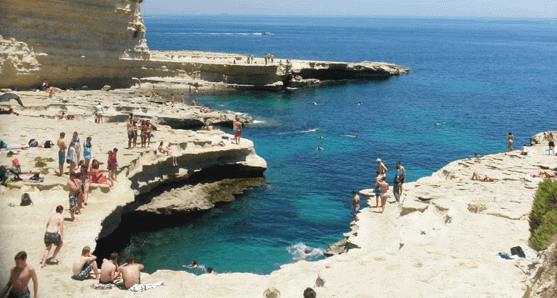 What to do in St Peters Pool?
Do you like diving, backflips, or jumps of any kind? 1, 2, 3 and you're in the water. It's up to your companions to take the picture at the right time.
This place is ideal on sunny days when the sea is not too rough as it can quickly become dangerous when there are waves. If thrills are not your thing, you can go down for a quiet swim and come back up to sunbathe without worrying. You can jump at different places, so don't panic you don't have to start at the highest right away!
Notice to the girls! Hold on to your shirt!
If you feel like taking a walk, go up a few steps and turn left, there is a nice landscape waiting for you, calm and peaceful where the water has dictated its laws.
St. Peters Pool with children
It is possible to go there with children, but if you come on foot, the way is quite long (we tell you about it just after) and you have to be careful, because the place is not specially adapted to run. Forget the sand castles of course!
Getting to St Peters Pool
"It's not the end of the world to go there!" but to be honest, when you don't know where you are going, it's not easy.
If you come by bus, take the 206 to Marsaxlokk. Now there are 2 options:
Take a cab from Marsaxlokk. Count 8 euros.
Suivre les indications suivantes :

Stop at the Delimara stop.
Go back and take the first path on the right
Go up again and again
At the intersection, turn right onto Delimara Road
Follow the road and cars until you see the St Peters pool sign on the left on a wall.
Turn left and follow the path
You will arrive on a parking lot, a few more steps and you are there.
Read our article on the best beaches in Malta.