Have you ever tried cliff diving, also known as cliff jumping? No ? So hang on to your shirts, because we're about to take the adrenalin up a notch.
Cliff diving is a bit like parachute jumping, but without the parachute… and the plane. All in all, it's a guaranteed thrill, but with a much softer (and wetter) landing. For those looking for a mix of adventure, breathtaking scenery and fresh sea air, cliff jumping in Malta is a must.
I hope you're ready to make some waves, because we're going to introduce you to three of the best cliff diving spots on the island. From crystal-clear waters to majestic cliffs, these sites will provide you with memorable souvenirs and thrills. And who knows, maybe after reading this article, you'll jump at the chance to try cliff diving. Let's go for a breathtaking ride!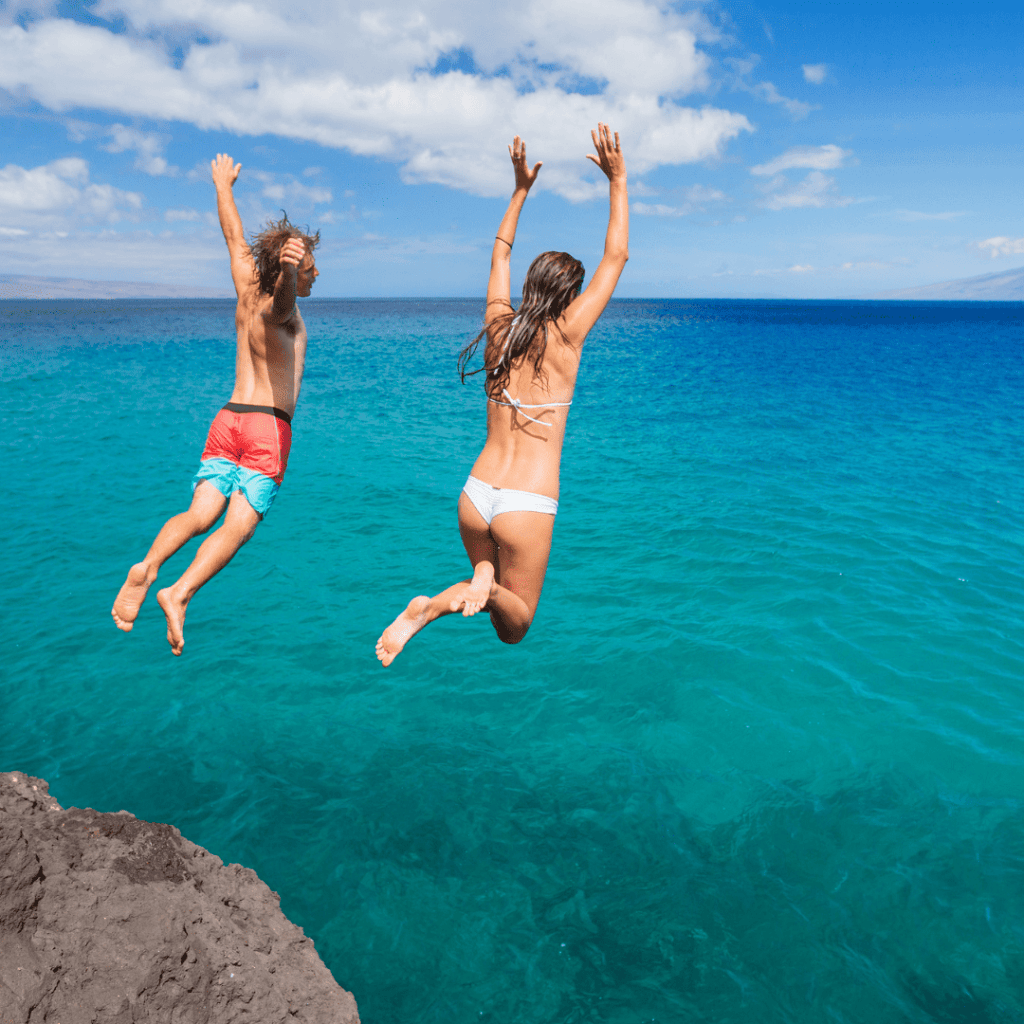 1. St Peters Pool
Let's start with a classic, St Peter's Pool. This rocky beach is the perfect place for jumping, whether you're a beginner or a pro. And for tanning enthusiasts, don't worry, there's plenty of space to bask in the sun.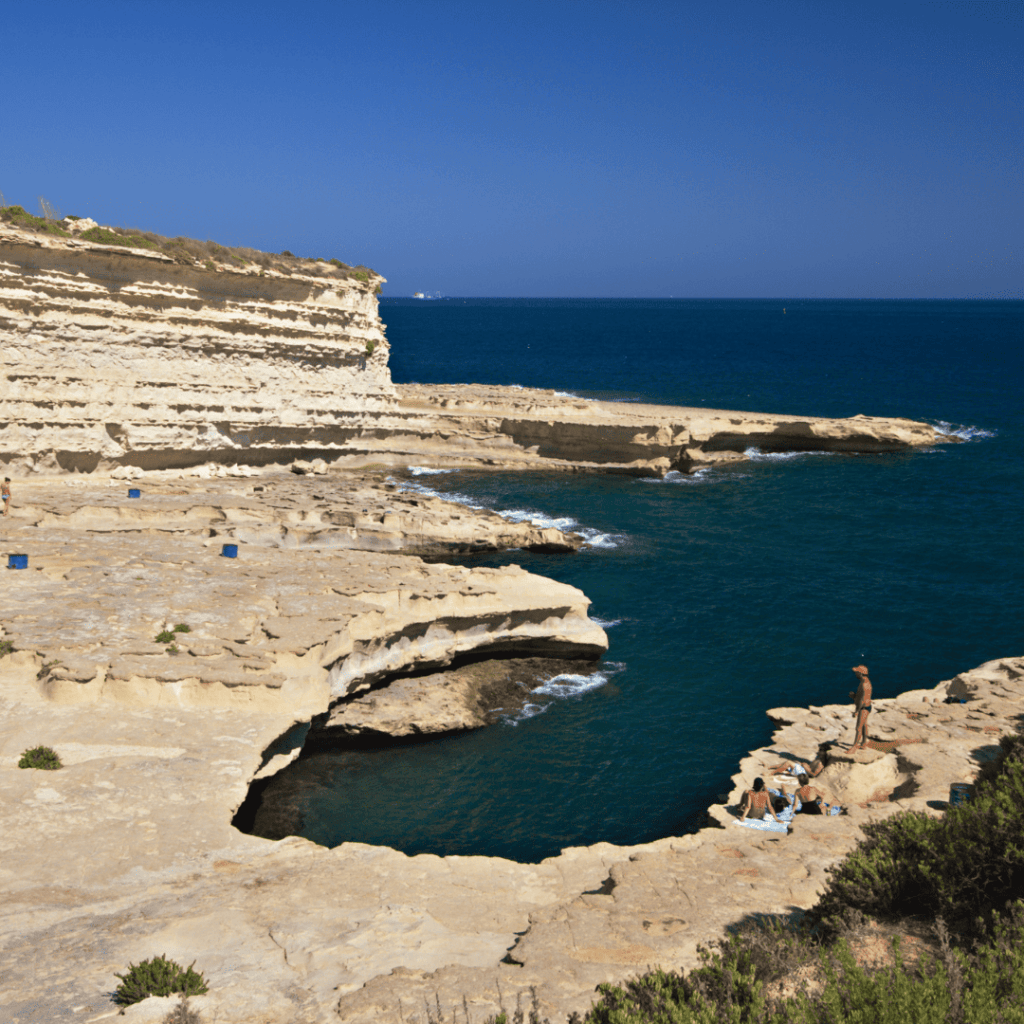 In addition to the jumps, you can also admire the natural rock formations and marine fauna through a snorkeling session in the clear waters of the Mediterranean… If you're planning to stay for several hours, we advise you to visit in the morning or early afternoon to take full advantage of the sun, which will cast a shadow over the sumptuous Peters Pool as it sets.
To get there :
Take bus 206 to Marsaxlokk.
From Marsaxlokk, you have two options: take a cab for around 8 euros, or follow the signs on foot.
2. The nearby cliffs at Popeye Village
Our next stop is near the famous Popeye Village. But don't get us wrong, we're not just here for the spinach! Just outside the village, you'll find cliffs offering sensational jumps of up to 14 meters. Access can be a little tricky, but the thrills and stunning views over the Mediterranean are well worth it.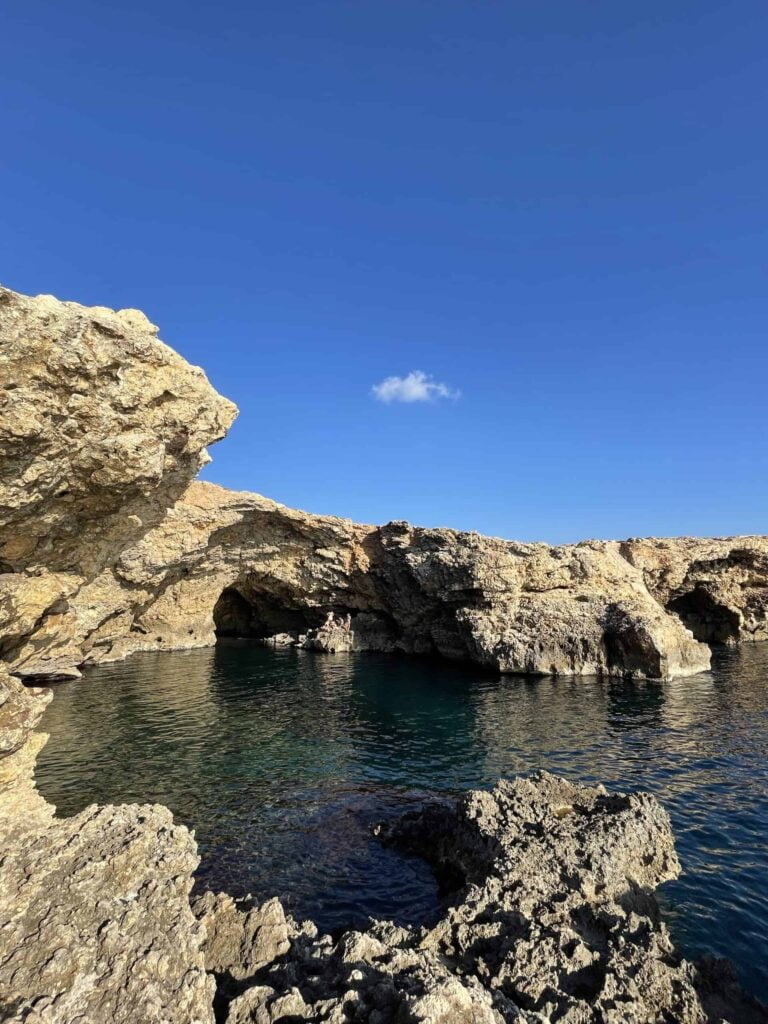 And for those who prefer to explore underwater, the area around Popeye Village is a veritable natural aquarium. With its clear waters, myriad colorful fish and superb rock and coral formations, it's a dream spot for snorkeling and diving. But remember, even if the current is generally weak between the cliffs, never venture too far out and always respect the marine environment.
And that's not all! After your jumping or snorkeling session, why not pay a visit to the famous Popeye Village, the film set converted into a theme park . Good news: with our discount card, you get 15% off admission !
To get there :
Popeye Village is accessible by car or bus (lines 101 or 222 from Mellieha).
Once there, walk along the cliffs to find your ideal jumping spot.
3. Comino
Our final cliff diving stop takes us to the picturesque island of Comino. Covering just 3.5 square kilometers, this small island offers a great dose of adventure and natural beauty. To reach the jumping spot, you'll need a bit of a spirit of exploration: you'll have to follow the island's coastline in search of the spot. From the cliffs of Comino, you can enjoy a superb panorama of the island of Gozo.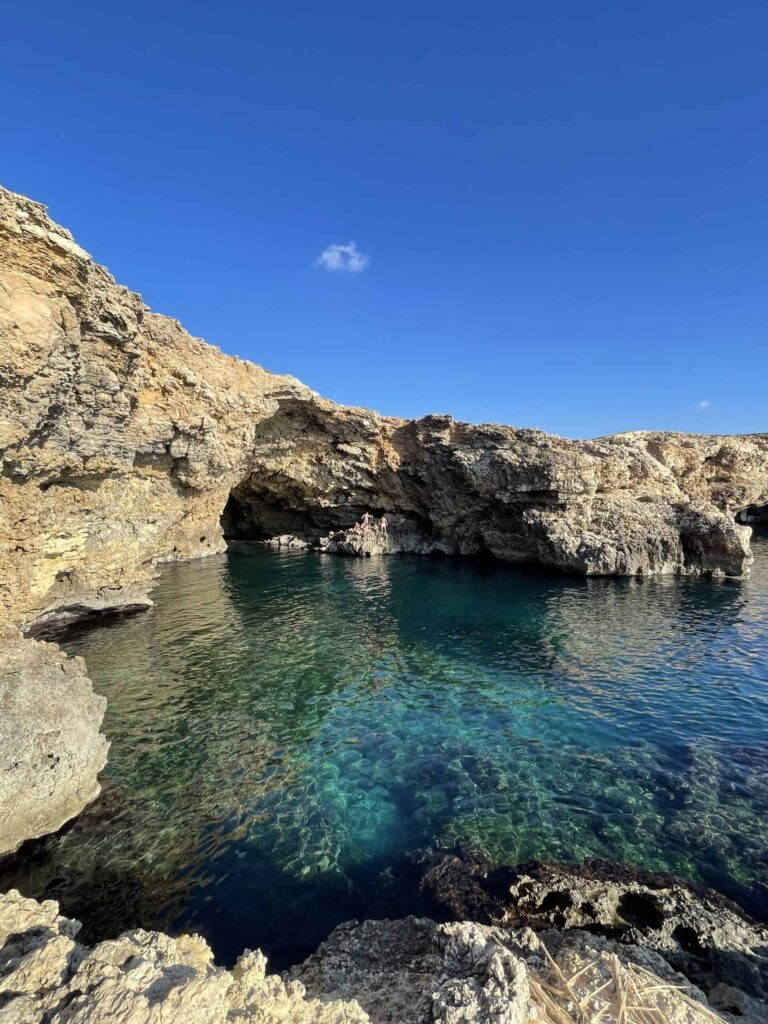 Comino is famous for its azure-blue waters, so get ready to jump into a true aquatic paradise. The cliffs here allow jumps from 4 to 10 meters, but as always, be sure to check the water bottom before jumping. For those looking for a little extra adventure, look no further: there's an underwater passage to the other side of the cliff. But be careful and make sure you're comfortable with freediving before you start!
Don't forget to bring water shoes, as the climb up the rocks can be tricky. The aim is to preserve not only your feet, but also the fragile marine flora and fauna that can live on these rocks.
If you want to enjoy a full day in Comino, get 20% off a boat trip in Malta's blue lagoon with our discount card !
To get there, check out this article on how to get to Comino.