Quad biking in Malta has established itself as one of the most popular vacation activities, allowing you to explore the archipelago in a way that's both fun and suited to the terrain!
There are several options for quad biking in the Maltese archipelago: rent a quad and drive yourself, or book a tour with an expert guide .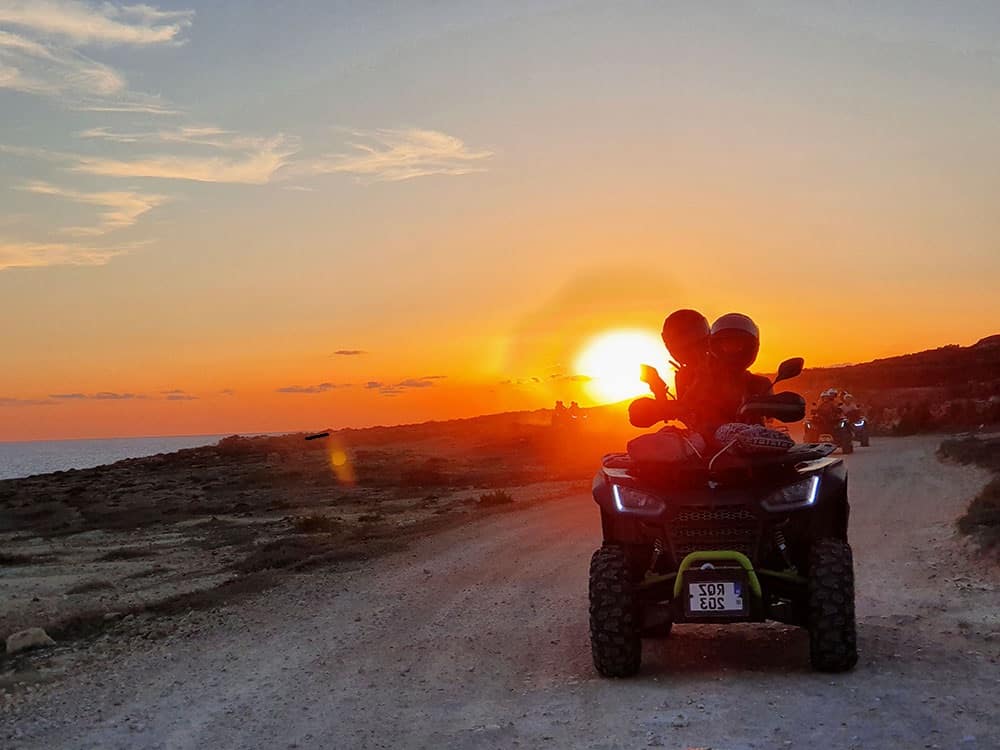 Quad bike rental in Malta
It is possible to rent a quad bike in Malta, but it is not advisable to rent a quad bike on the main island of Malta. Visit Gozo, Malta's neighboring island, by quad bike.
There are several reasons for this:
Malta's traffic is dense and parking is regulated, so you won't be able to enjoy the freedom of quad biking to your heart's content.
In Malta, trails suitable for quads are often not permitted. In the end, you'll spend most of your time on the road.
The island of Gozo is wilder and much more suited to quad biking.
Quad bikes are therefore more of an expensive and unsuitable means of transport on the island of Malta. It's best to rent a scooter or bike. There are a few quad rental companies in Malta:
Rent a quad bike in Valletta
If you want to rent a quad bike in Valletta, you'll have to book online or agree to drive a few kilometers.
Where to rent a quad bike in Malta
The best way to rent a quad bike in Malta is to book online. You can do it at the best price from this site:
Otherwise, the island's best-known quad rental companies are as follows:
However, if we are to help you choose, then I would clearly advise you to opt for quad biking on the sister island of Malta.
During your vacation in Malta, you should set aside a day to visit Gozo. This small town is perfectly suited to quad biking, with its dirt roads and magnificent landscapes that are difficult to access by bus or car.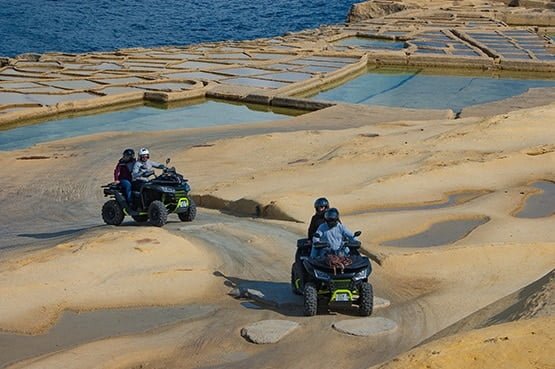 Gozo, a paradise for quad bikes
From Malta, the best option is clearly to take a day trip to visit the neighboring island on quad bikes.
A shuttle will pick you up at your Maltese hotel between 8 and 9 am. If you prefer to leave later, you can do so by planning your visit until sunset.
A dedicated speedboat will take you to Gozo to avoid the wait at the ferry. What's more, you'll pass by the magnificent island of Comino and its blue lagoon on the way.
You'll then visit the island accompanied by an expert guide who will take you to the best spots and explain their history. The value of the guide is also that it allows you to access paths you wouldn't be allowed to go on your own, and to avoid paying too high a deposit.
The guide knows the island inside out, and you can request an english-speaking guide when booking.
Full day quad bike tour in Gozo
The most recommended option is organized by Yippee Malta (Gozo's leading tour operator). It's a safe bet, with the full day rated 4.9 out of 5 on 1151 reviews.
You drive the quad yourself and can bring a passenger (optional).
The tour will last between 6 and 8 hours (excluding transport before and after) and will enable you to discover Gozo's best points of interest.
Visit the Church of St. John the Baptist at Xewkija, the Sanap cliffs at Munxar and its beach, and the cliffs and caves of Xlendi. You will also visit the Knight's laundries in Fontana, Dwejra Bay in San Lawrenz, Azure window (now partially collapsed), Wied il-Mielah window in Gharb, Wied il-Ghasri in Ghasri, the salt marshes in Xwejni and Dahlet Qorrot Bay in Nadur. A superbly condensed collection of architectural and, above all, natural wonders.
You can get 5% discount at Yippee by entering the coupon code: LPM5
Reservation directly with the organizer
Best price guaranteed with promo code LPM5
Free cancellation (under conditions)
Quad rental in Gozo (Malta)
For those wishing to explore Gozo independently, you can rent quads for as long as you wish. The rental company will be able to show you the island's main attractions and a detailed map of points of interest. If required, customers can also benefit from technical assistance during their rental period.
There are several rental companies in Gozo that we suggest:
Gozo Quad Hire, the most popular, based next to the port of Mgarr, where the ferry arrives from Malta.
Gozo quad hire also rents classic and sport buggies.
Or as a second choice, a smaller rental company Hammerheads projects, based next to Rabat, right in the center of Gozo.
Hammerheads projects also rents scooters and motorcycles.
Good to know! With the My Little Malta card Card, you'll get a 15-20% discount at Gozo quad hire: enough to make your card profitable from the very first purchase.
If you already have the My Little Malta discount card and prefer the guided tour, then Gozo Quad Hire also offers guided tours with your promotion.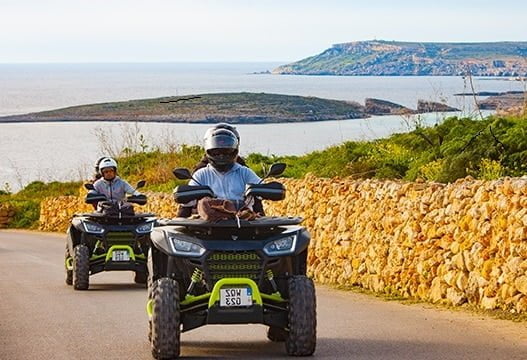 Quad rental in Malta: Prices
Quad rental prices in Malta
The price of quad rental alone varies according to the duration and the season. Count 45€ for 3 hours of quad rental between November and April and up to 80€ in high season for a full day. (This price does not include a tour guide)
Prices for guided quad bike tours in Malta.
A half-day excursion with a guide on a quad bike in Gozo usually costs between €70 and €80, while a half-day excursion with a guide on a quad bike in Gozo usually costs between €70 and €80. the whole day costs from €105 to €115 for one person + passenger fare. In addition to renting the quad guided tours, price includes fuel, transfer from Malta or Gozo, lunch, guide, etc. according to the organizer.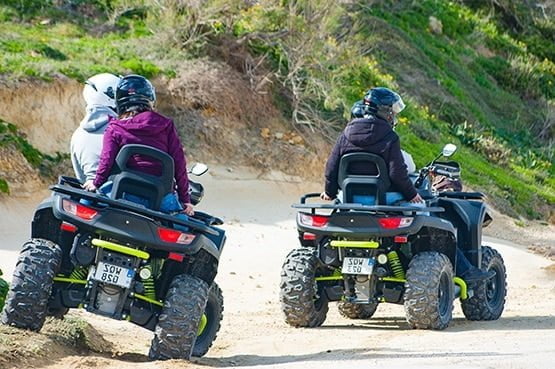 Security and deposit for quad bike rental in Malta
Nevertheless, you must keep in mind that you will have to respect the rules of the road and be aware of the risks linked to driving a quad in unknown paths with a deposit that can go up to 1500€ whereas with a guide, it will be much lower. Also, a qualified guide on a tour knows the terrain very well and knows how to pilot through Gozo's rugged landscape safely.
Quad day with Yippee Malta
Also, book your quad tour with Yippee Malta, you're guaranteed to be in a small group, transportation from your hotel in Malta or Gozo, a Gozitan lunch included and, above all, a plan B in case of bad weather. In fact, if it rains, Yippee will put you back on a chauffeured TukTuk or buggy tour.
In conclusion, renting a quad bike in Malta is not recommended unless it's simply a means of transport. To make the most of it, we recommend that you take part in an excursion to Gozo. This tour with Yippee Malta has a rating of 4.9 out of 5 and you can get a 5% discount by using the promo code LPM5 on their site.
Book directly with the organizer
Best price guaranteed with promo code LPM5
Free cancellation (subject to conditions)A
What you need to know before renting a quad bike in Malta
Here's some information you need to know about driving and renting a quad bike in Malta:
You must have a driver's license (National – no international license required).
You must be at least 21 to ride a quad
Don't forget to bring a backpack with a towel, and plan to wear a bathing suit under your clothes!
Come in sneakers, especially without sandals or heels.
Important: If you want to rent a quad bike in Malta or Gozo, we recommend you book in advance, as demand is very high, especially during the high season (June to September). We recommend booking at least three days in advance, or even earlier if you want more than one quad, or if you want to rent for the weekend. It's best to book early, so you don't miss out on the chance to see the joy in a fun way.
Quad bike excursion until sunset
Between May 15 and October 15, you can delay your departure from Malta to 2 pm instead of 10.30 am. This will allow you to spend around 2 hours in Comino enjoying the lagoons during a more peaceful part of the day. Afterwards, you can explore Gozo by quad bike until suns et and enjoy a local dinner accompanied by your guide.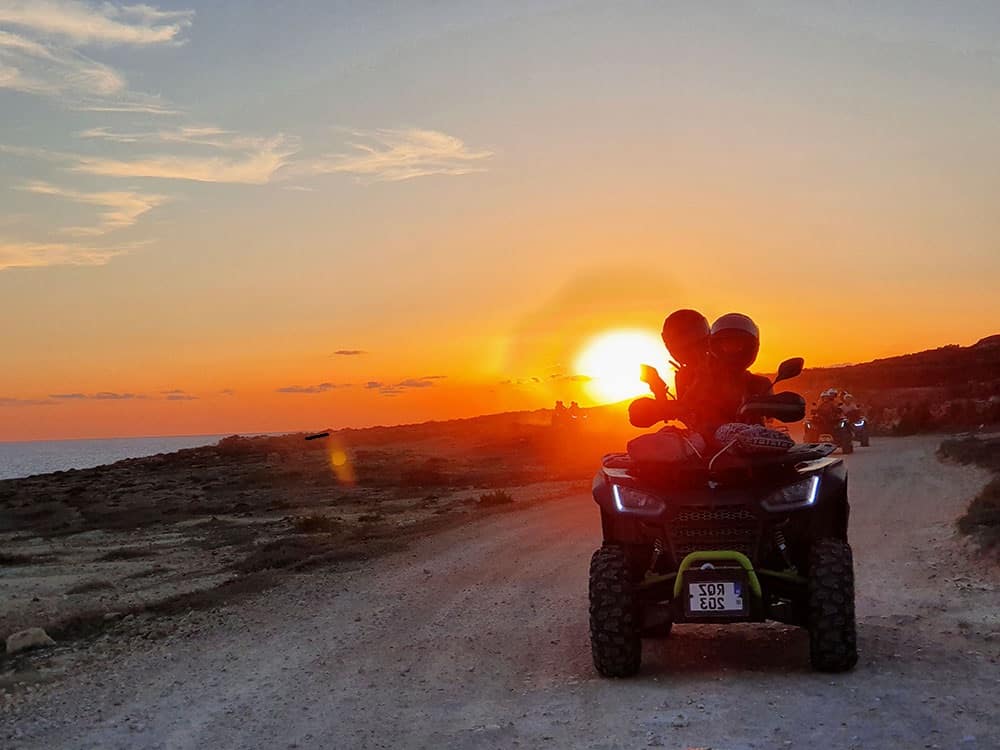 Alternative to the Quad: Tuk-tuk
If you prefer to be driven, you can visit Gozo with an English-speaking driver aboard a tuktuk, an original vehicle perfectly suited to accommodate up to 6 people.