Malta, with its sunny climate, magnificent beaches and lively nightlife, is the ideal place for young adults. When we say young adults in this article, we're talking about teenagers from the age of 16 right up to young adults aged 25 to 30, even though everyone can be affected, of course – age is in the mind!
There's plenty for young people to do in Malta, whether it's for a vacation, an internship or to learn English. It's off to an unforgettable trip, full of adventure, parties and discoveries (among young adults)! ☀️
What to do in Malta when you're young
Here are some ideas for activities for young people in Malta.
With its crystal-clear seas and breathtaking scenery, Malta is the ultimate playground for young adventurers. Get ready to create unforgettable memories!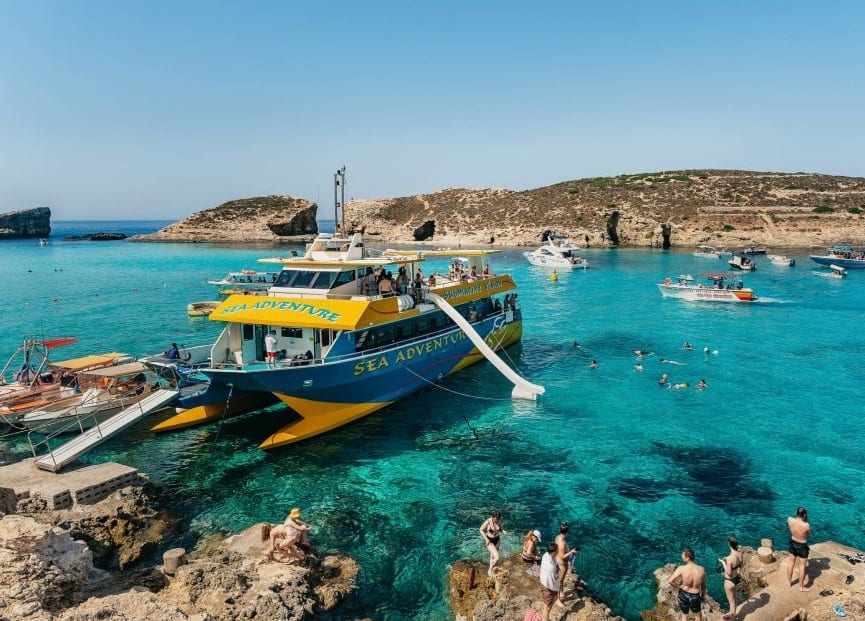 1. Embark on an unforgettable cruise to Comino ️
Take a boat trip to Comino . The Blue Lagoon, Comino's jewel, offers postcard-perfect turquoise waters.
Here are some of the best excursions in Comino that we recommend for young adults:
Means of transport
Benefits
Reservation
Day trip with Sea adventure to Comino (Departure Bugibba)
The cheapest: 27 euros per day
(Best value for money)
Click here to book
One-day catamaran cruise with Spirit of Malta (Departure Sliema)
More expensive but the best atmosphere with music, unlimited food and drink
Click here to book
Gozo and Comino during the day with Yippee. Boat and tuk-tuk. (From your hotel)
Visit Gozo + Comino in one extraordinary day!
Click here to book
Coupon code: LPM5
Tip: Take advantage of discounts of up to 20% on these excursions with our My Little Malta card !
2. Visit Gozo: escape to the heart of nature ️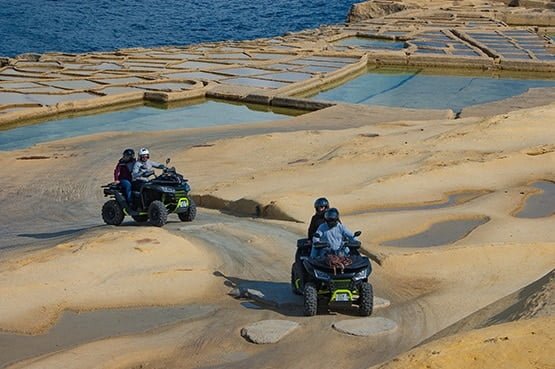 If you love nature and peace and quiet, Gozo is the place for you. Heavenly beaches, lush green landscapes and the famous Blue Hole, a magnificent diving spot, await you.
If you want to visit Gozo in one day, the best thing to do is to take a day trip from Malta and back. A driver will pick you up at your hotel and take you to Gozo by private boat (to avoid waiting at the ferry). On the way, you will discover Comino and its magnificent blue lagoon.
If the weather is fine, we recommend this self-piloted quad tour with a guide, during which you'll visit the island's best spots, have a local lunch and hear explanations in English of the points of interest. It's a guarantee to have a great day. You can be 2 per quad bike.
Take advantage ofa 5% discount when booking on the Yippee Malta website with the promo code: LPM5
If you prefer to do it all yourself, you can also go to Gozo by ferry and rent a quad bike from Gozo quad hire. Essential, you'll get up to 20% off if you have the My Little Malta card,
3. Diving and trekking: full of emotions
Put on your flippers or hiking boots and get ready for some intense moments.
Go scuba diving! Malta is surely the best spot in Europe for testing. Take out our discount card, and you'll get up to 50% off your dive. These diving spots are accessible and a must-see:
P29 at Cirkewwa: Discover the secrets of the deep with this submerged wreck.
Blue Hole in Gozo: A popular spot with divers from all over the world.
Find out more about diving in Malta here.
These hiking trails are magnificent. If there were only 2 things to do in Malta, these would be them.
Dingli Cliffs: A breathtaking panorama for hikers.
Golden Bay in Għajn Tuffieħa: For a peaceful stroll along the coast, this is the place to be.
Find out about other walks in Malta here.
Malta's most beautiful beaches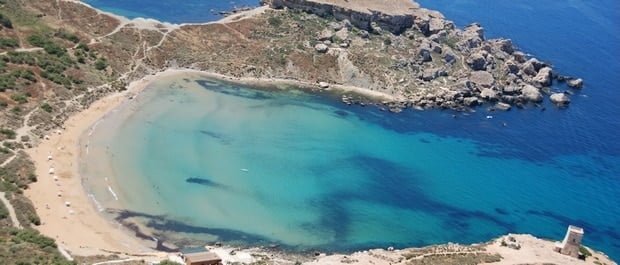 Malta also boasts splendid beaches for moments of pure relaxation after wild nights out in Paceville. Here are the 4 best beaches:
Blue lagoon of Comino: Book your boat here.
Golden Bay: Here, relaxation is guaranteed and the view is breathtaking.
Rivera: For those looking to tame the waves in the surf, this is the ideal spot.
Mellieha Bay: Big, beautiful and perfect for a day out with friends.
St Peter's Pool: Here, the most daring can jump off the rocks.
See more photos of the best beaches in Malta here.
Where to party in Malta when you're young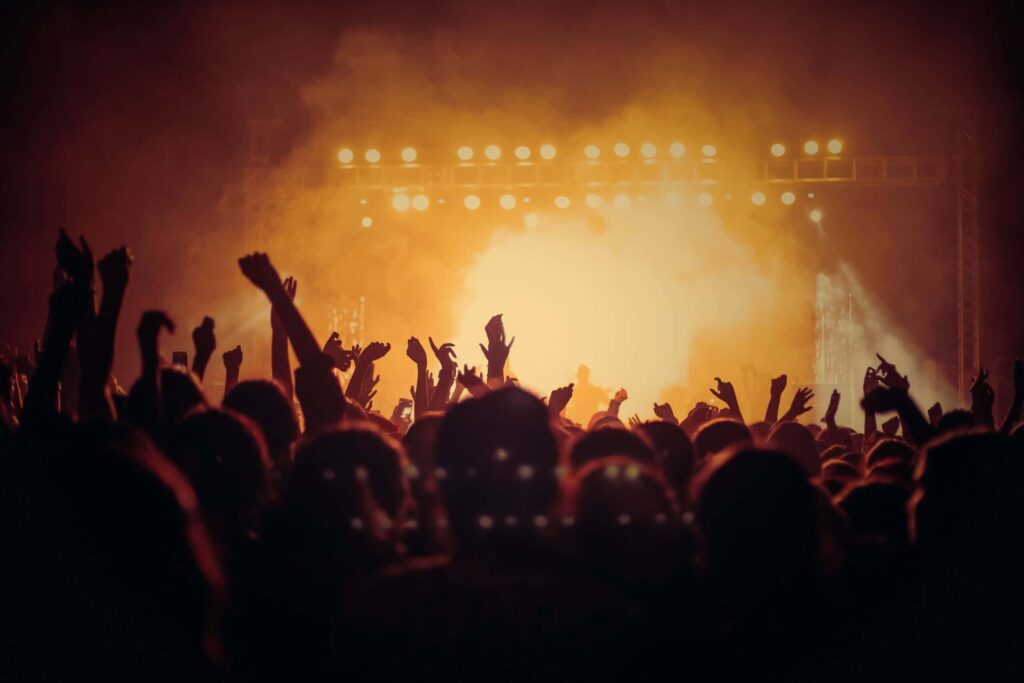 In Malta, the festival is a veritable institution. And to top it all off, alcohol is cheaper than elsewhere in Europe.
The best place to go out in Malta is Paceville in St Julians, where young adults live and like to meet up. Here are some of the best night spots in Malta for young adults:
Bellini Shot Bar: The perfect place to kick off the evening.
Valletta For delicious cocktails, this is the address for you.
Paceville: The heart of Maltese nightlife beats here. Footloose and Havana promise an unforgettable night.
Gianpula: For an open-air festival atmosphere, this is the place to be.
Cafe Del Mar: Admission is free on Sundays. With its swimming pool, electro music and fireworks, what more could you ask for?
Read our article to find out where to go out in Malta.
Where to stay in Malta as a young adults
After all these adventures, you need a cosy nest to rest in. If you're on vacation in Malta, the cheapest option is to stay in a youth hostel for €45 per night. For bigger budgets, you'll be able to find beautiful hotels in Malta with swimming pools for around €90-120 a night.
The cities where we recommend you to stay are the following, we tell you why:
We recommend using booking.com where many affordable accommodations are available.
So, are you ready for adventure? Malta looks forward to welcoming you!
Cheap travel to Malta
When you're young, you don't necessarily have much of a budget. To help you, we've created a discount card valid for over 170 discounts in Malta. We guarantee you'll save money! Diving, excursions, restaurants, accommodation, get discounts on your activities with our My Little Malta card!