Sliema is one of the most popular towns in Malta, known for its seaside and shopping. If you are planning a trip to Sliema, you will need a place to stay. This article will help you find accommodations in Sliema that meet your needs and budget.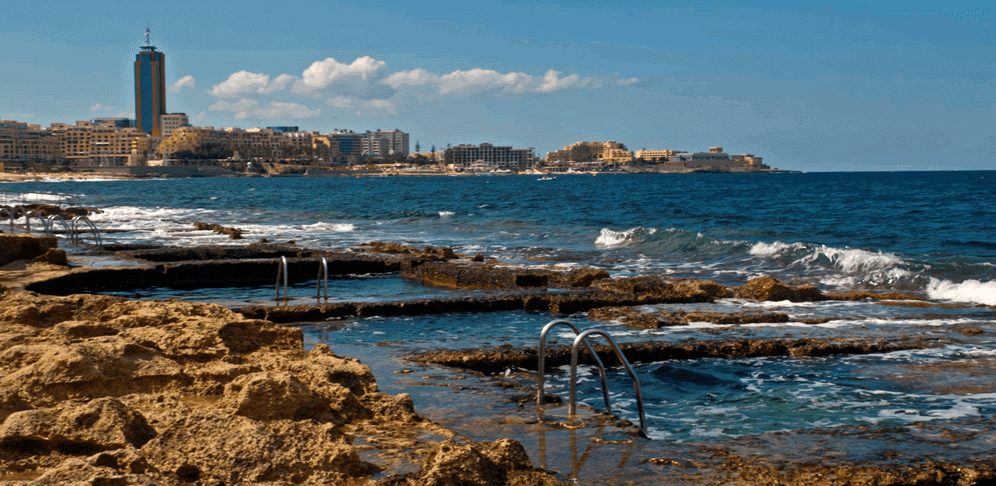 Read our article on the best places to stay in Malta .
Areas to stay in Sliema
Sliema, or Tas-Sliema in Maltese, was once a small fishing village. For many years now, Sliema has been attracting Maltese and expatriates alike for its ideal location and variety of accommodation to suit all tastes .
The Waterfront
If you want to wake up in front of the waves and the transparent water of the Mediterranean Sea, you can opt for an apartment rental in front of the sea. Sliema's waterfront stretches for 3 kilometers.
The North of Sliema
Quieter than the south of Sliema, you will be close to all amenities and it will be easy to walk to your favorite restaurant or bar .
The Heart of Sliema
You will find quite charming accommodations in this part of Sliema, while being preserved from the sometimes noisy waterfront and being at 10 minutes walking distance from it.
Gzira (Gżira in Maltese)
A popular area for travelers, it offers a unique blend of traditional and modern architecture that will delight history and architecture enthusiasts. This region also offers a variety of 3-4 star hotels, as well as furnished apartments suitable for tighter budgets .
Where to stay around Sliema
St Julians : This district is located right next to Sliema and it is very popular with travelers because it offers a wide range of accommodations, from luxury hotels with a view of the sea to trendy, affordable hostels, all in a pleasant environment where it is good living.
Valletta: The capital of Malta is perfect for history and architecture enthusiasts. Valletta is a dynamic and lively city.
Best hotels in Sliema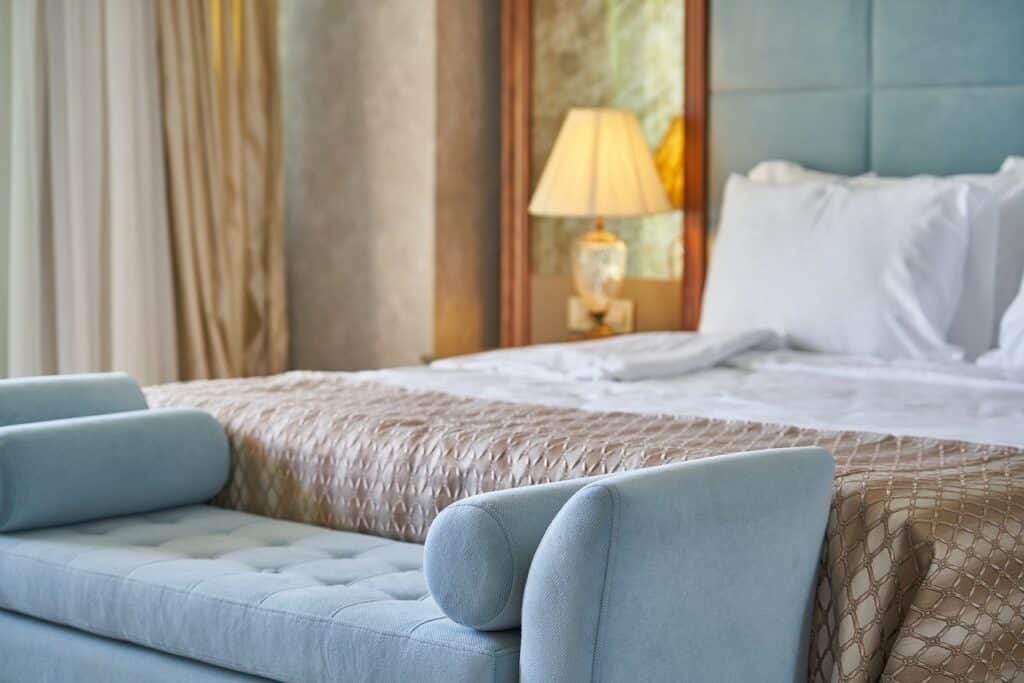 My favorite hotel in Sliema
The 1926 Soleil Hotel & Spa in Sliema is Malta's most Instagrammable hotel. It's conveniently located near the beach and ferry terminal. It offers comfortable rooms, a restaurant, a bar, a spa with heated pool, sauna and steam room, as well as a seasonal beach club. Travelers appreciate its location and infinity pool.
We have made a selection, in ascending order of price, of the best hotels in Sliema for different budgets. We have compiled this list based on the opinions of our team of editors and verified customer reviews from online booking sites.
Best hotels and hostels in Sliema
Summary of the best hotels in Sliema to suit all budgets:
| Hotel name | Benefits | Price |
| --- | --- | --- |
| Two pillows boutique hostel | Highly rated youth hostel. Its design tastefully blends modernity and tradition. All rooms are equipped with air conditioning and free WI-FI. The location is ideal as the hostel is situated next to the pier of Sliema. | € |
| Amery House | A new boutique hotel nestled in one of Sliema's best-preserved streets. Located just steps from the bustling promenade, it combines contemporary design with a passion for sustainability, offering a unique pied-a-terre in one of the island's most sought-after locations. | €€ |
| 1926 Hotel and SPA | Magnificent hotel with infinity pool and sea view. The hotel has a restaurant and bar. | €€€ |
| Land's End, Boutique Hotel | Luxury hotel with indoor pool and breathtaking views of Valletta | €€€€ |
Accommodation in Sliema
In Sliema, you'll mainly find hotels for many tourists, youth hostels for solo travelers and those on a smaller budget, as well as self-cateringapartments for those who want more independence. Big houses, large all-inclusive hotels and villas are rarer in Sliema.
Map of housing in Sliema
Budget is also an important criterion in your choice of neighborhood. In Sliema, travelers can choose from several comfortable and modern hotels. Find below the rates of the hotels according to their location. Click on the hotel to see it.
Rent a whole apartment in Sliema
Rent your own whole apartment in Sliema to be self-sufficient. You can rent an apartment hotel, a charming house or even a modern seafront apartment in Sliema. Click here to see all available apartments in Sliema:
Why stay in Sliema in Malta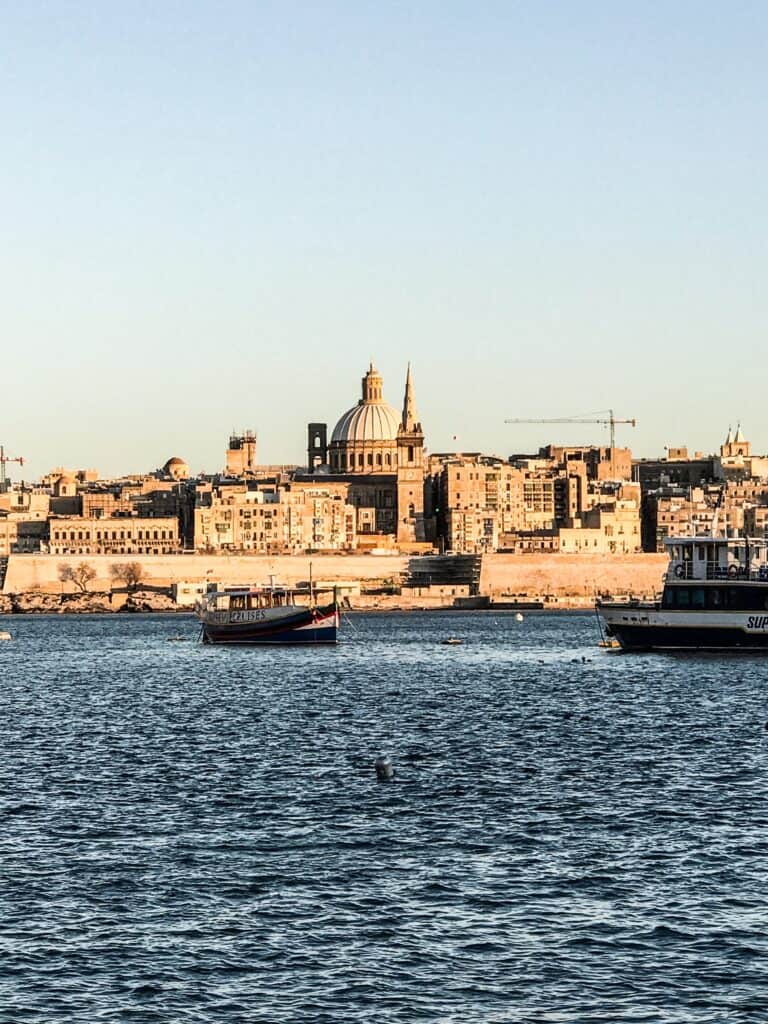 Located on the southeast coast of the island, Sliema offers a magnificent view of the Mediterranean and is famous for its beaches, bars, restaurants and stores. The city is also very well served by public transportation, making it a convenient and central base for exploring the rest of the island.
Amenities nearby
The city is full of cafes and bars offering local dishes as well as international specialties. Moreover, if you want to go out at night, you will find a wide range of clubs and pubs to satisfy all their desires.
Very well served by transportation
The city is very well connected to the tourist areas of the archipelago by the public transport network by bus and ferry, which makes it possible to move easily to Valletta for example.
His choice of accommodation
There's an impressive variety of accommodation to suit all budgets . Whether it's a luxury hotel, a private apartment or a small hostel to meet travelers, Sliema has something for everyone.
The weak points of lodging in Sliema
If white-sand beach vacations are your number-one priority, this may not be the best place to stay. It takes about 1 hour by bus to reach the white sandy beaches in the north of the island.
If you are looking for absolute peace and quiet, choose a less busy city or the island of Gozo if you are looking for nature and tranquility.
In conclusion, Sliema offers a wide range of accommodation options to suit all budgets and tastes. You will certainly find the ideal solution for your stay, whether you are looking for a high-end hotel, a cheap hotel or a vacation rental. Don't forget to check out traveler reviews on sites like Booking before booking your accommodation, and enjoy your stay in Sliema!
FAQ
Where is Sliema located?
Sliema is located on the southeast coast of Malta, about 3 kilometers from Valletta.
What types of accommodation are available in Sliema?
There is a wide variety of accommodation in Sliema, ranging from five star hotels to cheap hostels, apartments and vacation homes.
What is the average price for a stay in Sliema?
The average price for a stay in Sliema depends on the type of accommodation you choose: hotels can go up to 500€ per night, while cheap hostels and apartments can cost between 25€ and 80€ per night.
What are the advantages of a stay in Sliema?
Sliema offers a lively and vibrant atmosphere with a variety of restaurants, cafes and stores.
What are the must-do activities during a stay in Sliema?
Must-do activities during a stay in Sliema include walking along the waterfront, shopping on the main promenade or visiting historical sites.