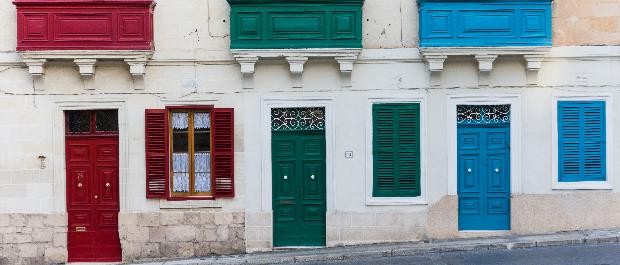 A favorite strolling spot for many Maltese and expatriates alike, Sliema is Malta's most dynamic coastal town and a popular choice foraccommodation: its waterfront stretches for over three kilometers, and the eastern part offers extraordinary views of Valletta. A resort town since the 19ᵉ century, visiting the more confidential neighborhoods of Sliema brings a different approach to this former small fishing port.
What to do in Sliema
Walking in Sliema
Sliema doesn't offer the historic landmark that Valletta does, but this central Maltese town is a very pleasant place for a stroll. The best walks in Sliema are the following:
Point de Tigné
Point de Tigné is a must-see destination in Sliema. Nestled on a rocky peninsula, this spot offers breathtaking panoramic views of the Mediterranean Sea and surrounding countryside. Visitors can enjoy a relaxing stroll past The Point shopping center and over the padlock-covered bridge celebrating love. Point de Tigné is also known for its famous Fort Tigné, a historic site that bears witness to Malta's rich past. Photographers will be delighted by the sunsets.
Streets of Sliema
The streets of Sliema offer a charming and photogenic atmosphere, with their colorful buildings and typical balconies. The narrow streets are lined with boutiques, lively cafés and restaurants, offering visitors a lively, friendly atmosphere. Wrought-iron balconies, known as "gallarija", add a unique architectural touch to Sliema. Here are a few pleasant walks in Sliema. Click to view map :
Stroll along the water's edge from Torri to Qui Si Sana. You can continue towards St Julians to Independence Gardens, a pleasant, safe park with children's play areas.
Sliema beaches
Sliema has no real sandy beaches. There are, however, rocky beaches accessible by ladder. Here are some of Sliema's beaches:
Tigné Point beach
Soak up the sun on this beach at Tigné Point. With its shallow waters, it's the ideal place to relax, swim and bask, with a lovely view over Valletta.
Balluta Bay Beach
Nestled in a picturesque bay, Balluta Bay is a man-made beach close to the palm-fringed waterfront. Not the most beautiful beach, but very convenient.
Qui-Si-Sana Beach
Located close to the center of Sliema, Qui-Si-Sana beach offers easy access to the sea for a refreshing swim. Its peaceful setting and calm waters make it a popular spot for families and bathing enthusiasts.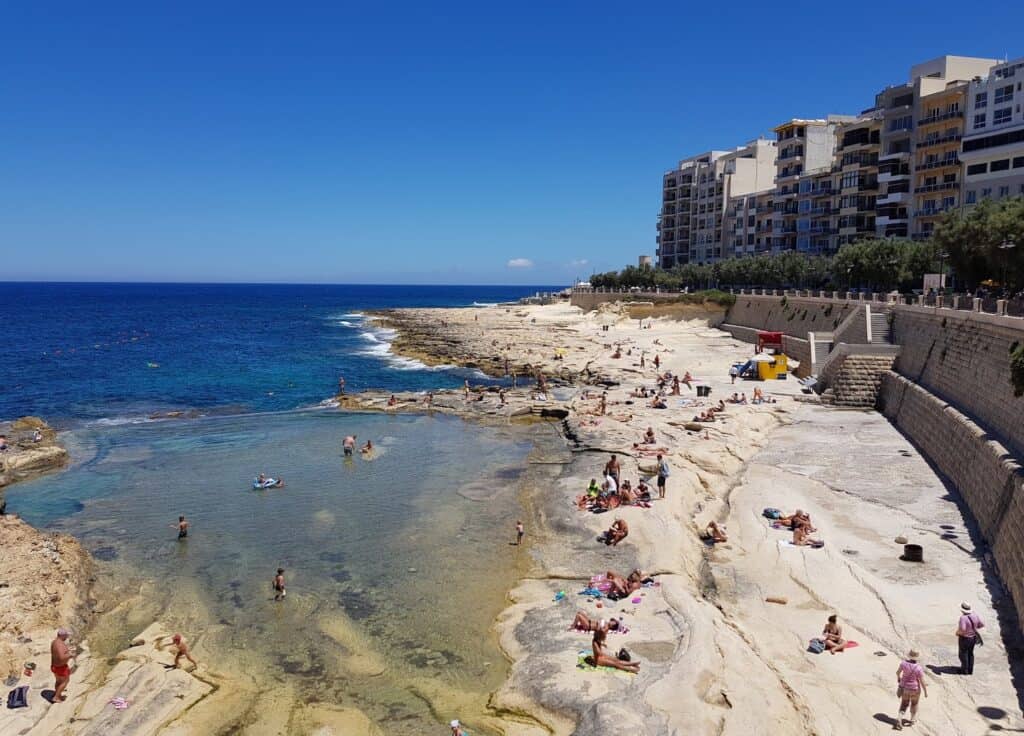 Fond Għadir Beach
This beach is Sliema's most popular with tourists. It's famous for its natural rock pools, also known as Roman baths, perfect for relaxing. Here you can enjoy a lazy day and snorkel in the turquoise waters. The beach is just below the Surfside restaurant. There's a lifeguard, toilets and showers.
Restaurants in Sliema
Probably one of the best things to do in Sliema is to discover and sample its many restaurants serving local Maltese and international cuisine. Here is a selection of Sliema restaurants to try:
Ta' Kris Restaurant – This family-run restaurant offers traditional Maltese cuisine in a warm atmosphere. Tasty dishes such as fenek (rabbit) and ricotta ravioli are served with friendly, attentive service.
Fresco's Cafe & Restaurant – Simple restaurant overlooking the bay offering local dishes as well as pastas, pizzas, grills, cocktails and caffeinated drinks.
Tiffany's Bistro – Comforting international specialties like pad thai, burgers and pasta dishes served in a welcoming setting.
Ali Baba – Lebanese restaurant to try. Try the excellent hummus.
The Brew – If you're a fan of craft beer, The Brew is the place for you. This pub offers an impressive selection of local and international beers, accompanied by delicious pub food. You can enjoy classic dishes such as burgers, fish and chips and chicken wings, all in a friendly atmosphere.
Living in Sliema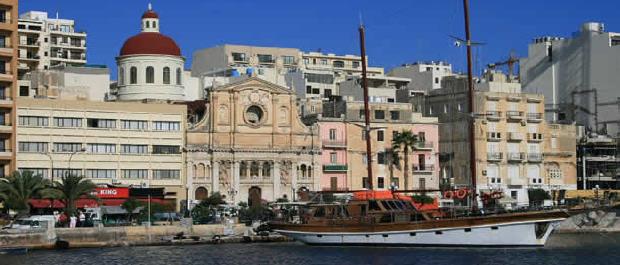 With 14500 inhabitants per square kilometer, Sliema is the most densely populated city in Malta and the one where people live most intensively: cafes, restaurants, hotels along the waterfront, from Balluta Bay to the entrance of Manoel Island, competing with well exposed terraces at the foot of flat rock beaches or offering an unforgettable view on Valletta at any time of the day or night. Moreover, real estate developers have not been mistaken because Sliema is the coastal city with the most buildings in the whole archipelago, not always of the best taste … but all very expensive!
History of Sliema
Although it may not seem like it at first glance, Sliema is a city ofhistory in Malta. While walking along its waterfront, one discovers the Fort of Tigné -1793 and the Fort of Cambridge-1878 (under rehabilitation), strategically built at the entrance of Marsamxett Harbour by the Knights and then the British.
But in addition to the military issue, Sliema became the resting place of the great families of Valletta from the 19th. The town developed very quickly around the "Stella Maris"-1855 Church-with elegant townhouses and Victorian-style villas. This area of Sliema also has the largest number of streets with English names in Malta.
Go through this grid of streets with beautiful facades, more cheerful than those of Valletta and little frequented. And the higher you climb in Sliema, the more you will be surprised to discover shops from another time, hidden gardens, a simple, authentic neighborhood life.
Only a 10 minute walk from the lively waterfront…
Getting around Sliema
Sliema is very centrally located and well served by public transport.
If you haven't rented a car or scooter to get around Malta. Buses are the cheapest and most convenient way to get from Sliema to Malta.
Sliema – Valletta
The capital, Valletta, is just a few kilometers away and can be easily reached by boat from Sliema's waterfront ferry terminal in just 10 minutes, or by bus in around 20 minutes. By bus, take routes 13, 13A, 14, 15, 16 and 21
Sliema – Malta Airport
To get to the airport from Sliema or vice versa, you can book a cab specialized in airport transfers online. Click here to see our rates. By bus, take lines X2 or TD2.
Sliema – Gozo – Comino
To get to Gozo or Comino from Sliema, you can take an organized excursion from the waterfront, a convenient and not much more expensive option.
To get there on your own, you'll need to go to Valletta to take the Gozo fast ferry, or take the bus to Cirkewwa (approx. 1h) and then take the ferry.
For a day trip, it's best to take an excursion. Click here to see excursions departing from Sliema.
Sliema – Northern Malta
It's also quite easy to reach the north of the island from Sliema, with a journey of around an hour. Here are the bus routes to take:
By bus to Bugibba or Mellieha, take line 212 or 222.
By bus to St Paul's Bay, take line 212 or 225.
Where to stay in Sliema
Sliema is our recommendation for couples and almost everyone!
Sliema is a very good compromise and is our recommendation for most travelers to Malta. It is a lively city between Valletta and St Julian's where the nightlife is the most important.
Sliema is also very well served by bus, many excursions leave from Sliema. There is a ferry to Valletta, the capital.
If you want to know where to stay in Sliema, which neighborhoods to avoid and which to favor, then read our dedicated article.
In addition, Sliema's accommodations are varied and the prices are generally more affordable than in Valletta.
Sliema districts
Starting point for cruisers, the Sliema waterfront, called "Strand" is the economic nerve center of Malta, the place for shopaholics and the Maltese capital of online gaming companies (sports betting, poker, etc.)!
From Balluta Bay to Qui si Sana, the northwestern waterfront is more relaxing with Independent Garden, Exiles Point, its playgrounds or sports training areas above the Mediterranean. A privileged place on summer evenings to organize a picnic or a barbecue evening on the beach.
Gzira, to the south of Sliema, is also a favorite with expatriates for good reason.
Housing in Sliema
Best hotels and hostels in Sliema
My favorite hotel in Sliema
The 1926 Soleil Hotel & Spa in Sliema is Malta's most Instagrammable hotel. It's conveniently located near the beach and ferry terminal. It offers comfortable rooms, a restaurant, a bar, a spa with heated pool, sauna and steam room, as well as a seasonal beach club. Travelers appreciate its location and infinity pool.
In ascending order of price, here are the hotels we recommend for accommodation in Sliema: