Malta is an increasingly popular vacation destination, offering a unique combination of history, culture and beautiful scenery. If you're planning to visit this island paradise for your next vacation, it's important to choose accommodation that suits your needs and preferences. Aparthotels are an ideal option for travelers looking to combine the comfort and convenience of a hotel with theautonomy and flexibility of an apartment.
In this article, we present the best aparthotels in Malta, highlighting their unique facilities, convenient locations and the advantages they offer for a perfect stay. Whether you're looking for a romantic getaway, a vacation with family or friends, you're sure to find the perfect aparthotel to suit your needs.
Follow our guide to discover the best apart-hotels in Malta and enjoy an unforgettable stay on this beautiful island of Malta :
Good to know: The managers of these properties in Malta speak perfect French, so they'll be able to offer you advice and service throughout your stay!
Click here to see all available complete accommodations according to your dates

1. Charming Appart'hôtel with swimming pool for 4 people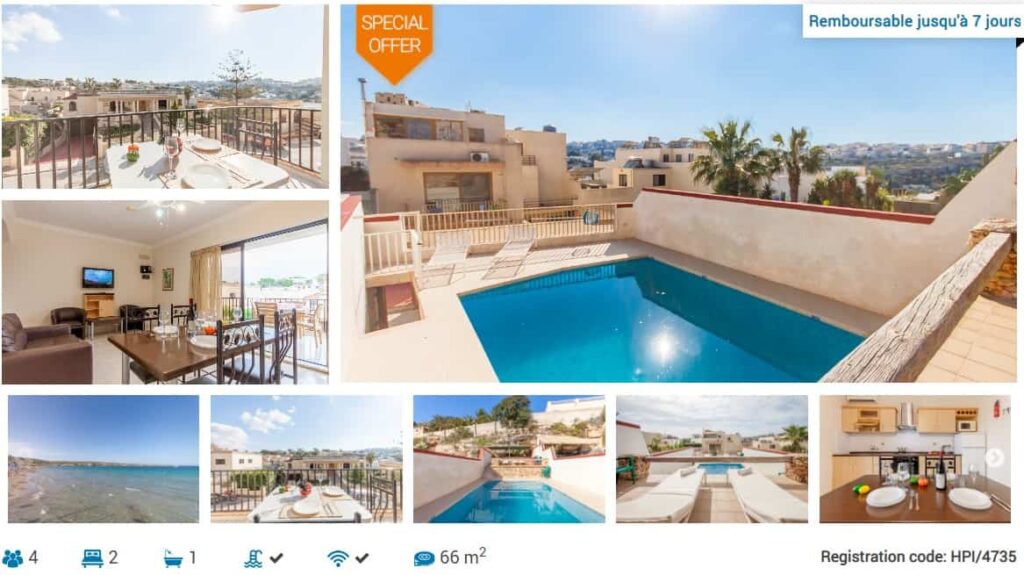 Price: Between €250 and €1,200 per week
Location: Mellieha, North of Malta
Features: sleeps 4, 2 bedrooms and 1 bathroom
This 2-bedroom vacation apartment in Mellieħa, Malta, is an ideal place for a family of 4 or a group of friends. Located on the second floor of a 3-storey residence with elevator, this child-friendly apartment offers the perfect facilities to ensure a healthy and convenient stay, including a communal swimming pool, a private balcony offering panoramic views and a fully equipped kitchen.
Guests can relax on the sun loungers or take advantage of the shared relaxation areas on the property. The apartment also offers easy access to the beach and other parts of the island via nearby bus stops. Guests can enjoy air conditioning, free Wi-Fi and a weekly linen change.
Larger groups can book similar apartments in the same residence.
2. Private apartment hotel with terrace and pool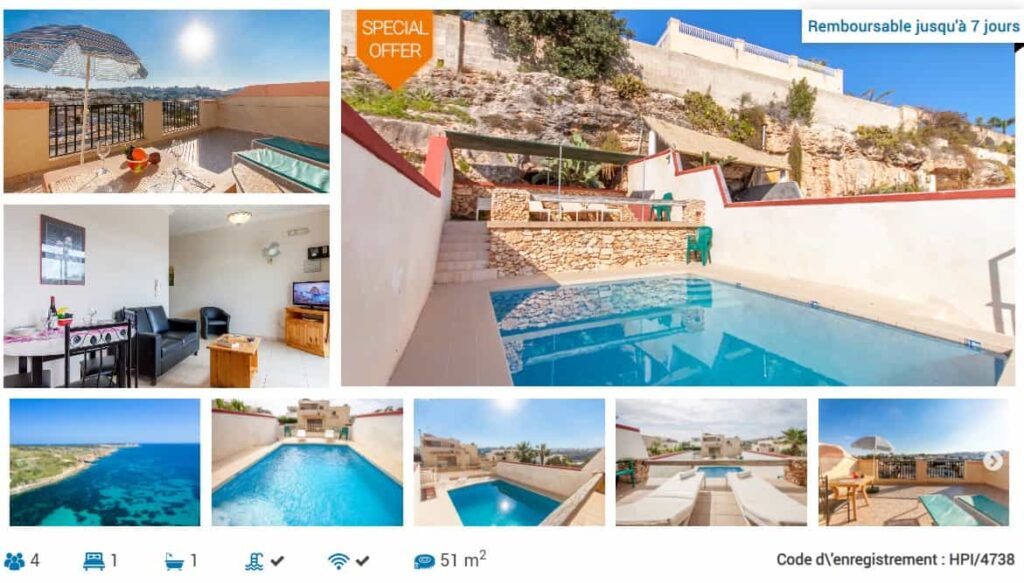 Price: Between €300 and €1,100 per week
Location: Mellieha, Malta
Features: 3 people, 1 bedroom and 1 bathroom
Accommodation assets: located close to the beautiful beaches of northern Malta
This one-bedroom penthouse apartment with pool is located in the town of Mellieħa, Malta, just a 15-minute walk from the upper main road with bars, stores, restaurants and bus stops. It offers a communal pool with sunbathing area as well as a private apartment balcony for al fresco dining and uninterrupted panoramic views. The air-conditioned apartment sleeps up to 3 people and features a bright living room with a luxurious leather sofa, coffee table, dining table and fully equipped modern kitchen. Free Wi-Fi, a huge smart TV and a library are also available for entertainment and relaxation.
The rental is well connected to all essential amenities to facilitate an independent stay with your loved ones. Malta's well-known beaches, Għadira Bay and Golden Bay, are between 6 and 10 minutes' drive away. The wet marshes of the Malta Bird Park are a 10-minute drive away.
Larger groups wishing to stay in the same location can book similar apartments in the same residence.
Good to know: The managers of these properties in Malta speak perfect French, so they'll be able to offer you advice and service throughout your stay!
3. Modern apartment hotel in Sliema for 4 people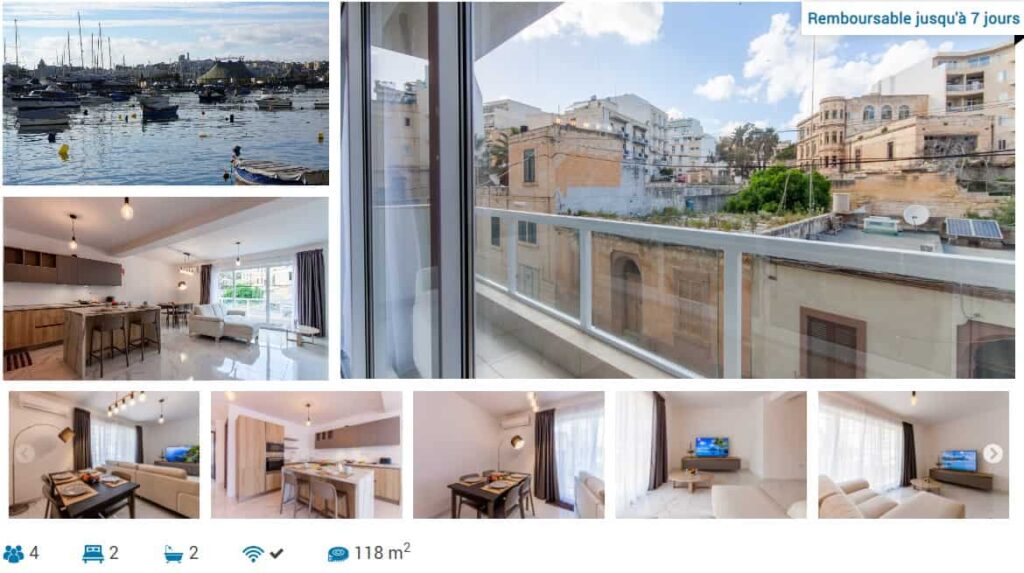 Price: Between €500 and €1,500 per week
Location: Sliema, Malta
Features: sleeps 4, 2 bedrooms and 2 bathrooms
Located in the heart of Sliema, this bright, modern apartment is ideal for sea lovers and shoppers. With its two bedrooms, two bathrooms and two balconies, it's perfect for a family or a group of friends. The spacious master bedroom has a double bed and en-suite bathroom, while the comfortable second bedroom has two single beds and a wardrobe. Both bathrooms feature a bath with shower, separate shower and toilet. The apartment is fully furnished and air-conditioned, and features other amenities such as free Wi-Fi, a washing machine, free public parking, a garbage disposal and a smoke detector.
Sliema is an important residential and commercial area with numerous bars, restaurants and cafés. The rocky beaches offer natural pools and plenty of snorkeling opportunities. Conveniences such as banks, supermarkets, pharmacies and shopping centers are within walking distance. Malta International Airport is just a 20-minute drive away. This apartment is equipped with a full kitchen with dishwasher, microwave, oven, toaster, freezer, fridge and induction hob. Children are welcome.
4. Appart'hotel aux 3 cités de Malte for 4 people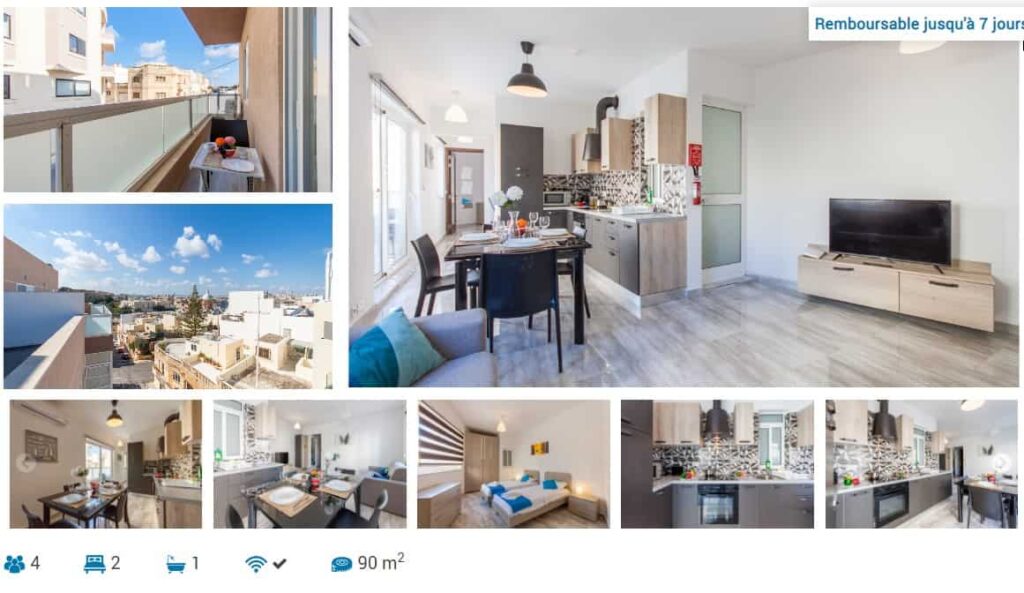 Price: Between €400 and €950 per week
Location: Kalkara, Malta
Features: sleeps 4, 2 bedrooms and 1 bathroom
Welcome to this vacation apartment ideally located in Kalkara, Malta. With two bedrooms, it can comfortably accommodate up to four people. Just a five-minute walk from the sea, this apartment enjoys a pleasant location, close to restaurants and bars, while offering a relaxing, calm atmosphere. With air conditioning, smart TV and Wi-Fi connection, you can enjoy a carefree stay.
The apartment also features a rooftop terrace with stunning sea views, where you can relax after a long day of sightseeing. The fully-equipped kitchen-dining room, with dishwasher and washing machine, is perfect for preparing home-cooked meals. Rooms are comfortable, with single beds and wardrobes. The bathroom has a separate shower and toilet.
The three cities of Birgu, Senglea and Cospicua are within walking distance of the property and offer an interesting glimpse into the island's past. For a carefree vacation, the seaside town offers a variety of pubs, restaurants and stores. It's the ideal place for a vacation in the Mediterranean sunshine.

5. Apartment in villa near port of Gozo with pool & spa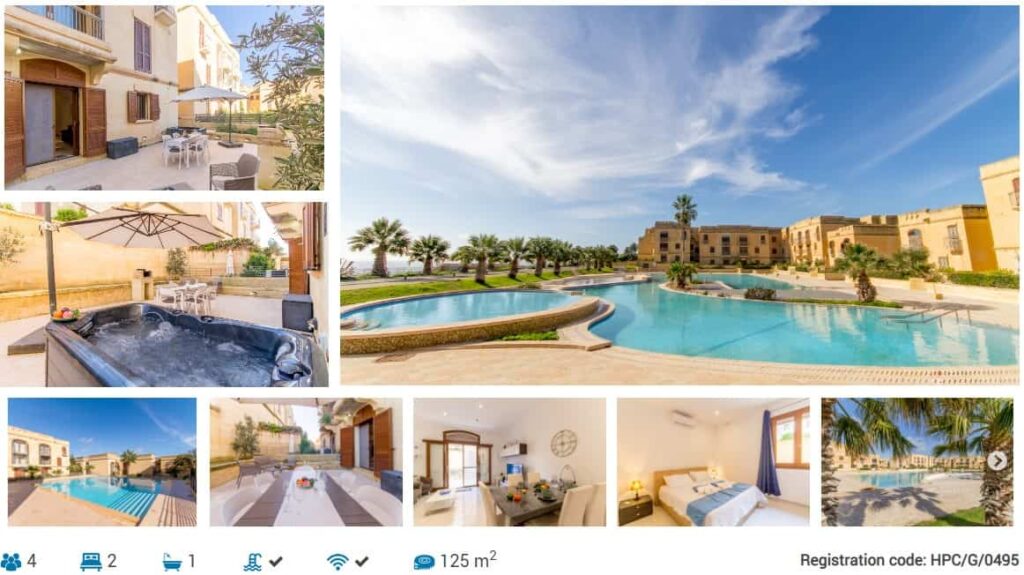 Price: Between €1,200 and €1,600 per week
Location: Mgarr, Gozo
Features: sleeps 4, 2 bedrooms and 1 bathroom
Lodging assets: Gozo location and setting
Imagine the pure sea air, the soothing sound of waves crashing on your balcony door. The Mediterranean sun warms you as you relax by the pool. Make this dream come true with a vacation stay in this magnificent villa in Fort Chambray, just a stone's throw from the port of Mgarr. This luxurious two-bedroom apartment comfortably sleeps 4. It's ideal for family vacations or romantic vacations on the beach. The Villa has two comfortable, bright bedrooms, an open kitchen and dining area, leading to a comfortable living room, opening onto a private terrace where you can dine in the moonlight or soak in the private Jacuzzi.
6. Apparthotel 300m from the sea for 6 people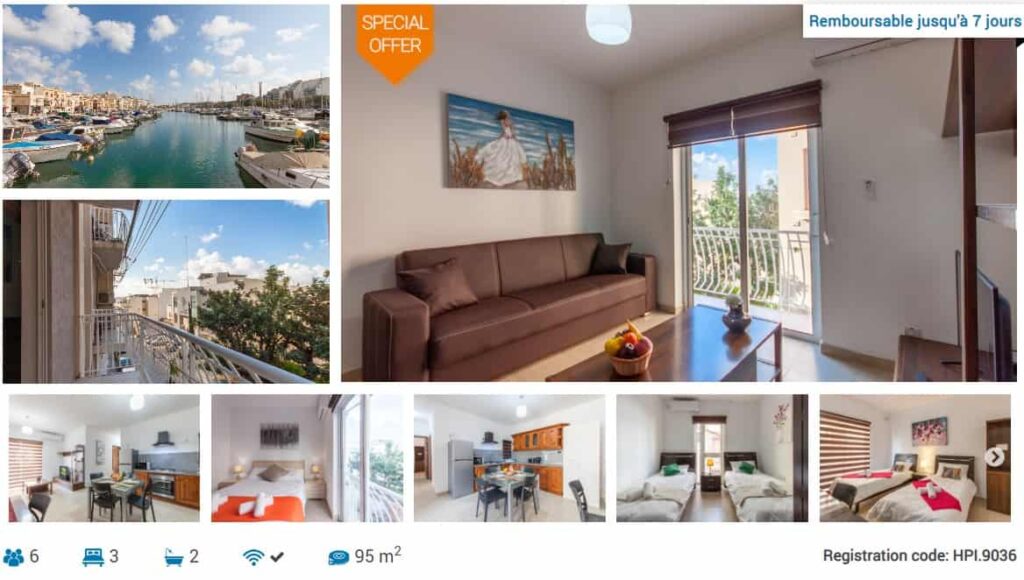 Price: Between €480 and €1,300 per week
Location: Msida, Malta
Features: sleeps 6, 3 bedrooms and 2 bathrooms
Discover this modern, spacious apartment located near the marina of Msida, a picturesque harbor town on Malta's northeast coast, just a 15-minute drive from the capital, Valletta.
Sleeping up to six people, this bright apartment has three comfortable bedrooms, two with balcony access, and two modern bathrooms equipped with everything you need. The open-plan living room and fully-equipped kitchen are tastefully furnished, providing a welcoming and relaxing living space for guests. Additional amenities include air conditioning, free Wi-Fi, washing machine and free public parking.
The location of this apartment is ideal for those looking to explore nearby beaches, including Rock Beach and Balluta Bay Beach, as well as the island's many popular sights, such as Upper Barrakka Gardens and Ta' Qali National Park.
7. Large apartment hotel in Gozo, Malta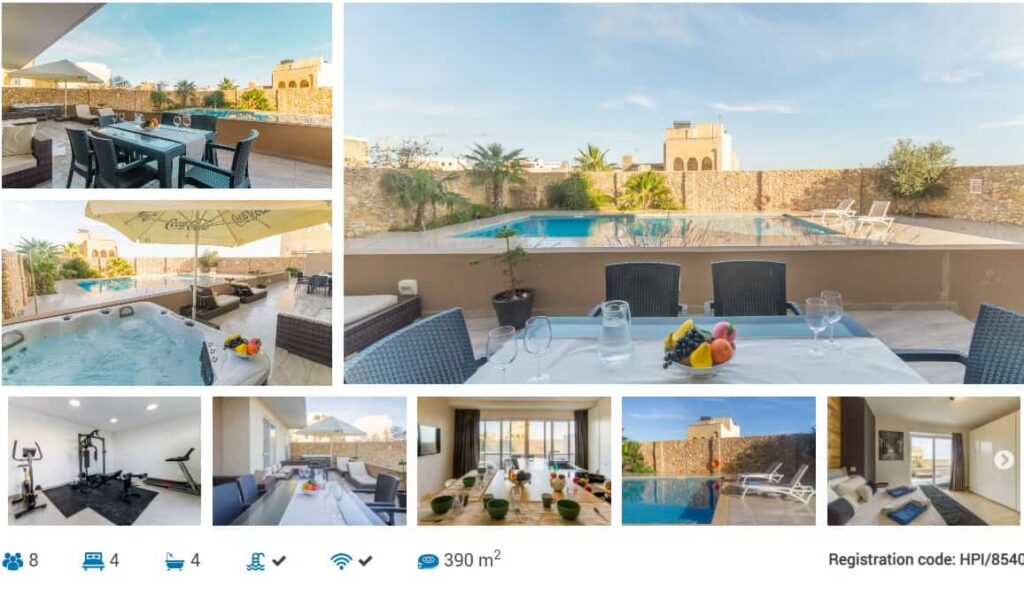 Price: Between €1,600 and €2,200 per week
Location: Xaghra, Gozo
Features: 8 people, 4 bedrooms and 4 bathrooms
This contemporary single-storey apartment is located on the outskirts of the lively village of Xaghra, just above the red sandy beach of Ramla. This contemporary apartment is perfect for experiencing hygge, the Scandinavian term for living in excellent conviviality and comfortable togetherness with a sense of contentment and well-being. The property features floor-to-ceiling glass doors that offer abundant natural light and open onto a huge private terrace equipped with elegant outdoor furniture, a gas barbecue and a large parasol. This terrace is on exactly the same level as the communal terrace with comfortable sun loungers and a shared swimming pool. The property also features an outdoor Jacuzzi to complete the absolute vacation atmosphere and allow guests to relax completely during their stay in Gozo.
8. Marsaskala apartment hotel for 4 people
Price: Between €600 and €1,100 per week
Location: Marsaskala, Malta
Features: sleeps 4, 2 bedrooms and 2 bathrooms
This apartment is situated in a prime location in Marsaskala, close to several beaches, making it an ideal choice for those looking for a relaxing vacation in the sun. The apartment's facilities include free Wi-Fi, cable TV, a fully equipped kitchen, a washing machine and free toiletries.
Malta is a Mediterranean island rich in history and culture, offering many activities for travelers. The city of Valletta, just 12 km from the apartment, is famous for its architectural beauty and rich history. Hikers and outdoor enthusiasts will appreciate the many opportunities for hiking and trekking in the island's lush countryside. Land and water sports are also very popular in Malta, with snorkeling, fishing and sailing available close to the apartment.
Map of aparthotels and rentals in Malta
Zoom in on the map to see the rentals and click on the apartment to see the ad: