Malta is a small Mediterranean island known for its historical heritage, culture and warm, sunny climate. It is also a popular destination for superb vacation villas offering breathtaking sea views and luxurious facilities for unforgettable stays. In this article, you'll discover the best villas in Malta, highlighting their unique features, ideal locations and the advantages they offer for a dream vacation.
Whether you are looking for a villa for a romantic getaway, a vacation with family or friends, you are sure to find the perfect villa for your needs and desires in our selection :
Good to know: The managers of these properties in Malta are very helpful, so they'll be able to offer you advice and service throughout your stay!

Click here to see all available complete accommodations according to your dates

1. Villa with pool and spa in St Paul's Bay for 6 people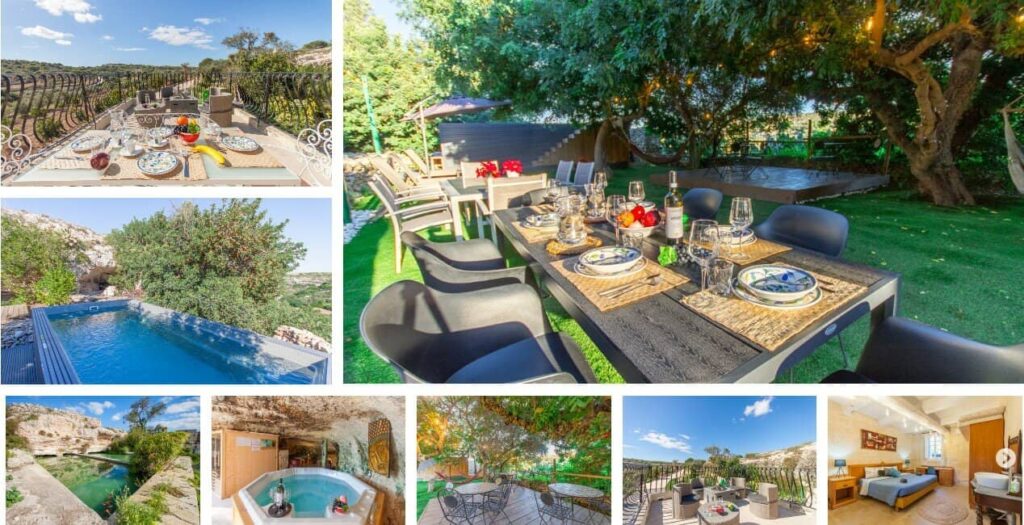 Price: Between €2,500 and €5,000 per week
Location: St Paul's Bay, Malta
Features: sleeps 6, 3 bedrooms and 3 bathrooms
Lodging advantages: Located on the beautiful north coast of the island of Malta, where there are a number of bathing spots.
Enjoy the fresh, clean air while connecting deeply with nature thanks to the many surrounding mature trees and natural spring water. Treat yourself to a well-deserved break from everyday life by relaxing in the SPA located in a centuries-old natural grotto. This luxurious, relaxing retreat is the new dream for the perfect getaway. With a hammock, Jacuzzi, Mediterranean sunshine and swimming pool, this farmhouse offers these amenities and more!
Villa Tas-Sienja is an exclusive accommodation located on the San Martin Wellness & Retreat estate, perfect for a relaxing stay in Malta. Guests will enjoy a captivating setting and a host of comfort benefits. The villa is equipped with a SPA located in a centuries-old natural grotto, ideal for relaxing. The terraced landscaping offers a beautiful terrace and hammock, allowing visitors to enjoy the warm Maltese sunshine while admiring the magnificent view. Book your stay at Villa Tas-Sienja now to enjoy quality accommodation in Malta.
Good to know: The managers of these properties in Malta speak perfect English, so they'll be able to offer you advice and service throughout your stay!
2. Small villa with terrace and pool for 3 people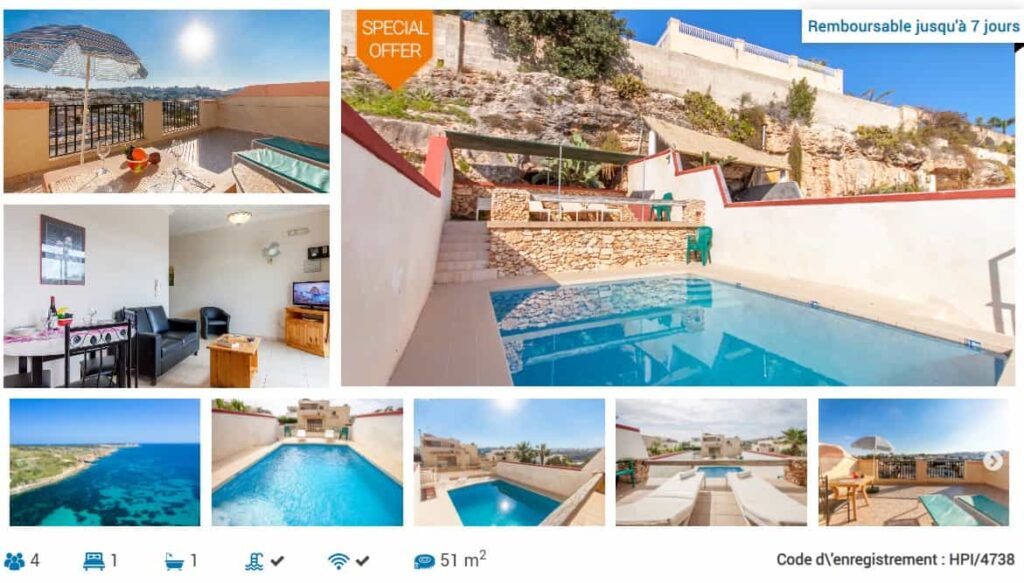 Price: Between €300 and €1,100 per week
Location: Mellieha, Malta
Features: 3 people, 1 bedroom and 1 bathroom
Accommodation assets: located close to the beautiful beaches of northern Malta
This one-bedroom penthouse apartment with pool is located in the town of Mellieħa, Malta, just a 15-minute walk from the upper main road with bars, stores, restaurants and bus stops. It offers a communal pool with sunbathing area as well as a private apartment balcony for al fresco dining and uninterrupted panoramic views. The air-conditioned apartment sleeps up to 3 people and features a bright living room with a luxurious leather sofa, coffee table, dining table and fully equipped modern kitchen. Free Wi-Fi, a huge smart TV and a library are also available for entertainment and relaxation.
Larger groups wishing to stay in the same location can book similar apartments in the same residence. The rental is well connected to all essential amenities to facilitate an independent stay with your loved ones. Malta's well-known beaches, Għadira Bay and Golden Bay, are between 6 and 10 minutes' drive away. The wet marshes of the Malta Bird Park are a 10-minute drive away.
3. Villa with pool and jacuzzi in Gozo for 10 people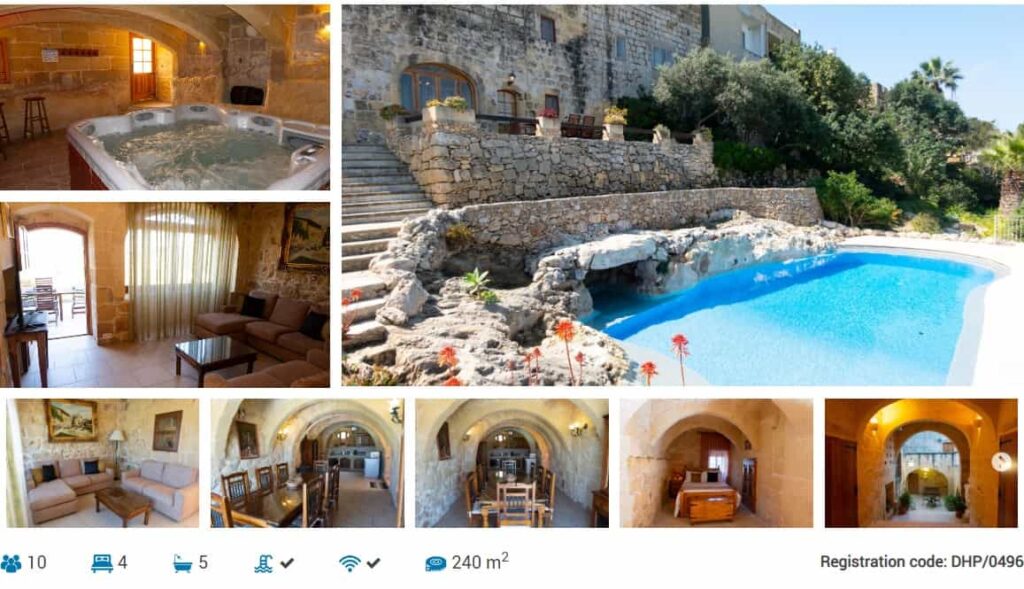 Price: Between €1,600 and €2,300 per week
Location: Munxar, Gozo
Features: 10 people, 4 bedrooms and 5 bathrooms
Accommodation assets: fantastic setting on the island of Gozo
This perfect family retreat is just five minutes from the famous bay of Xlendi, one of Gozo's most popular beaches. This breathtaking four-bedroom villa sleeps ten in comfort, perfect for the whole family. Built in traditional Gozo style, with beautiful arches highlighting superb rooms, the villa offers a beautiful modern living space. The three-level terrace offers panoramic views of the verdant valley below. On the first level, you'll find a charcoal grill, an outdoor dining area and a separate sitting area. A flight of stairs leads up to the sun loungers, then to the large pool with its own grotto! It's the ideal place to sunbathe, dine al fresco or enjoy an evening glass of wine.
4. Gozo farmhouse villa with pool and jacuzzi for 6 people
Price: Between €1,300 and €1,800 per week
Location: San Lawrenz, Gozo
Features: sleeps 6, 3 bedrooms and 3 bathrooms
Lodging assets: fantastic setting in a Gozo valley
Perfect for a serene vacation and a taste of local life, this charming vacation villa in Gozo boasts a private pool, Jacuzzi and alfresco dining area for great vacation memories. This 3-level vacation villa can accommodate up to 6 people, including families with furry little friends. Outside, the beautiful villa offers shaded relaxation areas with sun loungers, a large private pool with Jacuzzi jets and, to add to the ambience of your vacation, another Jacuzzi on the roof with an open-air dining area with panoramic views.
5. Apartment in villa near Gozo harbor with pool & spa for 4 people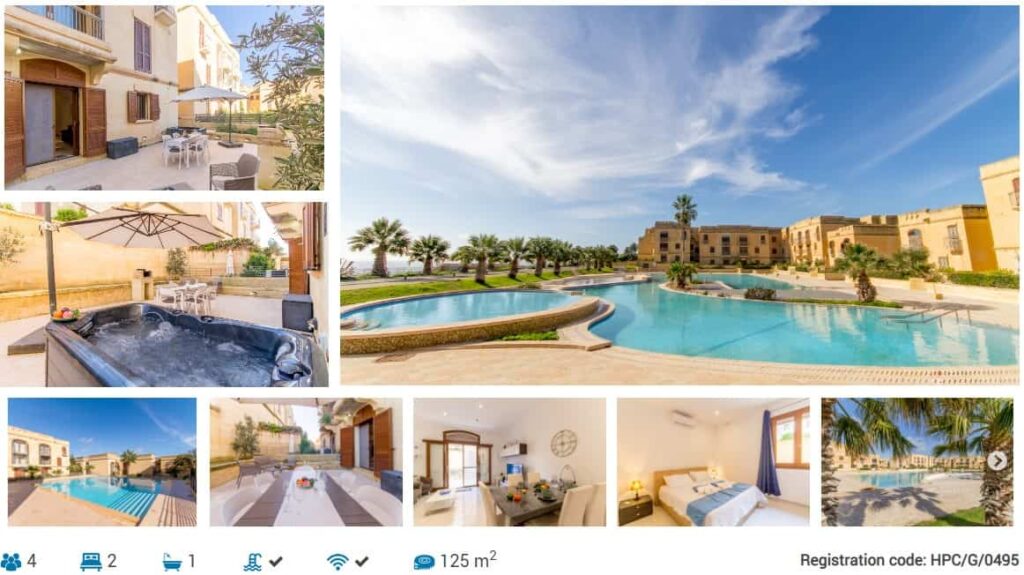 Price: Between €1,200 and €1,600 per week
Location: Mgarr, Gozo
Features: sleeps 4, 2 bedrooms and 1 bathroom
Lodging assets: Gozo location and setting
Imagine the pure sea air, the soothing sound of waves crashing on your balcony door. The Mediterranean sun warms you as you relax by the pool. Make this dream come true with a vacation stay in this magnificent villa in Fort Chambray, just a stone's throw from the port of Mgarr. This luxurious two-bedroom apartment comfortably sleeps 4. It's ideal for family vacations or romantic vacations on the beach. The Villa has two comfortable, bright bedrooms, an open kitchen and dining area, leading to a comfortable living room, opening onto a private terrace where you can dine in the moonlight or soak in the private Jacuzzi.
6. Large villa in Gozo (Malta) with 2 swimming pools for 15 people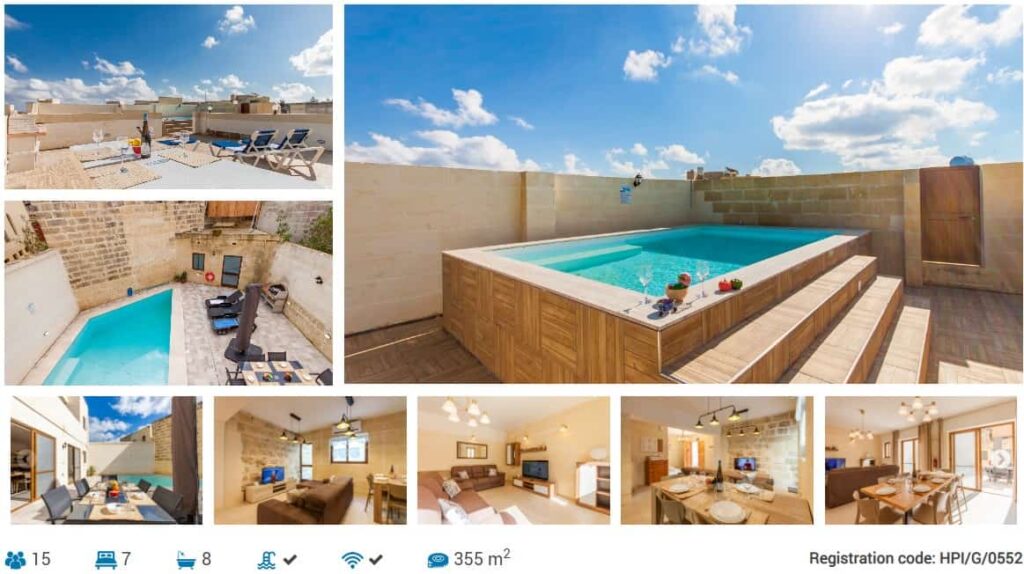 Price: Between €2,900 and €3,700 per week
Location: Nadur, Gozo
Features: 15 people, 7 bedrooms and 8 bathrooms
Lodging assets: fantastic, traditional setting in a Gozo village
This is a secluded property consisting of two recently renovated traditional stone villas, set in an authentic Gozitan village on a hillside. The property is surrounded by a paved wall and features two outdoor pools, one of which is on the roof, as well as a magnificent heated indoor pool with a relaxation area. Both villas can accommodate up to 15 people, are fully air-conditioned and ideal for a large group of friends or two families looking for some quiet relaxation. The villas are impeccably presented, with distinctive stone walls, beautifully tiled bathrooms and carefully chosen furnishings. The living areas are open-plan, with comfortable armchairs and flat-screen TVs. Each kitchenette is equipped with microwave, hob, oven, American fridge and coffee maker.
7. Fully equipped villa in Gozo, Malta for 8 people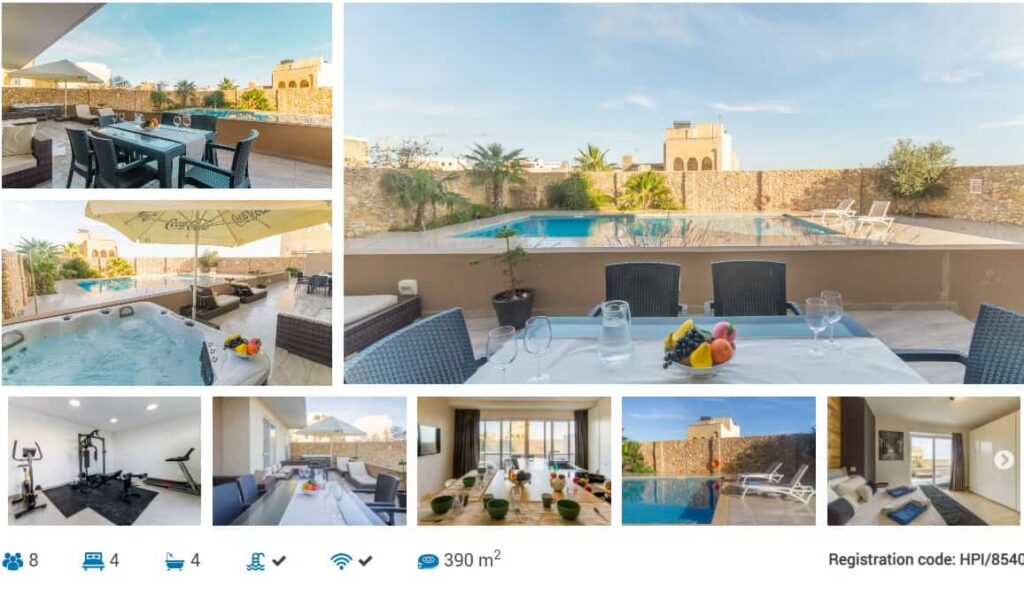 Price: Between €1,600 and €2,200 per week
Location: Xaghra, Gozo
Features: 8 people, 4 bedrooms and 4 bathrooms
Lodging assets: its privileged location in the charming village of Xaghra
This contemporary single-storey villa is located on the outskirts of the lively village of Xaghra, just above the red sandy beach of Ramla. This contemporary apartment is perfect for experiencing hygge, the Scandinavian term for living in excellent conviviality and comfortable togetherness with a sense of contentment and well-being. The property features floor-to-ceiling glass doors that offer abundant natural light and open onto a huge private terrace equipped with elegant outdoor furniture, a gas barbecue and a large parasol. This terrace is on exactly the same level as the communal terrace with comfortable sun loungers and a shared swimming pool. The property also features an outdoor Jacuzzi to complete the absolute vacation atmosphere and allow guests to relax completely during their stay in Gozo.
Maps of other villas and rentals in Malta
Zoom in on the map to see the rentals and click on the apartment to see the ad: