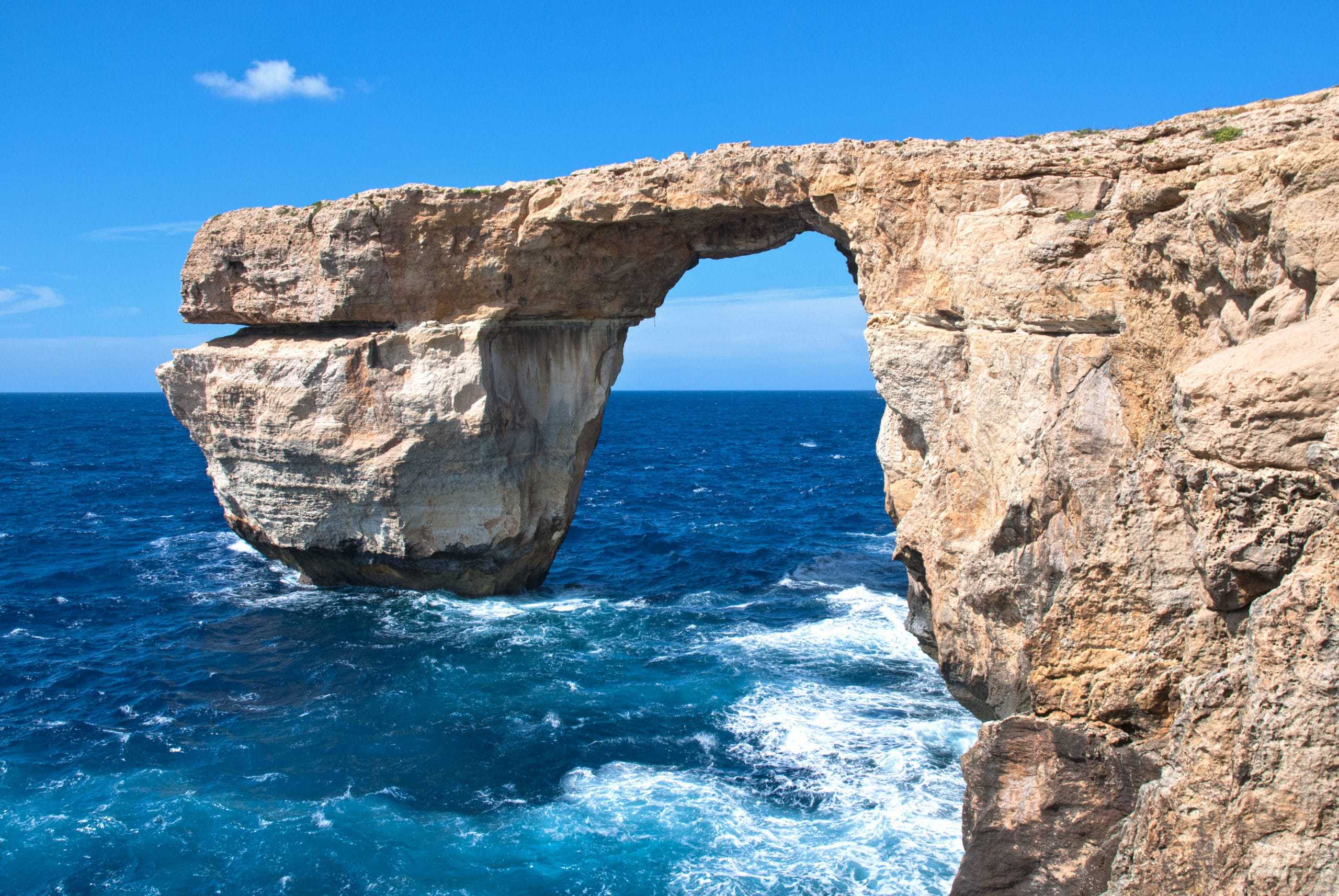 Separated from Malta by a 5 km long arm of the sea, Gozo is another world. Picturesque landscapes, green hills and wild coasts, life flows peacefully on this island three times smaller than Malta, more rural, more authentic and so welcoming.
Inhabited for thousands of years, haunted by the beautiful Calypso, Gozo's cultural heritage is as rich as its history of Greek, Roman, Arab and European conquests. Archaeology, religious art, museums, remarkable sites to discover.
A land of escape, culture and challenges, Gozo also seduces by the quality of its beaches, its crafts and its local products.
In this article you will find:
How best to visit the island of Gozo? Do you have to stay overnight or is one day enough?
Find here our comparison of the best solutions and take advantage of discounts.
Its beauty
Welcome to Gozo!
At only 14 km long and 7 km wide, Gozo rewards you for choosing to visit it with a beautiful and unique scenery. Its relief is a succession of steep hills, rocky ridges and very deep valleys. The countryside of Gozo, green and flowery in spring, is a mosaic of terraced fields, winding roads, narrow surrounded by high stone walls that join the traditional farms, scattered villages and other towers perched at 120 meters above sea level.
It is from the ramparts of the citadel of Victoria that one admires best this set with a 360° view.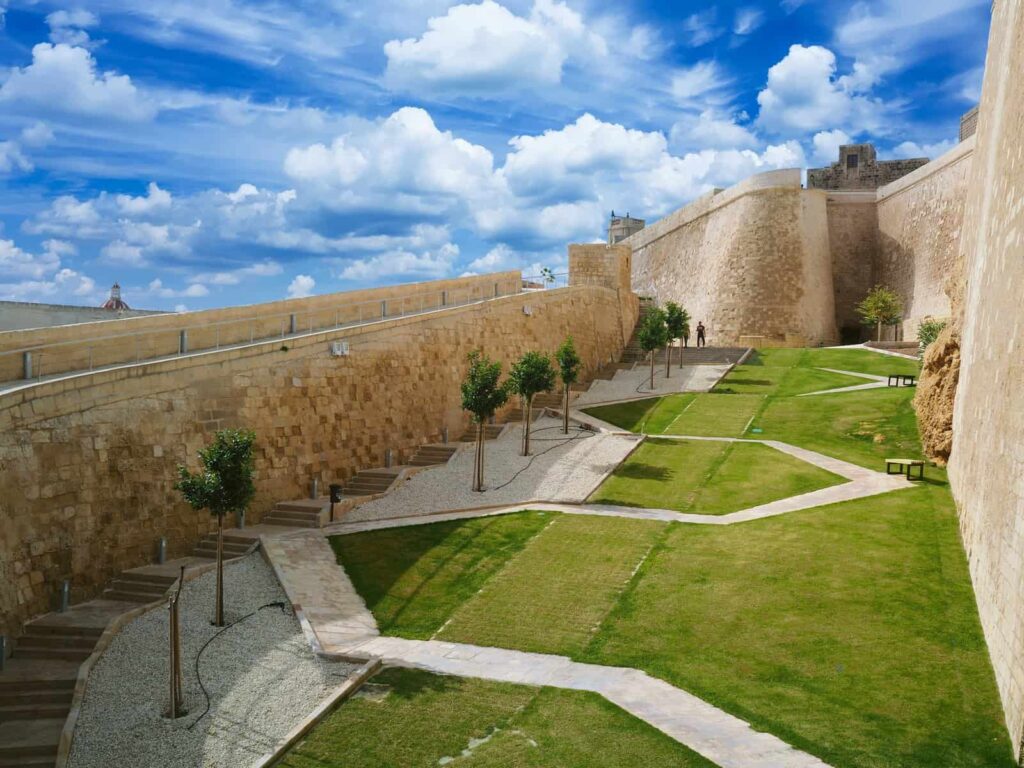 Exploring Gozo's coastline opens up unusual, wild and well-preserved panoramas. To the west, Djewa Point with its inland sea (Il Qwara), its arch " Azure Window " provide thrills despite it collapsed a few years ago. Continuing north, stop at the Xwejni Bay salt flats, carved into the yellow rock and terraced since Roman times. To the south, the cliffs of Ta'Cenc overhang the Mediterranean by 200 meters and contain traces of prehistoric roads dug into the rock (cart ruts). From there, coastal routes allow you to reach the pretty little bay of Xlendi or the peaceful cove of Mgarr Ix-Xini.
Victoria (7000 inhabitants), the capital of Gozo built in the heart of the island, is the cultural and historical crossroads. Formerly called Rabat, it owes its name to the celebration of Queen Victoria's sixtieth birthday in 1897. With its citadel, a real fortified city, its Basilica of Saint George and all its museums, it is a delight for culture and history lovers. One loses oneself with delight in its maze of pedestrian lanes. The inner courtyards of the old houses, the sleeping cats: everything here breathes calm and serenity.
When you leave Victoria, you can clearly see the towns and villages: built mostly on hills, the small towns of Gozo all have a church or a chapel that dominates and around which daily life is organized.
Make a stop in Nadur, Qala or Għarb! In the square you will find a café terrace, a small food shop and always a relaxing atmosphere.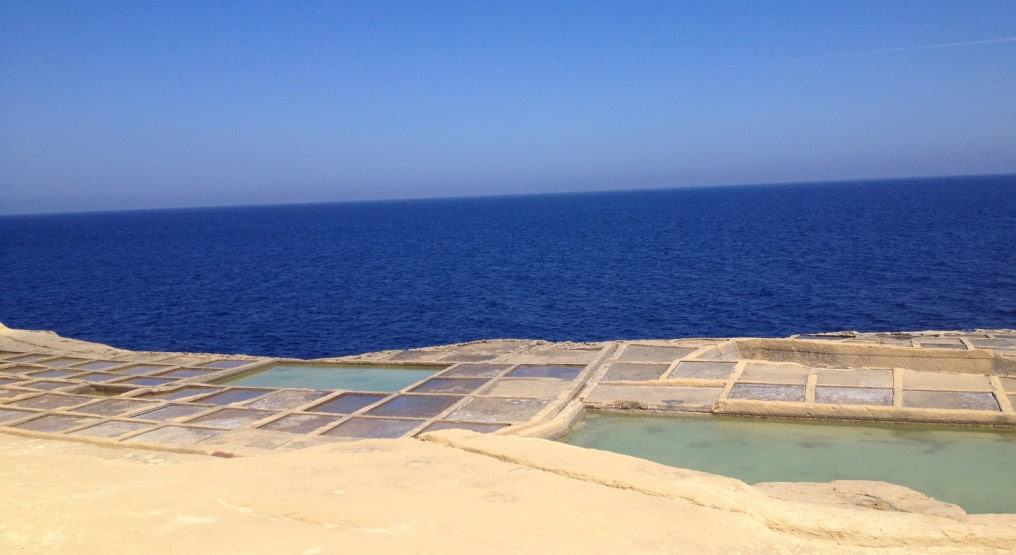 Along the coastal path and the cliffs, on the north of the island of Gozo, west of the village of Marsalforn, you will not miss the salt marshes. These salt pans are not sufficient for a large production of salt, just for the island.
Its history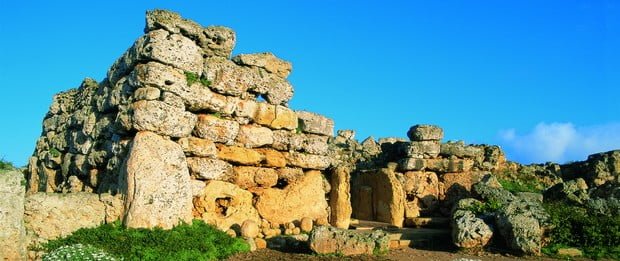 From Ġgantij temples built long before the Pyramids of Egypt, to the neo-classical churches of the 20ᵉ century, Gozo's 67 sq. km. of Gozo are dotted with unforgettable sites.
The mysterious cart ruts of Id-Dwejra (roads dug in the rock) continue to fuel the questions of researchers. To the north, Calypso's cave takes you into one of the most beautiful and mysterious legends of Greek mythology. Around Qala, you can visit the neolithic remains of Tal-Qighan and see ancient mills.
If you are interested in religious art, no less than 33 churches are worth a visit. The one in Xewkija, the rotunda of St. John the Baptist, has one of the largest domes in the world. The sanctuary of Ta' Pinu and the Basilica of St. George of Victoria are inspired by the Baroque period. Enclosed in the citadel, the Cathedral was built in 1697 with Gozo limestone. And everywhere in every town and village, more intimate chapels bear witness to the Catholic faith of the people of Gozo.
Its human warmth
Far from the hustle and bustle of the world, the life of the 30,000 inhabitants is punctuated by the ferries. Every day, about 2,000 of them use it to go to work in Malta, which they leave every evening to return to Gozo. Even though life in Victoria is a little more hectic with its shops and administration, Gozo is a relaxed and simple place. Here everyone knows each other and takes the time to talk.
Proud of their island, the Gozitans welcome visitors warmly and are happy to inform you with a smile and good humor. The cats, as numerous as the inhabitants, will hardly watch you, because here everyone feels safe.
Gozo (Għawdex in Maltese) means "joy" and the word alone sums up what the island provides to those lucky enough to know it!
Its sports activities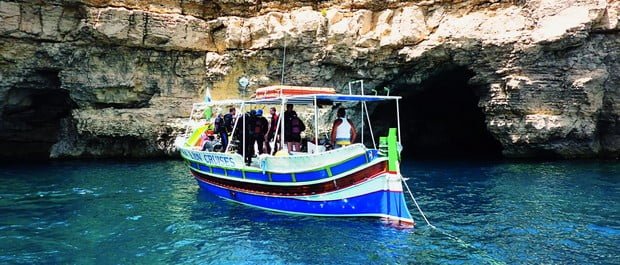 Gozo is world-renowned for its diving. Gozo has breathtaking natural underwater scenery as well as interesting shipwrecks. Its highly qualified diving clubs cater to both beginners and more experienced divers.
For climbing, whether you are a beginner or an experienced climber, looking for a rock in the heart of the island or a route on the cliffs, Gozo offers a large choice of routes and supervision by professional guides. Its steep cliffs, rocky bays and hidden caves can be explored by sea kayak.
Gozo's small roads and paths offer a multitude of interesting routes for walking and cycling. It is a real paradise for hikers who can enjoy the coastal path that goes around the island. It takes about 4 days if you want to do it all. Find here the routes of the best hikes in Malta and Gozo.
In Gozo, it is also good to go quad biking, biking, motorcycling, try out the gyropod and many other activities.
Tip: With the My Little Malta discount card, you'll get up to 30% off these activities and equipment rentals. Find out more in our article.
Its beaches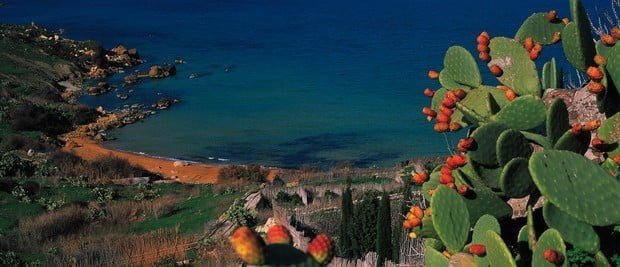 With its two beautiful red sand beaches, Ramla Bay and San Blas Bay, and the smaller yellow sand beaches at Marsalforn and ix-Xlendi, Gozo is home to some of the best beaches in Malta, so quiet and natural. The water, crystal clear, is ideal for swimming, diving, paddling, sunbathing and picnicking!
Find here the best beaches in Gozo .
There are many other equally pleasant places to swim between the rocks.
Its local products and crafts
Among the Mediterranean specialties, we find the honey of Gozo, clear and liquid and delicate, as well as the olive oil, although very little produced for the moment, it is gradually developing.
And many other things to put in your basket: tapenades, liqueur, cheeses, capers, wines, dried tomatoes, home-made jams…
You will be able to taste and buy these local products in the specialized stores of Victoria, but also directly from the producers on their farms or in small artisanal transformation workshops.
Between glass blowers, potters, blacksmiths and ceramic jewelers, Gozo's craftsmanship is rich in know-how. You will also come across lace makers who crochet with talent or knitters who sit on their doorsteps making comfortable wool sweaters with Irish motifs. (Ta' Dbiegi craft village near St Lawrence).
Find here the souvenirs to bring back from your trip to Malta and Gozo .
How long can I stay in Gozo?
This is the question that many travelers ask themselves. The answer is obviously that it depends on what you are looking for and how long you want to stay.
Staying overnight in Gozo
To visit Gozo, it is possible to stay one or two nights. The nightlife is not very lively in Gozo but you can relax in a good restaurant.
If you are looking to take your time, you like authenticity, calm and nature, then Gozo will suit you well. I recommend you to rent a room in a farmhouse or a guesthouse to enjoy the best of it.
Read our article on where to sleep in Gozo.
Gozo in one day
If you want to go around the island to discover the atmosphere, the monuments and the landscapes of Gozo in one day, it is quite feasible. In this case, you can either go by yourself by ferry from Malta and then rent a means of transport on the spot or by tourist bus.
Alternatively, a good option that will save you time and not cost you much more, is to take a organized tour from Malta .
On the agenda for the day:
A shuttle will pick you up at your hotel in Malta and take you to Gozo with a private boat (to avoid waiting for the ferry). If the weather allows it, you will then pass by Comino and its incredible blue lagoon. Once there, you will take your transportation and your English-speaking guide will take you to the best places on the island of Gozo. He will explain to you all the most interesting information of your visit and at noon you will enjoy an excellent local Gozitan meal.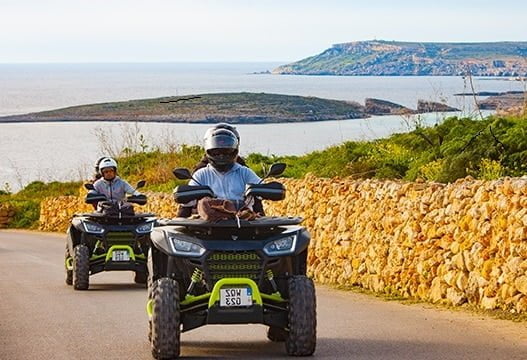 The organizer of these tours is Yippee Malta, they are the most reputable, they have very good reviews (4.9 out of 5), their fleet of vehicles is recent and the guides are qualified and pleasant.
Take advantage of a 5% discount by booking directly on the Yippee Malta operator website with the promo code: LPM5
Their two most popular excursions are:
Full day quad bike tour in Gozo with guide
The visit is in a quad that you pilot yourself. You will follow a guide who will take you to the best places in Gozo and explain them to you. You can be 2 on the quad.
Read this article to learn more about quad biking in Gozo . You can also book directly by clicking below on the operator's website and benefit from a 5% discount on your booking thanks to the promotional code LPM5:
Day trip by tuk-tuk to Gozo with guide
If you prefer to be driven, the visit of Gozo by tuk tuk with your English speaking driver is also memorable. You can be up to 6 people on the tuk tuk. Watch the video below to see the presentation of a one-day Tuk Tuk tour of Gozo:
To get a 5% discount, book on the Yippee Malta website with the promo code LPM5:
Free cancellation
Reservation directly on the operator's website
Multilingual guides
Day trip by jeep with driver
If it is too cold, out of season, you can fall back on a tour of Gozo in a comfortable jeep with a guide who will pick you up from your hotel in Malta or Gozo.
Free cancellation up to 24 hours before
Book now, pay later
Multilingual guides
Gozo and Comino in the same day
During the day trip by quad bike or tuk tuk with Yippee Malta, it is planned to pass through Comino without spending much time there. If you prefer to spend part of the day at the Blue Lagoon of Comino and visit Gozo in the same day, it is possible. Many travelers with little time to visit the archipelago make this choice with an optimized tour.
In this case, we recommend this half-day boat trip to Comino and then a half-day trip to Gozo by Tuktuk with an English speaking guide with Yippee Malta again.
Here too, you will get a discount by clicking on the button below with the promo code: LPM5
Free cancellation up to 24 hours before
Book now, pay later
Multilingual guides
How to get to Gozo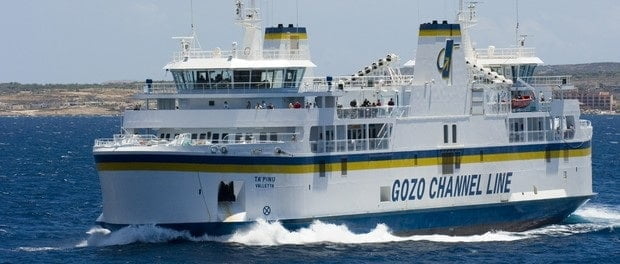 By ferry to Gozo from Malta
There are 2 ferries to Gozo:
From the ferry terminal in Ċirkewwa which you reach by bus or car in the north of Malta. Every 45 minutes, day and night, ferries connect Gozo to Malta. The crossing, which takes about 25 minutes, costs 4.65€ per adult and 1.15€ per child (round trip). If you want to transfer your car, the round trip costs 15,70€ (car + driver) + 4,65€ or 1,15€ per additional passenger. Payment is made upon return.
Click here to view Gozo Channel's schedule and services.
From Valletta using the fast ferry to Mgarr, Gozo. It does not accept vehicles. The price is 7,50 € for an adult and 3,50 € for a child.
More information on Gozo fast ferry or Virtu ferries.
With an organized excursion
If you want to visit Gozo in one day, the best thing to do is to take a day trip from Malta and back. You have the option of being picked up at your hotel. The rates are affordable all things considered and this ensures that you get the most out of your visit.
Most travelers choose to take an original vehicle once in Gozo. This one is well adapted to this island when the weather is good. We recommend this tour, which takes you around Gozo on a Tuktuk, a large three-wheeled motorcycle with an English-speaking guide. The excursion includes transportation to the boat, boat trip, visit of Gozo by TukTuk with an English speaking driver, lunch and return, a great day is waiting for you.
Take advantage of a discount by booking directly on the Yippee Malta website with the promo code: LPM5
In colder weather, many people otherwise choose the comfort of a chauffeured jeep to visit Gozo. In the same way, everything is included in this day, transportation, boat, lunch, guide, and visit of Gozo by Jeep. Click below to book your full day.
How to get around Gozo?
If you decide to go there by yourself, once there, we advise you not to take the public bus network in Gozo unlike in Malta, as you often have to go back through the center of Victoria to change direction.
Hop-on Hop-off tourist bus
Instead, take the tourist bus in Gozo which will be easier and more suitable. You will be autonomous: you will be able to get on and off as you wish because the bus passes every 45 minutes. In addition, you will have headphones with explanations.
Click below to reserve your bus tickets.
👉 Find other guided tours of Gozo by clicking here.
Rent a vehicle
Otherwise, on the spot, you have the possibility of renting different means of transportation at your choice. :
A quad or buggy at Gozo Quad Hire
A motorcycle, scooter or quad at Hammerhead projects
An electric bike or a gyropod at Gozo Segway
Must-have tip when you go to Gozo: With the My Little Malta discount card, you'll get 15-20% off all these excursions or rentals. Find out more here.
Accommodation in Gozo
Sleeping in Gozo for one or more nights depending on the length of your trip can be a good idea if you like a more wild and quiet environment. Travelers tend to come to Gozo quickly but there are many hotels in Gozo:
Our recommendations for accommodation in Gozo
These accommodations are listed in order of price. Click to access their Booking page:
Also check out our article on things to see and visit in Gozo.